The Hagen History Center had a beautiful night for its 2021 Annual Meeting and Local Historical Awards presentation on Wednesday. More than 60 Hagen History Center members were in attendance.
Executive Director George Deutsch and Board President Kelly Montefiori handed out awards recognizing area residents for their contributions in preserving and promoting history. The awards were created out of former kitchen tiles from the Watson-Curtze Mansion.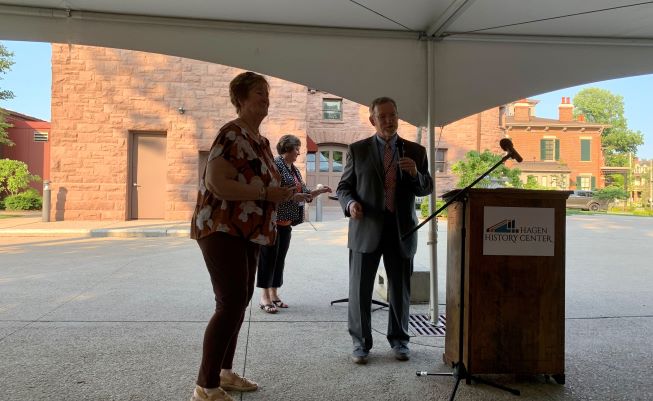 Media Award: Social Media Influencer Erin Phillips hosts the Instagram @OldErieonfoot, which has more than 3,400 followers. She has spent the last three years taking her family out to appreciate local architecture. She is "discovering the beautiful old places by foot, stroller, papoose, bike, and occasionally minivan," she says on her site. She also writes about local history and architecture for Erie Reader.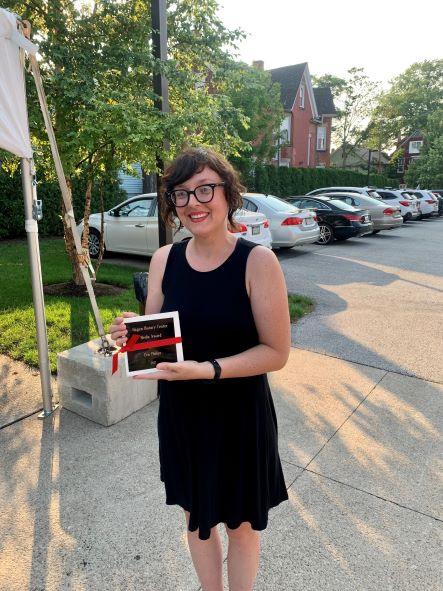 Volunteers of the Year include Mary Lou Breyley, Tom Greene, Lisa Stanton and Dick Tefft. Hagen History Center's Pauline Stanton directs this group of volunteers, and yes, Lisa is her sister. Pauline, our reference assistant, says the group has gone above and beyond in its efforts to help in research and much more.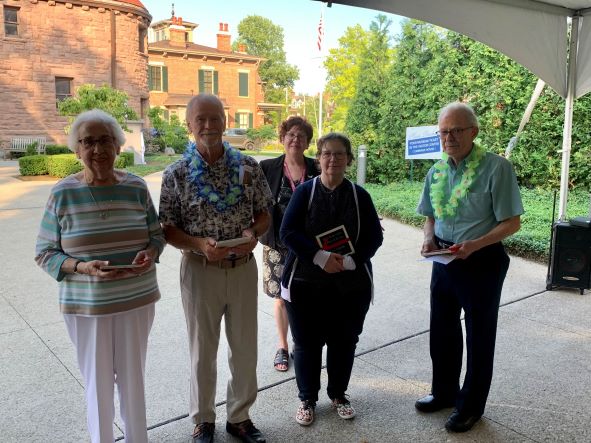 Employee of the Year is Dave Pugh. Dave does everything and knows everything about all the buildings that the Hagen History Center owns. As the Buildings & Grounds manager, he's done everything from construct displays and exhibits to handle reconstruction. But more importantly, he is always first in line to lend a hand to every staff member and is a friend to everyone. Dave started working for Hagen History Center in 1995. When he received his award, he teased that he will only promise "another 20 or 25 years" to the center.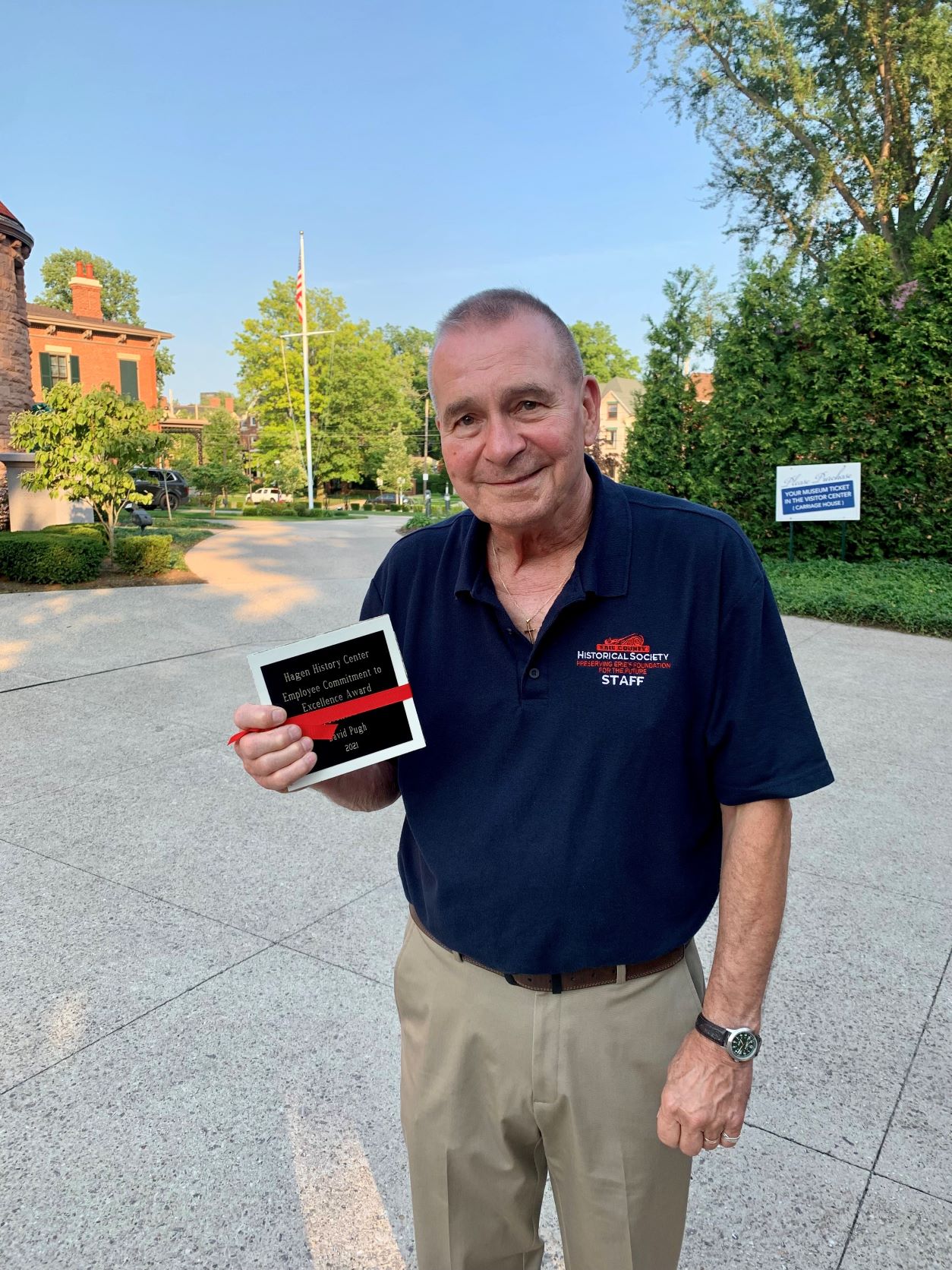 President's Award: Board president Kelly Montefiori presented the award to her mentor Robert Cline, retired Human Resources Director from Gannon University. Kelly praised him for helping her as board president where she has monitored staff development and expansion from fewer than five employees to more than a dozen. Kelly is the Chief Operating Officer at Marquette Savings Bank. Robert said it had been a pleasure to work with Kelly on development of handbooks and policies for the growing number of Hagen History Center employees.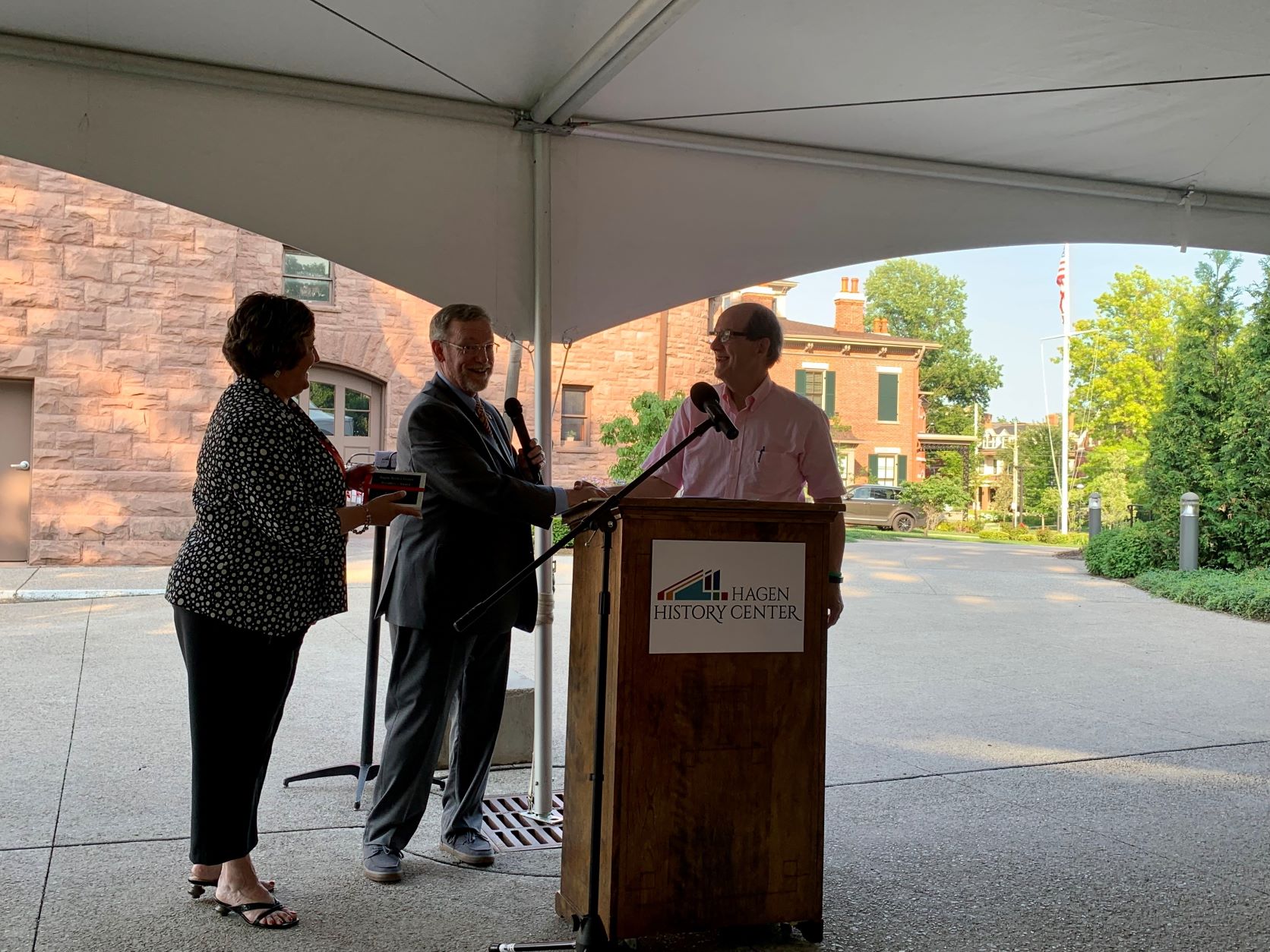 After the awards, attendees had a chance to see Tom Hagen unveil the new Oliver Hazard Perry bust on display outside the visitor entrance to our Carriage House. Local artist Michael Kraus created the bust as a replica of the statue that stands in Perry Square.
Visitors also had a first look at Perry's Battle of Lake Erie telescope, sword, scabbard and belt along with an original 1830s colored lithograph and additional artifacts that are on exhibit inside the new exhibit building.