Community Picnic and BBQ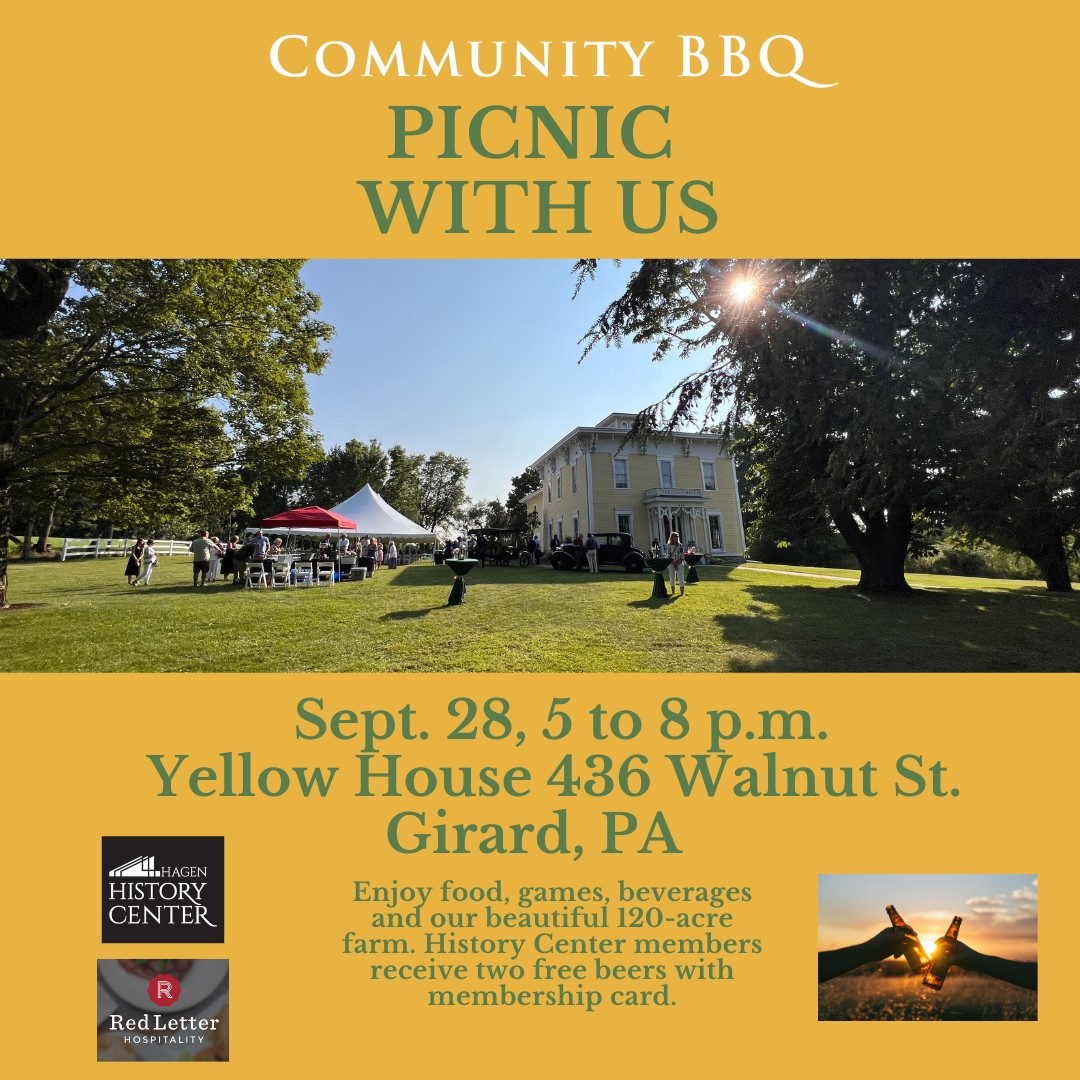 September 28th, 5PM-8PM
Join us! Thursday, Sept. 28 at the Yellow House, 436 Walnut St., Girard, for our Community BBQ and picnic! We have, food, games and activities! Our partners at Red Letter Hospitality will be providing scrumptious BBQ, mac and cheese and more.
Check the menu for prices.
History Center members will receive two free beers -- bring your membership cards.
See you soon!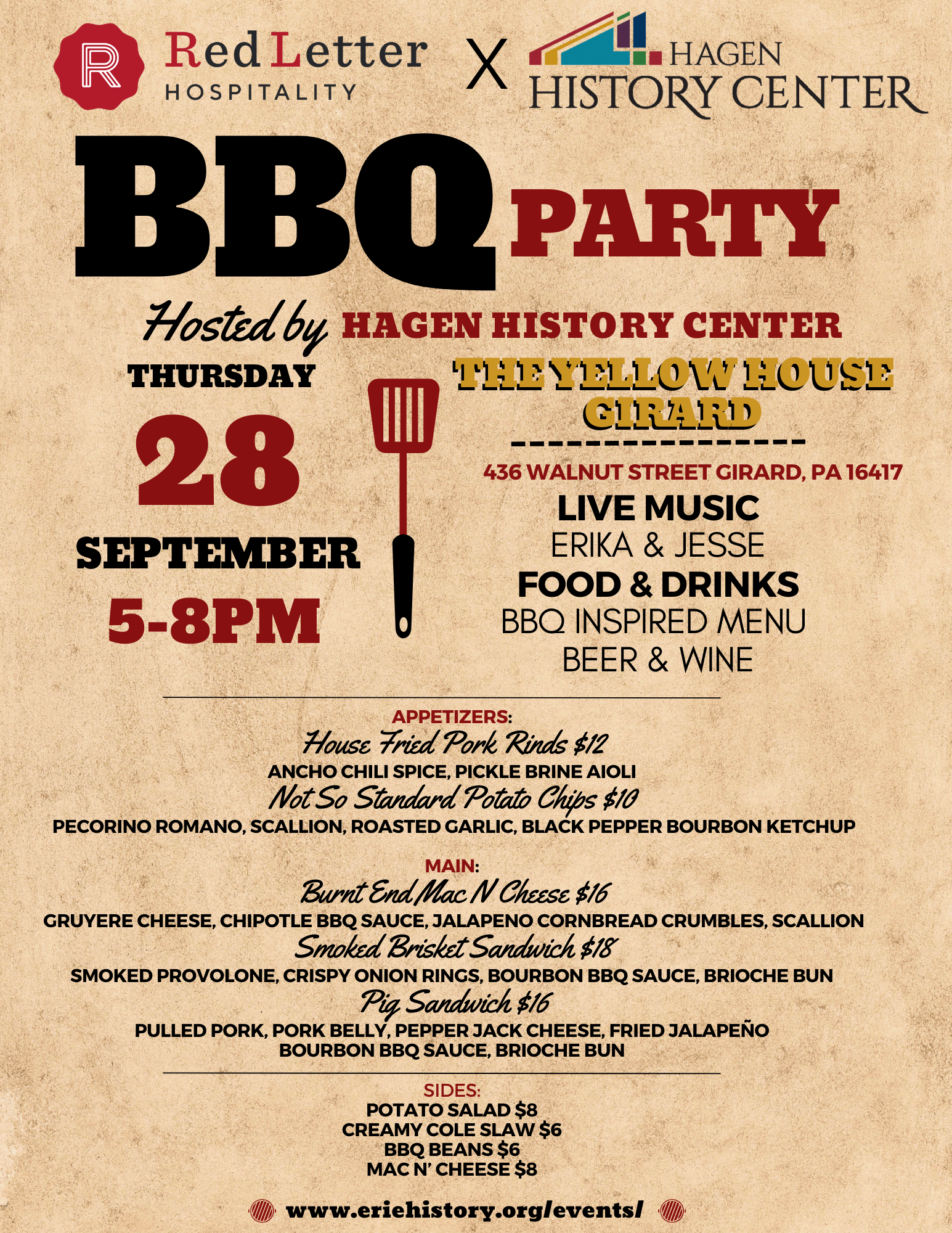 Erie County Harvest Dinner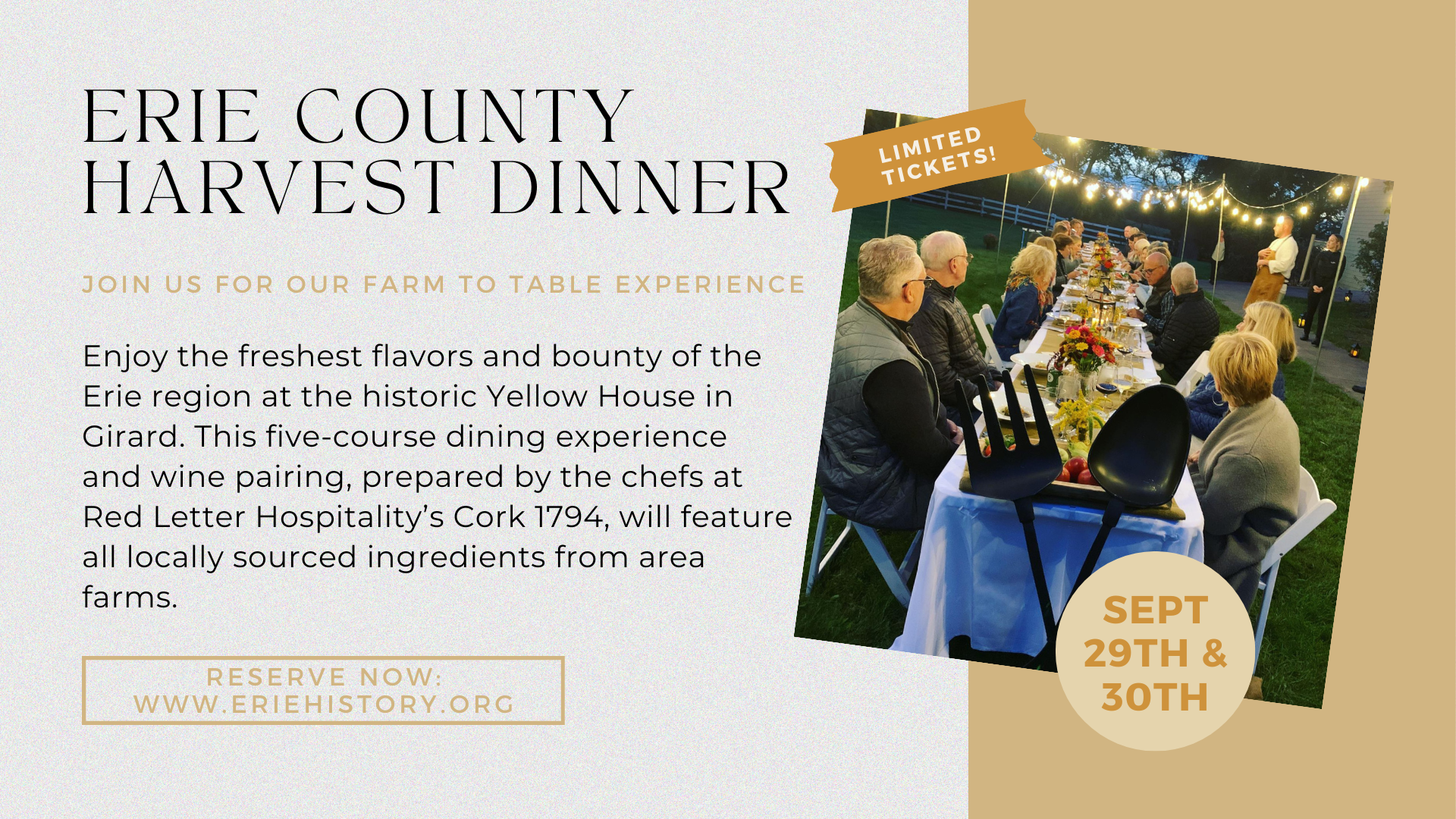 Friday, September 29th and
Saturday September 30th, 7PM
Join us for our Farm to Table Experience
Enjoy the freshest flavors and bounty of the Erie region at the historic Yellow House in Girard. This five-course dining experience and wine pairing, prepared by the chefs at Red Letter Hospitality's Cork 1794, will feature all locally sourced ingredients from area farms.
Course 1:
-Seared Perch, Shaved Brussel Sprouts, Charred Onion, Wild Mushroom, Roasted Garlic Aioli, Basil Pesto
Course 2:
-Smoked Bone Marrow Butter, Grilled Ciabatta, Honey, Compressed Peach, Concord Grape Reduction
Course 3:
- Braised Pork Belly, Corn Succotash, Fried Cornbread Topping, Lemon Gel
Course 4:
-Seared NY Strip, Charred Butternut Squash Bechamel, Roasted Garlic, Fried Kale Chips, Duck Fat Fried Salt Potatoes
Dessert:
-Deconstructed Apple Pie, Streusel Topping, Mascarpone Whip, Lemon Crème Anglaise
$150 per person includes tax & gratuity
Each evening is limited to only 30 people and will sell-out quickly.
Yellow House Wedding Showcase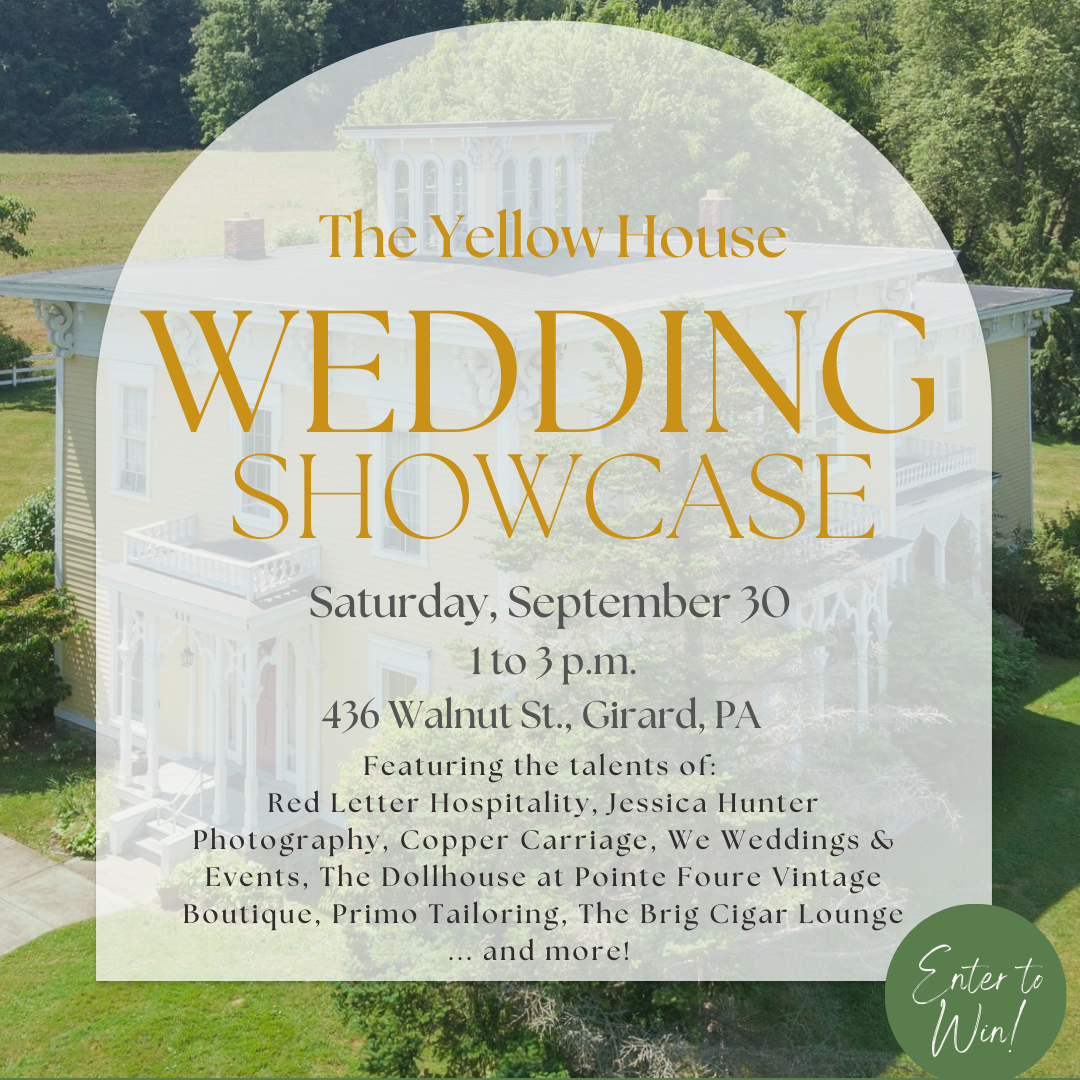 Saturday, September 30th, 1PM-3PM
436 Walnut St, Girard PA
Have you registered yet? It's free, and we can't wait to see you! Our partners at Red Letter Hospitality, Jessica Hunter Photography, Copper Carriage, Primo Tailoring, The Dollhouse at Pointe Foure Vintage Boutique, The BRIG Cigar Lounge, WE Wedding and Events will be joining us to welcome all couples looking for a venue!
We also have champagne for you! This is a free event, but please register at the link below. We are so excited to show off our newest venue space alongside some amazing vendors who can help make your dream wedding vision come to life! We're also giving away a free indoor rental to one lucky visitor!
RSVP here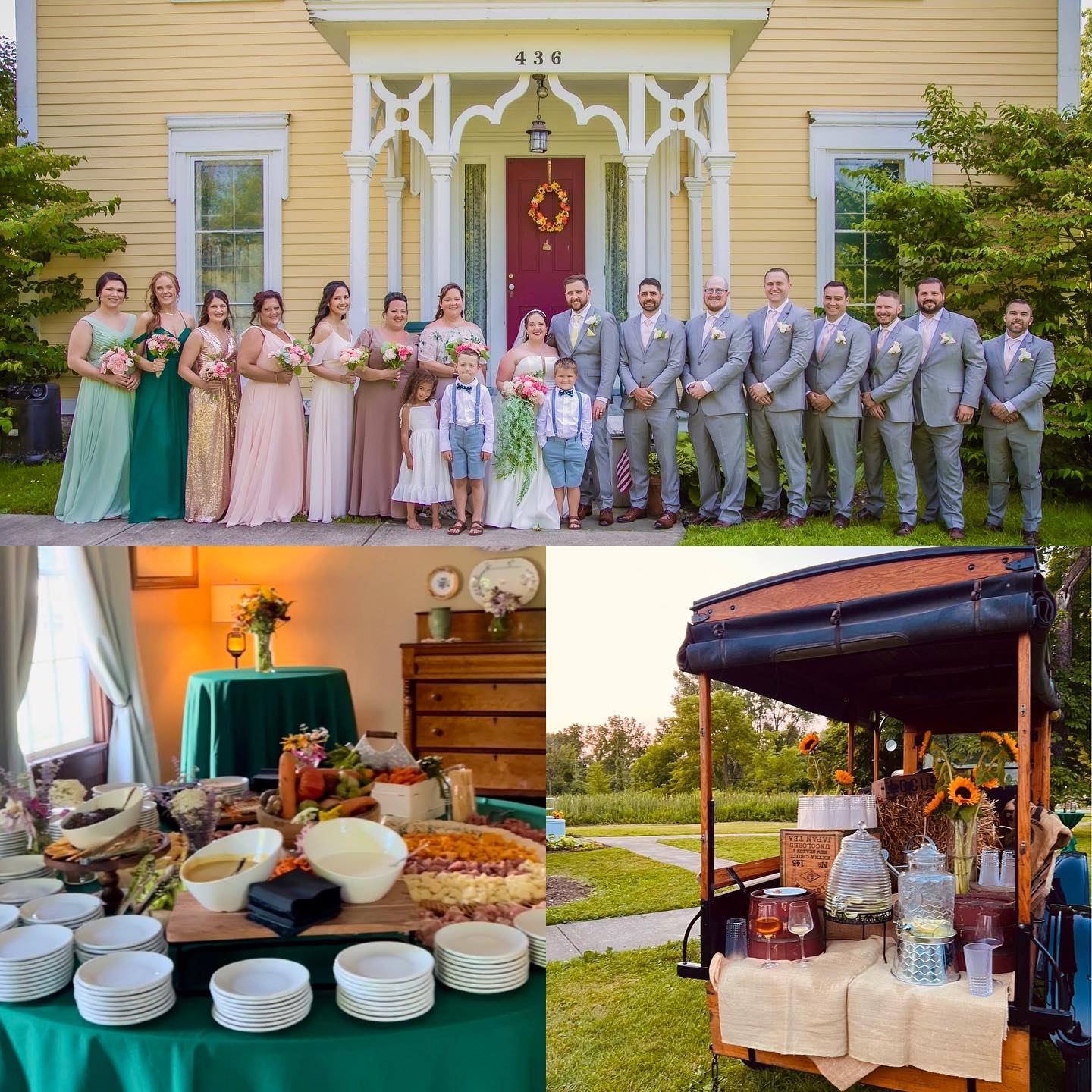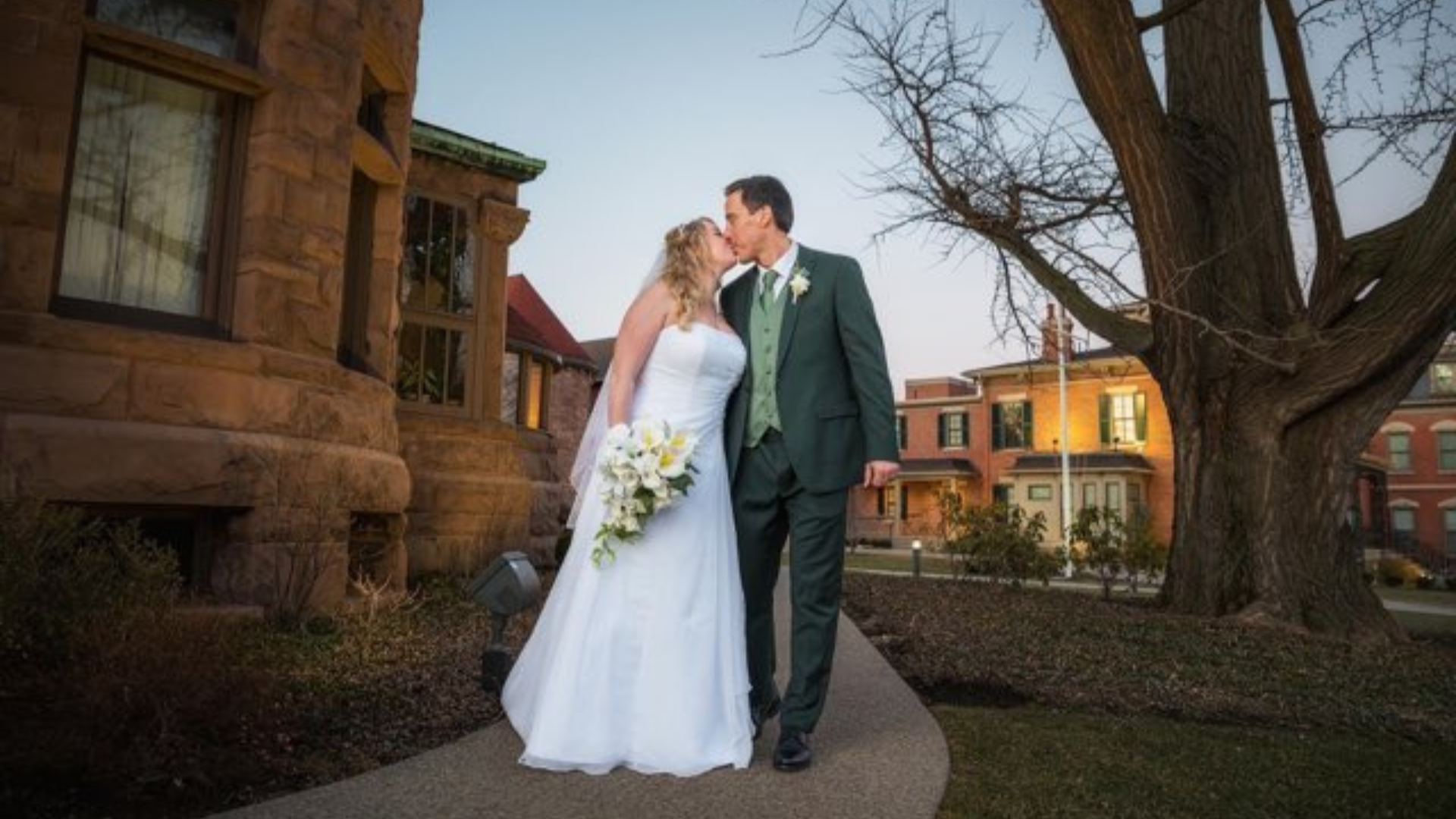 Host an Event
Create the wedding or event of your dreams in a Victorian mansion or rustic farmhouse, right in Erie County! Step back in time and enjoy the natural beauty of the Hagen History Center's grounds for your special day.
Regarded as one of the best wedding and event venues in Erie, Pennsylvania, the Hagen History Center is the perfect backdrop for a Victorian-inspired, unforgettable experience.
Located in Erie, Pa., the Hagen History Center's West Sixth Street Campus, which includes the Watson-Curtze Mansion and the President's Room, is conveniently located near downtown Erie, close to hotels and Bayfront attractions. The Hagen's Girard Campus includes the Yellow House, an elegant farmhouse situated on more than 130 acres.