In 1865, the men of Company "K" of the 150th Pennsylvania Volunteer Infantry Regiment, who had been the official Army Presidential guards since their regiment arrived in Washington in 1862, gave President Lincoln's son Tad (Thomas) a unique gift. A photo album with ninety-seven posed studio photographs of each member off the company. Obviously, the soldiers, known as "Bucktails" for the tail of a deer worn on their caps, were taken by the often precocious Tad. He was also taken by the soldiers.
The 150th Pennsylvania Volunteer Infantry Regiment was raised in Philadelphia, Crawford, Union and McKean Counties in 1862. Part of Colonel Roy Stone's "Bucktail Brigade"-the 143rd PVI, 149th PVI , and the 150th PVI, the regiment was fortunate to have many officers from the original "Bucktail" regiment, the 42nd PVI (13th Pennsylvania Reserves,) a veteran regiment that hade seen a great deal of action from the Battle of Dranesville in December 1861 through the Seven Days Battle, Second Bull Run, South Mountain, Antietam and Fredericksburg in 1862. These officers helped turn the new "Bucktails" into good soldiers.
Company "K" of the 150th was raised in Crawford County and was soon assigned to guard President Lincoln at the White House. The assignment was not intended to be permanent, but Lincoln wrote a note to the War Department requesting that Captain D.V. Derickson and "K" Company be assigned as his guards. Derickson was soon promoted, and Lt. Thomas Getchell took his place. While there was pressure from some, including within Company "K" itself to rejoin the regiment with the Army of the Potomac at the front, the men seem to have accepted the fact that the President had specifically asked for them, and they soon grew fond of the Lincoln's, especially young Tad.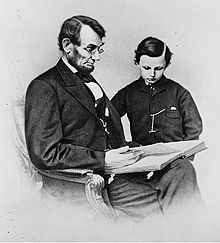 Thomas ("Tad") Lincoln was only eight when the Civil War began. His only surviving brother, Robert was away in college and then the army late in the war. The Lincoln family had lost two sons by 1862. Edward or "Eddie" had died at age 3, probably of thyroid cancer in Springfield, Illinois. Tad's closest sibling was William or "Willie," who had been Tad's partner in crime raising a ruckus in the White House, much to the President's amusement and the dismay of others, had died in February 1862 of typhoid fever. He was exhumed when the President was assassinated in 1865 and is entombed with him in Springfield, Illinois. Tad Lincoln died at age 18 in 1871 in Chicago, probably of tuberculosis.
The photo album given to Tad Lincoln by the men of Company "K," 150th Pennsylvania is today in the collections of the Abraham Lincoln Presidential Library and Museum in Springfield, Illinois. They were kind enough to send a scan to the Hagen History Center at today that scan is available to researchers closer to home.
Some images from the Album