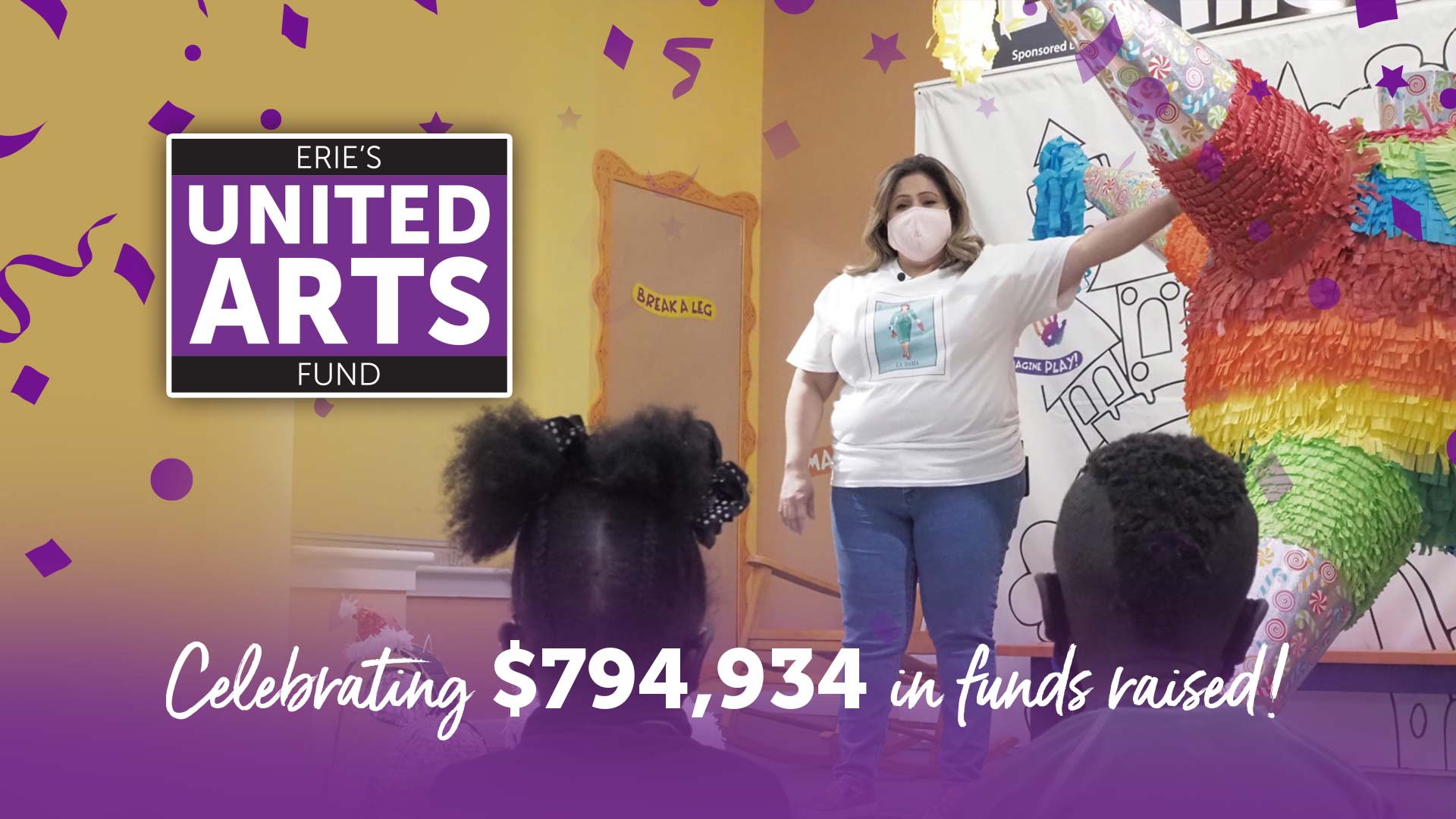 Celebrating a collaborative milestone: The 2020 United Arts Fund raises $794,934 for Erie Arts & Culture, Erie Philharmonic, Erie Playhouse, expERIEnce Children's Museum, the Flagship Niagara League, and the Hagen History Center.
Erie Arts & Culture and their Cultural Service Partners celebrate the results of a tremendous collaborative effort during the 2020 United Arts Fund campaign. Due to the impact of the pandemic on our creative and cultural sector, this year's campaign had a weighed degree of importance. As such, we came together to push the boundaries of what fundraising looks like in a time when going virtual is the only option. The end result highlights the good that can happen when organizations unite efforts and innovate to support the arts and cultural sector.
With our efforts combined, the United Arts Fund campaign surpassed its goal of $500,000, soaring to a final raised amount of $794,934!
The amounts raised by each organization are as follows:
Erie Playhouse
Total: $100,284.40
Total Donors: 773
New Donors: 342


Erie Philharmonic
$175,383.87
Total Donors: 296
New Donors: 120


Hagen History Center
Total: $243,629.00
Total donors: 221
New donors: 31


expERIEnce Children's Museum
Total: $55,248.00
Total Donors: 41
New Donors: 15


Flagship Niagara League
Total: $82,094.07
Total Donors: 224
New Donors: 51


Erie Arts & Culture
Total: $134,124.53
Of the grand total of $794,934, Erie Arts & Culture raised $134,124.53. Ten percent of the dollars raised by EAC in 2020 will benefit their 2021-2022 Ignite Arts grant program. Twenty-five percent of the funds EAC raised will benefit their operations. The remaining 65% is split among the other Cultural Service Partners. Each partner received $17,384.86.

This success was not possible without the support of our community and donors, as well as the fiscal sponsors of the End of Year Variety Show and Community Access Media. We thank our title sponsor, Erie Insurance, for their support and generous donation of $125,000.
Thank you, Erie. Even during a surging pandemic, we've all come together to emphasize an audible message to our community - that the arts and humanities DO matter now, more than ever.