Welcome back to men's fashion! Today continues our journey through men's clothing with part three of this blog.
We might think the 1960s saw big changes, but it is nothing compared to the 1970s. With synthetic fabrics coming about, prices would drop helping the fashion business boom. When we think of the 70s, we tend to think of bell bottom trousers and platform shoes. There were a variety of patterns, from floral to polka dots. Collars would become wider at this time. Chunky knit turtleneck sweaters were also a big hit for men. Hats and belts would even match their turtleneck.
During this time also, the three-piece suit made a reappearance. Unlike those of the early 1900s, these were brightly colored and extravagant. Trousers were wide legged or flared and became high-waisted. Ties would become long and wide. They were also a lot bolder unlike those of the past.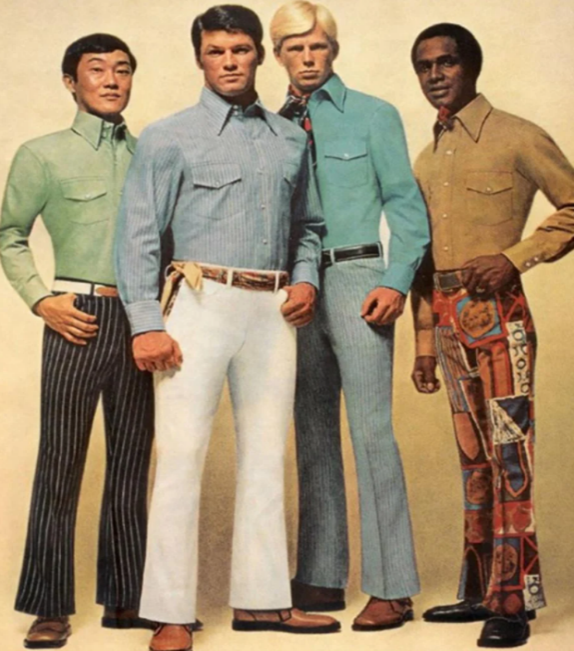 In the 1980s, clothes would continue to be more chill and relaxed looking. Activewear, like matching sweatshirts and sweatpants, became a hug part of fashion at this time. A lot of brand name clothes would become the norm. For every day, men wore jeans and denim jackets keeping their look more causal. When there was a need to dress up, power suits would become popular. Neutral colors and skinny ties came back into play. Shirts would be anything from button ups, to turtlenecks, to even t-shirts.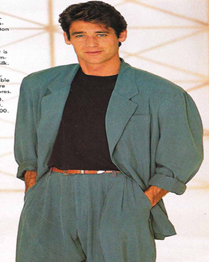 By 1990s, if you can believe it, men's clothing became even more comfortable and casual. It is a lot like what we would see going into the 2000s and all the way up to today. T-shirts, shorts, hoodies, and many more new styles. There was a desire to be more comfortable and create even more individuality than we saw in previous decades.