As you walk through the Watson-Curtze Mansion, have you ever found yourself wondering about the story behind a particularly lovely decorative item or a piece of furniture that is on display?
Most of the gorgeous Provincial furniture that resides in the mansion's parlor came from the estate of a pair of Erie sisters – Helen Taylor and Ethel Taylor Winder.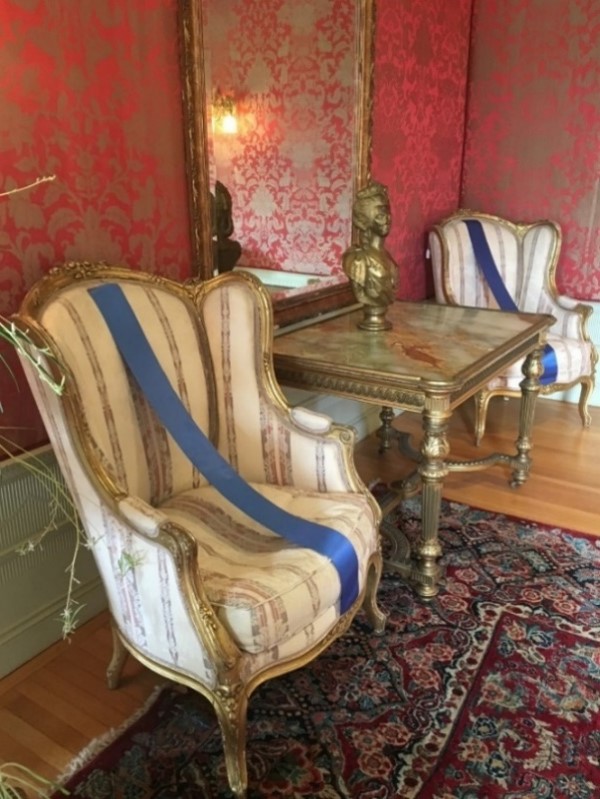 My own curiosity about these ladies did not originate in the parlor. When my family relocated to downtown Erie from the suburbs in the middle 1960s, we moved into a grand old mansion of our own at 451 West Ninth Street. The house was lovely, stately, and even quirky, but most intriguing were the stories we heard from neighbors about the eccentric former owner - Mrs. Winder! These stories piqued my interest, and I wanted to know more about her.
Ethel G. Taylor was born in Huntingdon, PA on December 18, 1876, the oldest child of Margaret Burton Taylor (1853-1917) and William S. Taylor. This young Taylor family was very mobile at first. Just two years after Ethel's birth, her only sister Helen was born in Cedar Rapids, Iowa. And, shortly thereafter, the family relocated to Canada for several years.
During the early 1890s, the family returned to Erie. With the return to Margaret's home territory, there seemed to be a resumption of high society life, at least for Margaret and her daughters.
Shortly after their return, young Ethel completed her education - the equivalent of her second year of high school. Those times placed a far greater emphasis on producing marriageable daughters than on creating scholars.
Erie newspapers are filled with the goings-on of the society people of the day, and the Taylor girls are very frequently mentioned. They attended yachting parties, hosted bridge parties, attended balls, and made public their travels and expeditions. Many society events around town list the Taylor sisters as being in attendance, complete with detailed descriptions of what they wore and the types of flowers they carried. The news frequently was reported in columns with headlines like this one: "Last Week in Society: The Doings of Erie's Gay Society People."
On December 17, 1901, the Portsmouth (NH) Herald announced the engagement of Miss Ethel G. Taylor, a prominent Erie socialite, to Lt. Cdr. William Alastair Winder of the U.S. Navy. Ethel was 25-years old at the time. Her fiancé was fifty, unmarried, and a veteran of the Spanish-American war. For several years, William Winder was stationed in Erie as he commanded the U.S.S. Michigan, a cruiser patrolling the Great Lakes. Because the Michigan was often ice-bound in Erie during the winter social season, the officers and crew had abundant time to socialize within the Erie community. In fact, the U.S.S. Michigan is frequently referred to as the "Mother-in-law of the Navy" because so many marriages arose between her staff and the young ladies of Erie.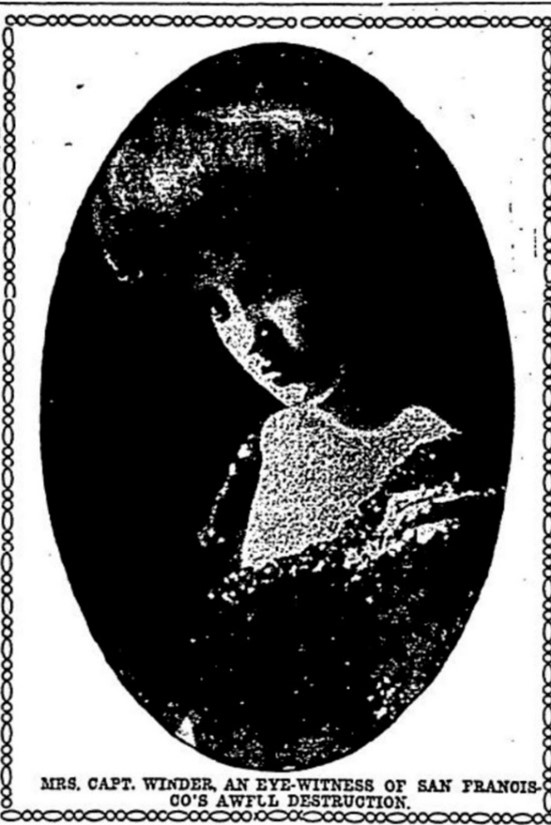 The wedding of Ethel G. Taylor and William Alastair Winder took place in 1905. And, now married, they could begin an exciting life together, travelling and enjoying adventures both in this country and abroad. For several more years, William remained active in the Navy. In 1906, the couple spent three months living in San Francisco while he was stationed there.
In April of 1906, The Erie Times News printed an extensive interview and story about Ethel's experience in escaping the San Francisco area immediately after the great earthquake there. At the time of the earthquake, William was away, having travelled East to see his mother who was ill in New Hampshire. Ethel had planned to catch a train from Oakland the next morning to return to Erie for a visit. She had sent her bags on ahead in anticipation of the train trip. At the last minute, though, she changed plans from staying at their San Francisco hotel (which would be destroyed in the earthquake) to spending the night with friends on nearby Mare Island, which was only mildly affected.
In 1907, William Alastair Winder retired from the U.S. Navy as a Captain. From 1911-1913, the couple lived in Italy, France, and Switzerland. It was Florence, Italy; however, that they considered to be home during this period after William's retirement. The Winders owned their own villa in Florence. Ethel's sister Helen frequently joined them there for extended periods of time.
By the 1920s, there were reports of ill health for William. Census records imply that they were living separately in Massachusetts. William died in October 1922 while Ethel and Helen were in Florence. Ethel continued to live in Italy with Helen from 1922 through 1924, with only brief visits back to the U.S. The photo here is Ethel's 1924 passport photo.
The sisters did, however; finally make their way back home to Erie. They lived temporarily at 312 West Ninth Street. Then in April of 1930, Ethel Taylor Winder and her sister Helen Taylor jointly purchased the house at 451 West Ninth Street in Erie. In the backyard, they incorporated a formal rose garden, perhaps in memory of the glorious Florentine formal gardens they had experienced abroad.
In 1936, Helen passed away at the age of fifty-seven. For three more decades, Ethel would live alone in this spacious mansion. Ethel Taylor Winder, 88, died on June 14, 1965. Both sisters are buried in Erie Cemetery, side by side, in the Burton family plot.
The items and furnishings that Ethel and Helen had acquired during their lives showed a flair for the formal and luxurious. Following Ethel's death, some sixty-six mostly decorative items including vases, furniture, jewelry and paintings were donated to the Erie County Historical Museum (now the Hagen History Center).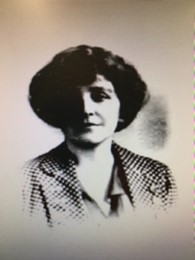 As you browse through the Watson-Curtze Mansion, be sure to notice the luxurious furnishings in the parlor – courtesy of Erie sisters Helen Taylor and Ethel Taylor Winder.