Published every Saturday & Sunday.
The Fishermen, 1905-1908
From 1905-1908 the Erie Base Ball Association placed a baseball team in the third incarnation of the Interstate League, a Class D minor league composed initially of six teams in northwest Pennsylvania and western New York. Erie's entry was nicknamed the Fishermen, presumably to recognize the city's origins as a shipping and fishing port, although an account of an exhibition game on May 16 claimed that fans in Jamestown bestowed the moniker "probably because of the ability of the Erie ball tossers to put in the hooks for two straight games."
Home games were played at League Park, built in 1905 on upper Peach Street, near where Erie High School now stands, which was outside the city limits at the time. The park seated 2,000 people, and apparently had the grandstand along the third base line and bleachers on the first base line.
The Erie owner, Frank Baumeister, also served a term as the president of the league and eventually the team's manager in 1908. Attendance in Erie was reported to have been over 100,000 in 1906, when the population of the city was around 60,000. The other teams in the league were in smaller towns such as Coudersport, Bradford, DuBois, Franklin, Hornell, Jamestown, Kane, Oil City, Olean, Patton and Punxsutawney.
The Fishermen, managed by co-owner Daniel Koster, finished the 1905 campaign one game behind the Coudersport Giants. They easily won the championship in 1906 against an expanded eight-team league, finishing with a record of 65-41.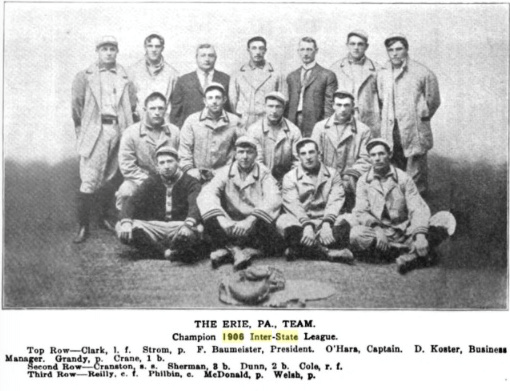 The league barely survived the 1907 season. It had started with eight clubs in the circuit, but bad weather was blamed for small crowds and many teams complained of financial trouble. Four of the teams collapsed, leaving only Erie, Franklin, Bradford and Oil City to complete the schedule. However, since DuBois had the best record before it had disbanded, it was declared the winner of the first half of the season, while Bradford, playing two fewer games than Erie, finished first in the second half. Erie, despite having the best record over the course of the entire year at 64-51, came up empty handed.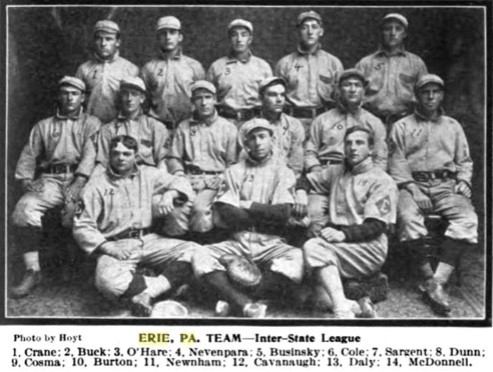 After this disappointing season Erie boosters, seeking a higher level of competition against teams in larger towns that would bring in a bigger gate, sought admission to the Class C Ohio-Pennsylvania League and the Central League, a Class B league.