On the grounds of the Thomas B. Hagen History Center, is a truly amazing tree representing a remnant species, Ginkgo biloba, that has existed essentially unchanged since the Middle Jurassic Period. The genus Ginkgo first appeared approximately 170 million years ago.(1) Ginkgo's evolved during the Middle Jurassic epoch when Pangaea began to separate into Laurasia and Gondwana, and the Atlantic Ocean formed. Huge dinosaurs are associated with the Middle Jurasic. Ginkgo biloba is the oldest tree species surviving. The genus Ginkgo has truly remarkable attributes which are no longer found in modern trees. The Hagen History Center Ginkgo tree is one of the finest examples of the species located on this continent.
The Watson-Curtze Mansion was constructed in 1891-1892 along with a garden that included a Copper Beech and a Ginkgo. Both trees were probably planted from nursery stock with the beech being about 5 years old and the Ginkgo being about 10 years old. The 133 year old beech was cut this year due to extensive stem rot. The still youthful Watson-Curtze Ginkgo continues to thrive. This species does not exhibit the normal signs of aging and can remain vigorous to a remarkable old age. It is very difficult for scientists to understand aging in this long lived species. The only symptom of aging found has been in the cambium (the surface layer of wood that grows each year). Jinxing Lin of the Beijing Forestry University through DNA sequences and genome analysis showed that the genes responsible for thickening each layer of cambium were less active as the tree ages, but that other signs of aging did not appear and although 600-year-old ginkgos grow thinner annual rings, they're likely to produce just as much defensive and immune-supporting chemicals as their younger relatives. (2)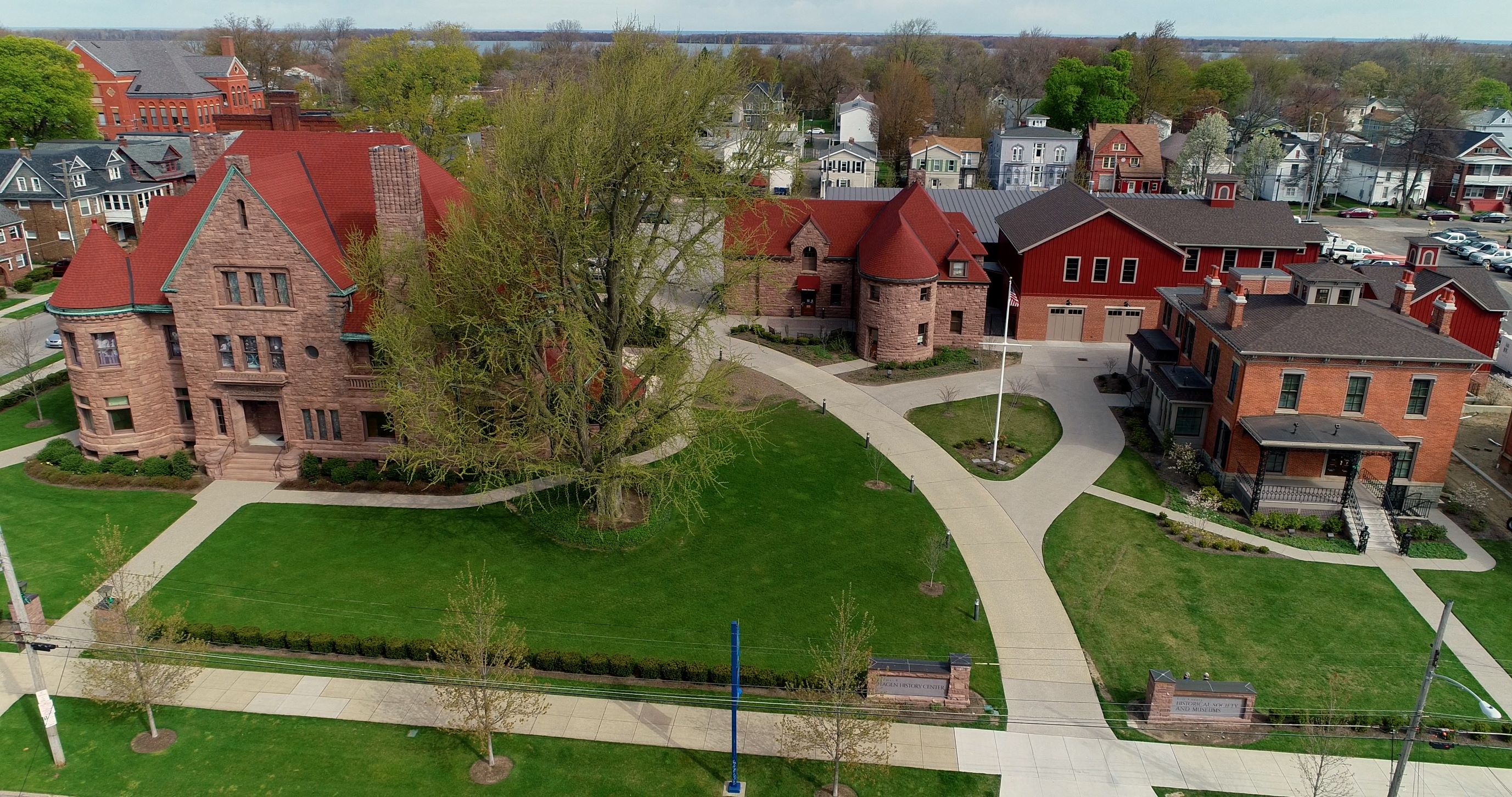 Ginkgo biloba is the oldest surviving tree species. The fan shaped leaves of the Ginkgo are unique among living seed plants with two veins entering the base which then bifurcate many times to form dichotomous venation. The leaves seasonally change from green to a brilliant saffron color before falling.
Individual trees are dioecious being either male or female; however, the trees are capable of changing sexes.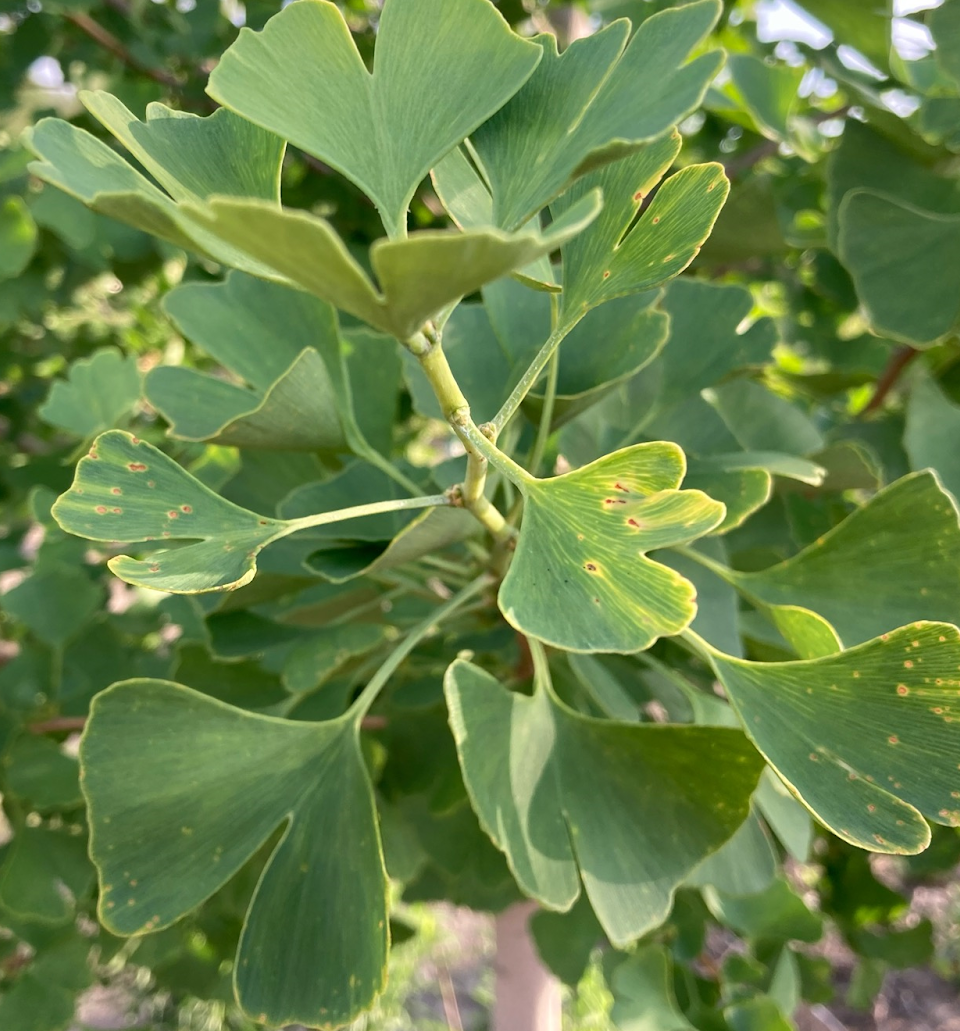 Ginkgos are large trees, normally reaching a height of 20–35m (66–115 ft), with some specimens in China being over 50m (160 ft). The tree has an angular crown and long, somewhat erratic branches, and is usually deep rooted and resistant to wind and snow damage. During autumn, the deciduous leaves turn a saffron yellow. A combination of resistance to disease, having fungus and insect-resistant wood and having the ability to regenerate by aerial branch roots and by stem sprouts help make individual ginkgos long-lived with a potential life span of 3,500 years (speculated not observed by humans). The Watson-Curtze ginkgo is 13' 1'' (4.36m) in diameter and 120' (36.58m) tall and is far younger than the larger trees found in China. Unfortunately, there is no universal standard governing how to accurately measure ginkgos and although it is safe to say that the Watson-Curtze ginkgo is very large for its age, its ranking could not be compared.
(1)Ginkgo biloba's footprint of dynamic Pleistocene history dates back only 390,000 years ago. BMC Genomics (2018) 19:299.
(2)https://www.discovermagazine.com/planet-earth/ginkgo-trees-stay-youthful-for-hundreds-of-years- scientist-are-probing-how
By - Robert S. O'Rear, Forester & ECHS Volunteer 9/2020
On September 18th, the Hagen History Center hosted Mercyhurst Forensics students and staff to our campus. The prime objective was to "map" a large gingko tree on the History Center campus, using the same techniques that would be used in a crime scene.