Chris Spare was in the first class of formally trained volunteer docents in the Spring of 2021. Four sessions, an hour and a half in length and a lot of studying later, she is one of our most consistent docents.
Originally from Erie, Chris' family moved to a farm in French Creek, NY, just down the road from Peak N Peak. They returned to Erie, and Chris finished high school at St. benedict Academy.
Working in retail most of her life, Chris moved to the Washington, D.C., area where she was a district sales manager for several different companies before returning to Erie. She is the oldest of 11 children, most of whom still live in the Erie area. She has a daughter, son-in-law and 2 grandchildren in North Carolina.
When asked why she became a docent here at the Hagen History Center, Chris answered: "I have always been interested in history, and as a retiree looking to expand my interests, I became excited when the notice in the paper that HHC was looking to train docents and thought this would be a great opportunity to not only learn but to teach others as well."
Her favorite part of being a docent: "Dealing with all kinds of people and sharing with them what I have learned since becoming a docent. Every once in a while, you hit upon a guest here and things click, you have a conversation, people are interested and ask questions and respond by saying "Wow, I never knew that" and they want to know more. It's a good feeling to know that you planted a seed."
When asked what she has learned here at the Hagen History Center, Chris responded "I have learned many things about the early industrialists and their contributions to Erie and how so many were connected. Erie is always on the move and the Hagen History Center's exhibits explain how the region has developed over time. I have learned so much about Frank Lloyd Wright, his life, and his architectural style and what he contributed to and how he impacted the world of architecture."
Chris Spare is often "on duty" in the Exhibit Building of the Hagen History Center on Tuesday mornings, and occasionally other times during the week. Stop in a see her.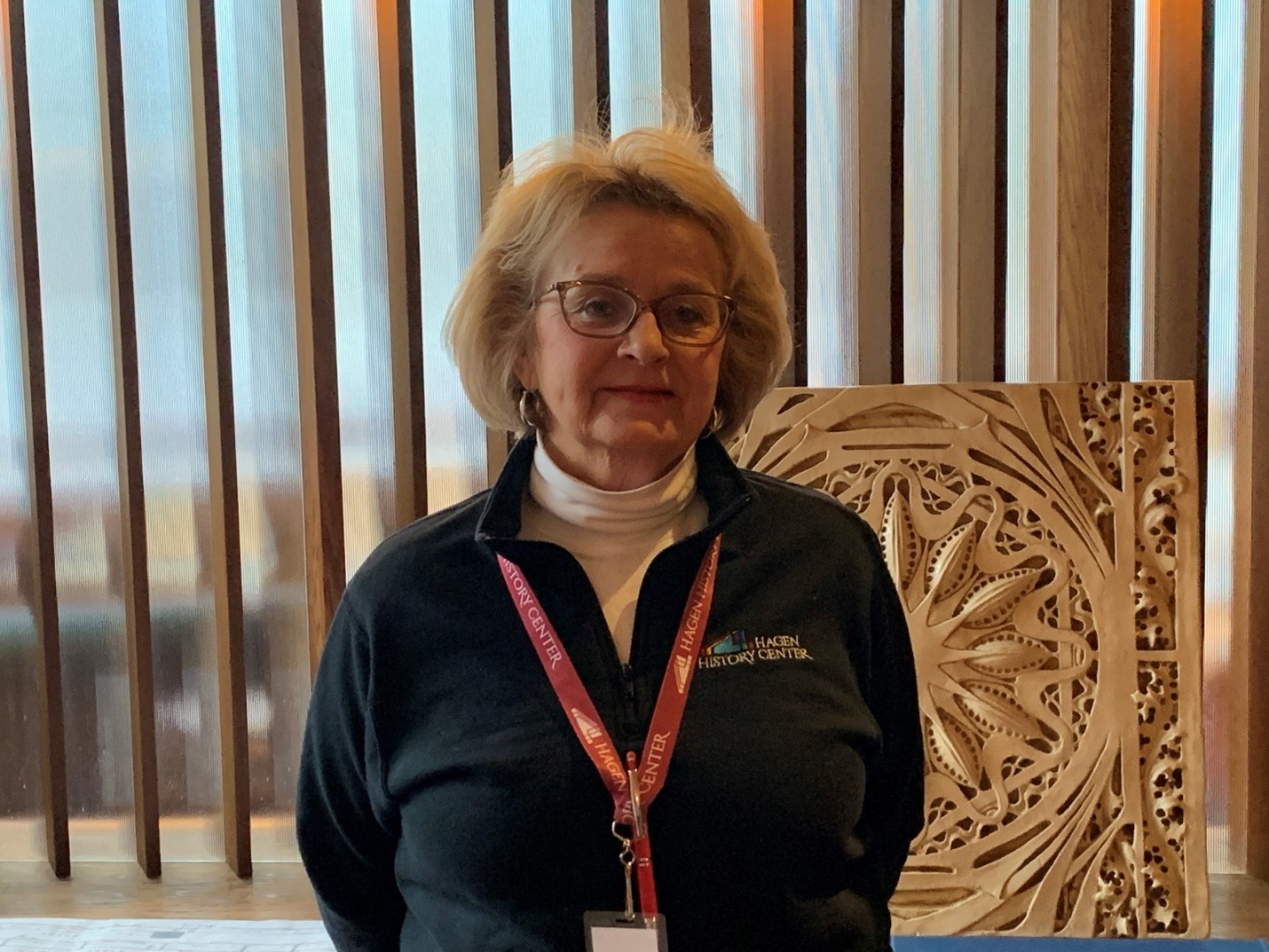 ---
Hagen History Center is always looking for docents!

Click here to find out more about our Docent Training or contact Jeff Sherry for more information by email or phone, (814)454-1813 x 33