When people hear that we have objects made of hair in our collection at the Hagen History Center, they tend to become grossed out. Yes, they are made of real human hair! Women in Europe and North America created these objects to pass time. Wreaths, jewelry such as bracelets and earrings, and many other items were created. Here at the museum, we have some examples of these.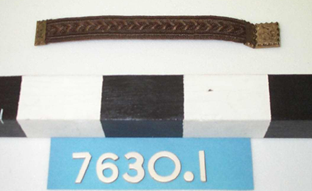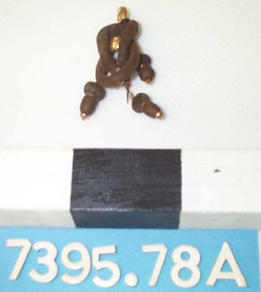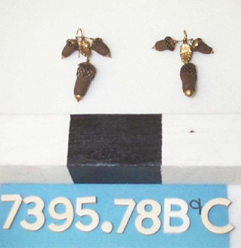 Today, this blog will focus on hair wreaths. In our collection at the museum we have two. The first is in a U-shape made of flowers surrounding a cross. It is from ladies in the vicinity of St. Mary's Church.
The second is made of brown hair with a floral design in a rectangular shape with an image of a small child in the middle.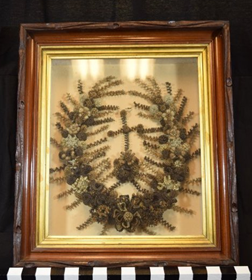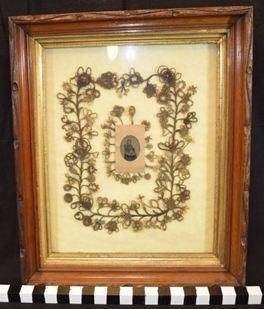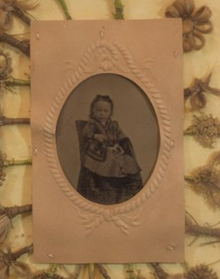 Although hair art is frequently associated with objects of mourning, it was just as often used to make family trees or tokens of friendship. A hair wreath with an open-end at the top symbolized the deceased person's ascent to Heaven. A family hair wreath was a way of letting others know about the family and its history; the same way that a family tree indicates who members of a certain family are and their relationships today. Since this object does not have an open-end at the top, it is likely that this was not a mourning object but a family hair wreath. Every meticulous knot in a strand or delicate petal of a flower formed with hair and wire reflects an intimate connection between the artist and the absent subject that acted as both portrait and talisman of a relationship.
Hair art has its "roots" in the 17th and 18th century when it was used to reflect the high infant mortality rates of the time. However, it became more popular in the Victorian Era, 1837-1901, following the death of Queen Victoria's husband, Prince Consort Albert. In the United States, the high death toll of the Civil War further fueled this trend.
At first you may feel that hair art is an odd way to decorate a home, but it has a lot of important meaning behind it. It is important for us to remember how we decorate our own homes. Walls lined with pictures of loved ones alive and deceased. We may also still have their old clothes, jewelry, etc. We even may keep some of their hair or even their ashes if they are cremated. If you really take the time to think about it, it was just their version of remembrance or to decorate their homes.
Sources:
https://saukcountyhistory.org/the-hair-wreath