It may not look like it at first, but this is a child's toy. One of my personal favorites since I was lucky enough to find it back when we were doing our State Street storage clean out. It is a beautiful coach that belonged to the Hamot family, yes, the same Hamot as the hospital here in Erie (see blog #6). The coach was first acquired by Pierre Simon Vincent Hamot, who came to Erie from France in 1802. It was pulled by a man employed by the Hamot's to wheel about the family's three youngest daughters: Catherine, Mary, and Hortense.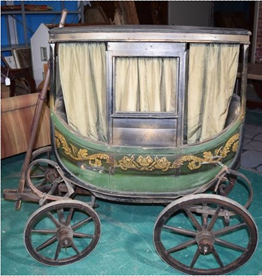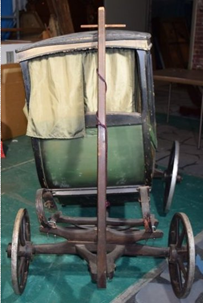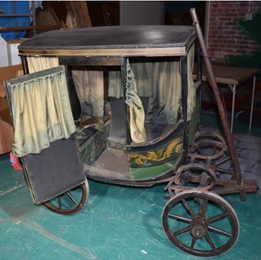 According to a May 1926 newspaper clipping, "The little covered wooden carriage is 44 1/2 inches in height, 37 inches long, 24 inches wide, with its 15 inch solidly made front wheels and 18 1/2 inch back wheels were sent away to be refurbished. Leather matching the interior was put over the top. The body and wheels were strengthened. New curtains were placed at the windows. The little carriage was cleaned and made ready for its long stay with posterity. Nothing was done that would take away the dignity of its age or prestige."
The coach was passed down to Catherine's son, Charles Hamot Strong. Strong being another big Erie name. In a letter about the coach to his friend Carrie Hemphill on June 12, 1926, Charles explains the origins of this object. According to the letter it describes the coach as being of the "Napoleonic period in France."
This coach is a relic of the Hamot family, and has only been refurbished once, in 1926. It was claimed, when written about when first put on display, that there most likely wasn't a duplicate anywhere in the country.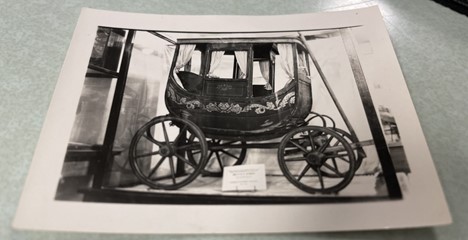 Whether or not that is still true, the fact remains that this is an important relic to understand what the common sights of Erie may have been like 200 years ago.