One of the first things I do when I move to a new location is to find out where the nearest public transportation is. This was vitally important when I lived on Long Island, New York and did not own a car. In Erie, I own a car but still find it important on days I do not want to drive to have an alternate form of transportation available. For example, when the car is covered in snow and driving is difficult, I enjoy taking a bus. The Erie Metropolitan Transit Authority (EMTA) bus drivers are helpful and friendly which makes the otherwise difficult journey enjoyable.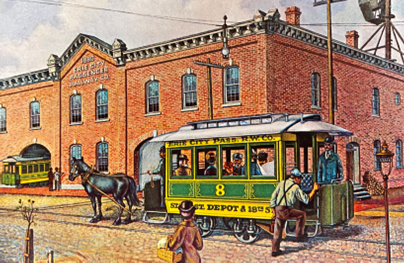 The first public passenger transportation system began in Erie prior to 1867. Pulled by horses, the car took a fixed route from the foot of State Street to 26th and Peach Streets. In 1867, the Erie Passenger Railway Company started. The "light rail" of the day, this system was composed of horse drawn cars on tracks. Eliminating the need for horses in 1888, the Erie Electric Motor Company was the first actual light rail system in Erie.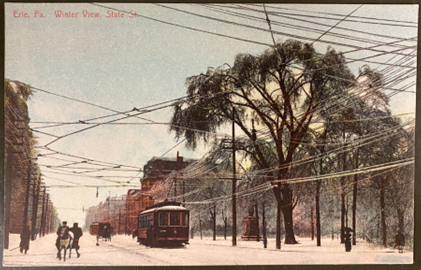 It was this system that was in place when John Nolen (and a team of consultants) made recommendations for Erie's improvement. Nolen felt that the streetcar company did not keep pace with the growth of the city. Tracks needed to be extended, routes were not direct, and the fares inadequate for the upkeep of the line. Erie was quickly expanding and the distance necessary to walk was becoming too far. Bicycling and walking were a popular means of getting around town but as we all know, there are months in the year where it is hardly possible.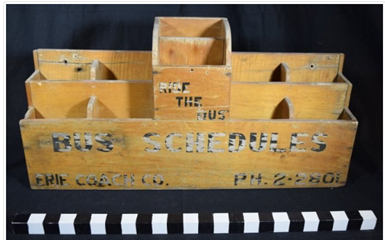 In 1924, the Erie Coach Company began bus service in the city. This bus ticket went overseas with an Erie man while fighting in WWII. The company stayed in service until 1966 when the Erie Metropolitan Transit Authority was formed. Today, approximately 3 million rides are provided by the EMTA to city and county residents alike each year. Students at any of the area's colleges and universities are offered free transportation. A free "cultural loop" provides those who wish to park at the Intermodal Transportation Center, the Liberty Park-N-Ride on the Bayfront Parkway, or at the bus garage located at 14th and Holland Streets free Saturday evening service to downtown events, restaurants and bars. Why pay for parking? This system is funded by ridership, the City of Erie, County of Erie, Commonwealth of Pennsylvania and Federal dollars.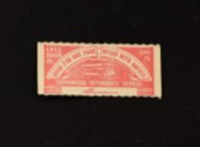 Using public transportation is certainly better for the environment and affordable. I am sure the lack of convenience is a huge factor for folks not using the system but has become easier to use with a cell phone app that tracks buses and their arrival times. For some of us it is a choice, others, it is the only option they have. I am grateful for public transportation and I wish it a long life in Erie County.