I love looking back in history and seeing how things could have been. In John Nolen's "Plans and Reports for the Extension and Improvement of the City" written in 1913, he talks about his optimism for Erie's future in regard to real estate. Nolen calls Erie a city "of homes" because rents at the time were unusually high compared to wages.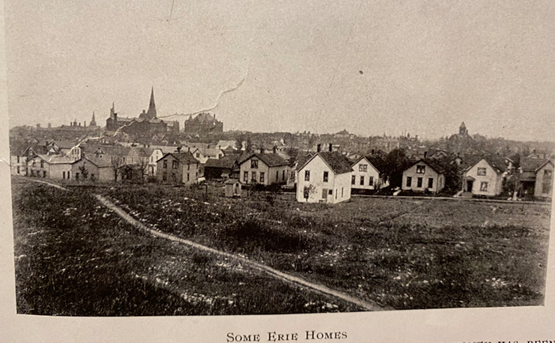 As the photo above shows, Nolen felt that homes were mainly "monotonous, dreary, commonplace development where enough money has been spent to obtain satisfactory results. Such homes might just as well have been good, more sightly and interesting". P. 71
Business and manufacturing were booming in this time period and growth was seen as inevitable. The East Side consisted of rocky, solid land, allowing for a firm foundation for the manufacturing sector. The West Side was seen as having good conditions for residential use and the downtown was for retail and other businesses. Keep in mind that the city limits in 1913 were Cranberry Street in the west, Hess Avenue in the east, and around 32nd Street in the South.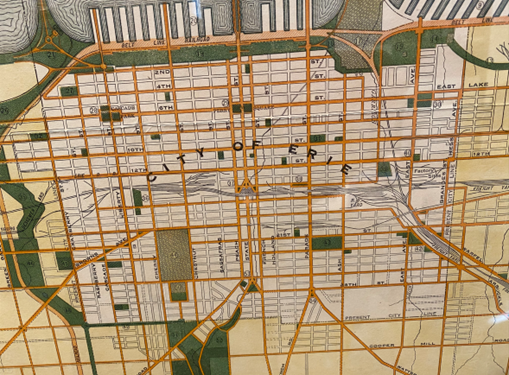 Nolen recommended that large manufacturers erect housing for employees and rent at reasonable rates. That is exactly what General Electric did as I wrote about in a previous blog, and American Brake Shoe Company did during WWI with the help of the United States Housing Corporation. These developments were located outside the city limits but plans were in place to incorporate the land soon into the city. Nolen felt that "reasonable rents will always attract the right class of people." Page 216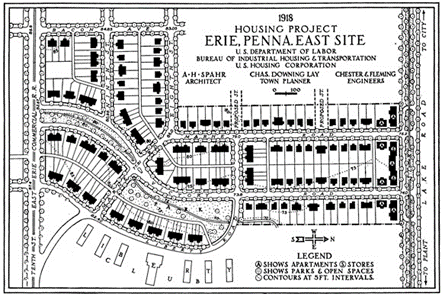 A thriving downtown exemplified Erie's prosperity at the time. The center of that prosperity was on State Street between 7th and 12th Streets. Peach and French Streets were seen as overflow areas for the growth of retail. Peach Street would be higher in demand because it was directly in line with the railroad station and, with a little over 90 passenger trains a day stopping, potential customers were easy to acquire. Just to give you an idea of the amount of business on State Street at the time, I took a look at the 700 block in the 1912 City Directory. Here is a list of the businesses:
JM Stearns, books
Gus Gianakos, confectioner
Interstate Optical
John Laver, florist
Charles Bowman, postcards
William Hall, cigars
William Kyriazis, shoe shining
Paris Cloak House
Tarbell Medicine Company
Max Mayo, leather
Prescott Goodnough, jeweler
Miss Willing, art and needlework
Levi Wiener, cloaks
Remington Typewriter Company
Neal Millinery Company
Leader Shoe Company
Boston Store
English Woolen Mills
AJ Mayer and Son Shoes
Herman Jarecki, jeweler
Security Savings & Trust Company
Melvin Sea, shoemaker
Western Union Telegraph Company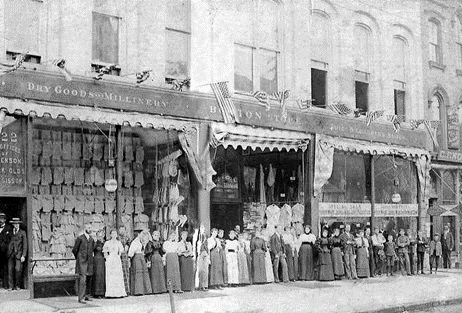 Wow! Business was booming! Time has shown great changes with the development of suburban malls, chain stores, and now internet shopping. I join John Nolen in his optimism for the development of downtown Erie. One cannot help but notice the changes in beautiful rental apartments, stores, and the beauty of Perry Square. Long life and happiness to us all!