A few blogs ago I wrote about the variety and number of businesses that were located in downtown Erie. I pulled the 1913 Erie City Directory for some of that information and was impressed by all the dressmakers I found in the book. Today, we think nothing about going to a store and picking up what we want "off the rack." Well, that is not always the case for those of us with harder to find sizes (I am taller than the average) so we shop the internet or get something altered. Who were these dressmakers?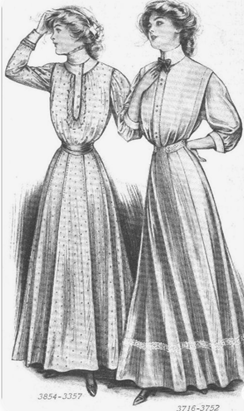 In 1913, there were 242 dressmakers scattered around the city. They produced the custom fitting clothing that was fashionable at the time. I am sure that every woman had a favorite dressmaker; one that was high-end, or one that was budget friendly. If a woman did not sew the dress herself, she had a dressmaker produce it.
Custom dressmaker was one of the few acceptable professions for women outside the home. The job provided a living wage and was a career advancement from seamstress because the dressmaker was her own business. A seamstress was employed by a dressmaker and that job was demanding with low wages. Often, women who were employed in an apprenticeship program with a dressmaker came in with minimal sewing skills and learned the craft of creating something that fit the client. It was not unusual for a seamstress to work six, 10-hour days, especially during the busy seasons of Spring and Fall.
When a client did contact the dressmaker of her choice, it took several visits before the final product was made. The latest styles of dress would be studied in the current fashion magazines such as Godey's Lady's Book, or from the dressmaker herself who may have travelled to Paris or New York. Fabrics and trims would be chosen and a pattern made. This pattern would remain on file for future productions and modified as needed.
This method of dress making continued until the 1890s when the needle and fabric were invented and ready-made clothing production began in factories. By the 1910s, factory produced clothing became common. For example, by 1920, the Erie City Directory lists only 119 dressmakers, about half of the 1913 number.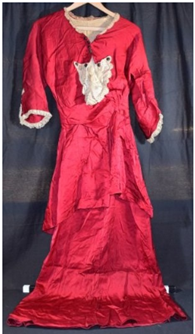 Dressmaking as a female profession may have gone away but other opportunities were beginning to open up. Women began working in factories and stores, especially with women's suffrage and WWI creating new roles for women. We have several dresses in the Hagen History Center collection that I am sure were made by local dressmakers. They rarely "signed" their work but the craftsmanship ("craftswomanship") is spectacular and I love every time we get some out. We have some on exhibit now in our Watson-Curtze mansion, come out and visit and marvel about this seemingly lost art.