Welcome back as we continue to try to answer the question why Erie did not grow as large as the nearby cities of Buffalo and Cleveland that I proposed many blogs ago.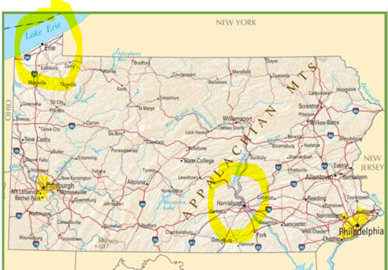 When it comes to the center of power in Pennsylvania, it is believed that Erie tends to be forgotten in Harrisburg at times. Being the Commonwealth's only port on the Great Lake, this surprises me. Our harbor infrastructure never seemed to have received the state monies that Buffalo and Cleveland enjoyed, therefore shipping to those cities became easier.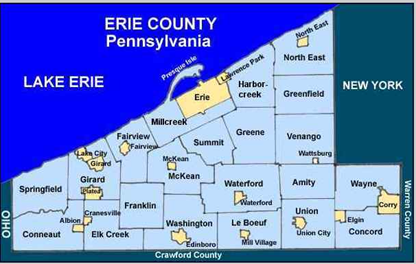 I am no expert in state government but I have read that cities like Nashville and Indianapolis have benefited from regionalizing their governments (called "Unigov" there). Here in Erie County, we have 38 municipalities which include 2 cities, 14 boroughs and 22 townships. Just think, if we were to expand the city of Erie into Millcreek, Wesleyville and Summit Township, the population would grow, the duplication of essential services would cease, and more state and federal money could be acquired. It's just a thought.
Erie has not recovered as quickly as its big city neighbors in shedding its "Rust Belt" image. When manufacturers began to make their exit during the NAFTA (North American Free Trade Agreement) years in the 1980s, Pittsburgh reinvented itself quickly. Cleveland began some time ago, and I have read that Buffalo is becoming hip and happening now. Erie is on its way, just on a smaller scale and somewhat slower pace.
In conclusion, maybe we do not want Erie to grow. Maybe we like our small city. I do. Although I do want to see the city and county thrive. Opportunities are growing here and many who have left during the "brain drain" have come back home. Due to Erie's smaller size, it has always been difficult for people to find a job with a living wage unless you have a friend or relative who can help. That is not usually the case in a larger city.
To conclude, I do not have a definite answer why Erie didn't grow as large as its neighbors. In all the corners of the world to live though, I believe it is a nice place with nice people. There is no perfect place to live unless it is perfect for you. In my case, I have made Erie that perfect place! I hope it is that way for you, too.
Next week we continue on our journey of local people, places and things. Find a bit of happiness in everything you do!