I LOVE to walk! It is such great exercise and the lack of any lasting snow this winter has made it easy to get out and breath some fresh air. I can clear my mind and notice things that I never observe with a quick drive. Erie is so walkable too! The topography of the city is mainly flat and there are sidewalks almost everywhere. Something wonderful happened on my last big walk-through town that I just have to tell you about.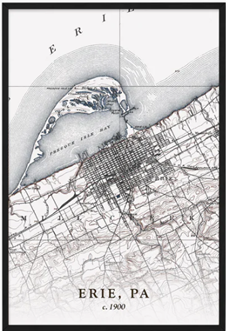 I had been reading in the Erie Reader about the "Hold Fast to Dreams Poetry Park" in the city and had to experience it, even in the dead of winter. So, I walked to the park (it was only 1.3 miles from where I live according to Google Maps). If you haven't seen it yet, Poetry Park is located in the 600 block of East 22nd Street and was truly inspirational!
The park was established in part by the efforts of Sr. Mary Miller and the recently deceased Sr. Mary Lou Kownacki of the Benedictine Sisters of Erie.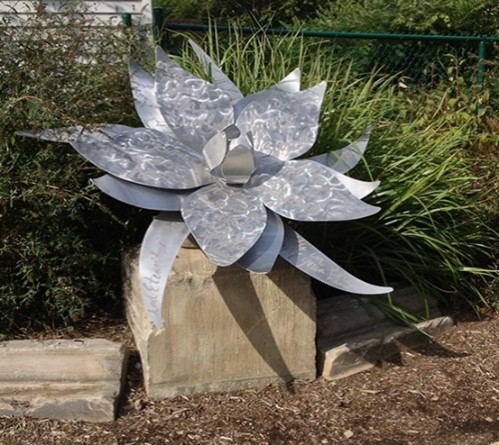 After the Park, I wanted to make some chicken soup for dinner to warm up. I had all the necessary ingredients except bouillon. I remembered that there was a corner store at 24th and Ash Streets named Serafin's Food Market, so I walked over there, taking my chances that their inventory included such an odd ingredient. Well, they had it! I wanted to see what else Serafin's had, so I continued through the store and somehow got in a conversation with a man who was stocking shelves. I had no idea he was Dan Serafin, the owner of the store. When I introduced myself as the Curator of the Erie County Historical Society, Dan told me he loves history, especially the long history of his store, which has been in the family since 1926.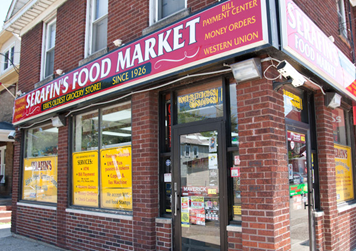 Dan proudly took me on an extensive tour of Serafin's. He has an excellent blown-up photograph in the back of the store showing how the store used to look. He explained to me how brown paper and twine were used to tie up customers' packages back in those days. Dan showed me the entire building and the neighboring buildings as well. It was fantastic! I had no idea that Serafin's offered so much more than groceries. They have the Pennsylvania Lottery, bill paying, ATM rentals, cellular phone services, home rentals, snow plowing, Western-Union, laundry, an auto vacuum and tire inflation machine, special event catering, fresh baked goods and coffee. He also explained how the Sisters of St. Joseph are a real and changing presence in the neighborhood. We here in Erie are so lucky and blessed to have such community minded business owners and women religious. Happiness and long life to them all!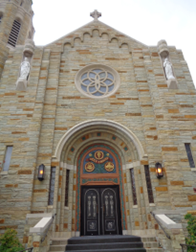 Dan mentioned an excellent point during my tour. When I asked him if there were a lot of problems in the neighborhood with the store. He said "No." Dan lives in the neighborhood and knows it well. He said that during Holy Trinity's Zabawa Festival, the neighborhood comes alive with visitors walking through, rarely giving a second thought to any suggested problems. Why should people worry the rest of the year? I, like Dan, believe that problems can be found anywhere. Everyone I met on my tour was welcoming and friendly. I am definitely going back and I cannot wait to see what Dan and his crew will plan for Serafin's Centennial Celebration in 2026!