Sometimes when I sit down to write this blog, I get hungry. My mind then wanders to good cooking and then back to the museum collection because it is such an important part of my life. As I ponder our collection and food, my thoughts naturally are drawn to the extensive Griswold cast iron cookware we maintain.
The Griswold Manufacturing Company hired the N.W. Ayer & Son advertising firm to promote themselves and what they came up with was highly effective. Please read the following:
From: Printers' Ink a Journal for Advertisers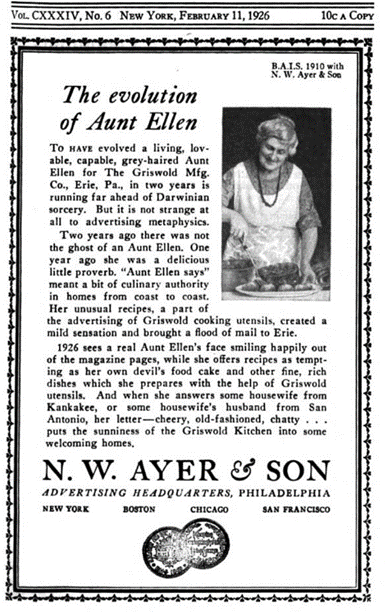 Aunt Ellen was, in reality, Mary Etta Moses who began working for the Griswold Company in 1896 as a stenographer in the President's office. In 1922, under the pen name Aunt Ellen, Mary Etta began answering questions about Griswold cookware and providing recipes. She also provided information about how to equip the perfect kitchen, with Griswold products, of course.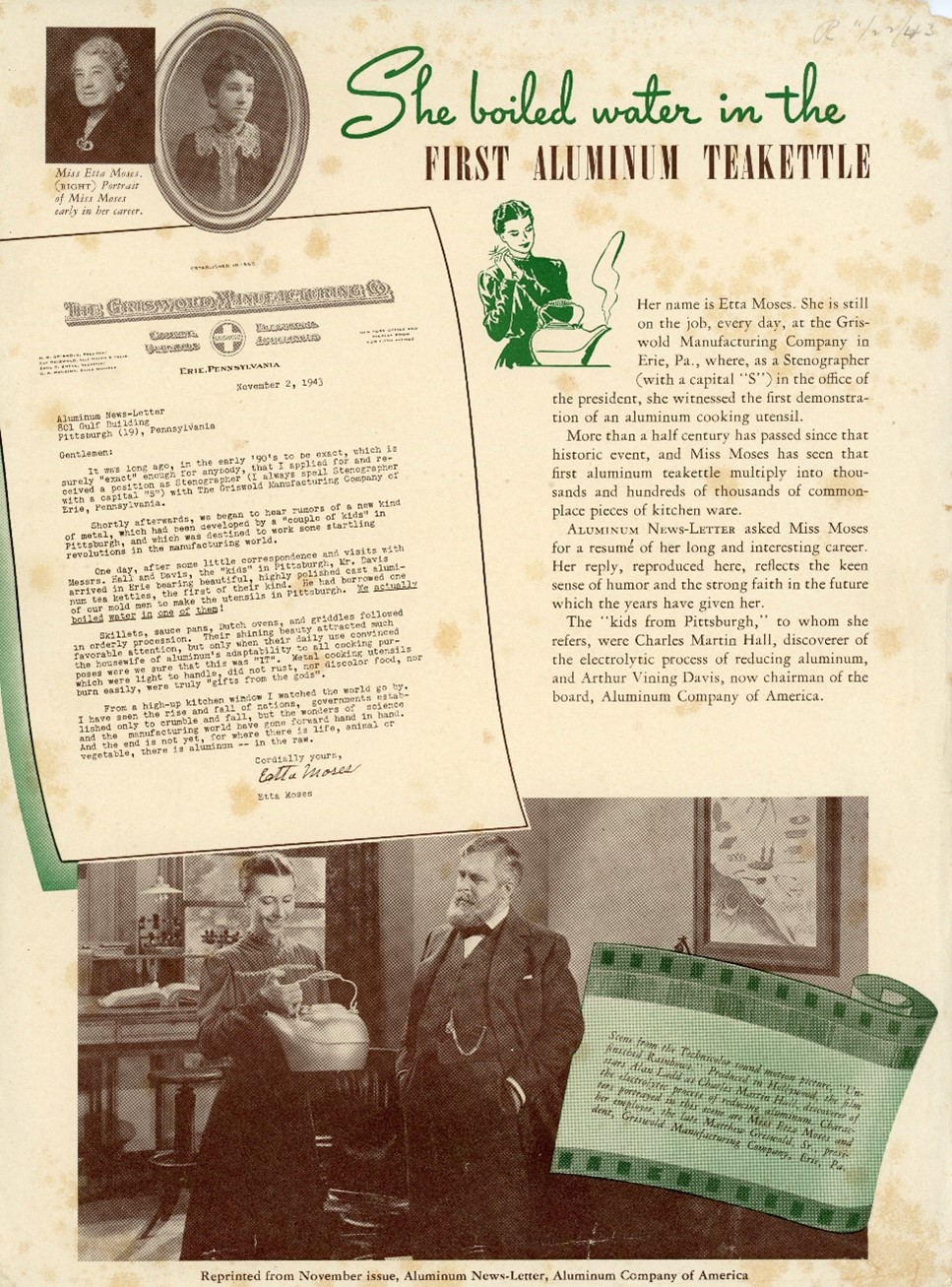 This advertising campaign caused a flurry of interest with nearly 75 mail-in requests each day. Pamphlets were created and advertising appeared in many national magazines.
Aunt Ellen became Griswold's longest serving employee, retiring in 1947. Dying a year later, after a fall, her obituary stated that she was the first woman in the world to boil water in an aluminum tea kettle. That story was eventually made into a movie by the Alcoa company and can be seen on YouTube with the title "It all started with Charles Martin Hall." The movie's original name was "Unfinished Rainbows." It is only 40 minutes long and is an entertaining, Hollywood version of something we all take for granted now, aluminum products.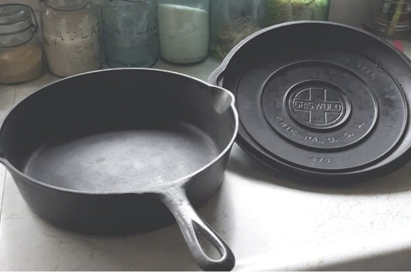 I am still hungry, so I am reprinting this recipe from "The Aunt Ellen Booklet on Waterless Cooking," 1928 by the Griswold Mfg. Co.
Barbecued Ham with Corn Pones
This is not only Barbecued Ham, but a delicious one-piece dinner. Slice the ham about half an inch thick and then cut it into pieces for serving. Brown the meat in a Griswold skillet. Slice cold boiled sweet potatoes around this; add a few round slices of apples, cored but not pared; let brown a little. Sprinkle paprika on the potatoes, sugar on the apples – put on skillet cover and leave it all to cook gently, the ham flavor permeating the potatoes and apples in most tempting way.
The Corn Pones
Make corn pones by adding a pinch of salt to two cups of yellow or white Indian meal, 1 tablespoon of melted lard, and enough boiling water to moisten. Make the meal into rolls. As soon as the ham and apples are tender, arrange them on a hot platter, put the corn rolls in the fat in the Skillet, under the Cover. Cook ten minutes and arrange around the ham, with parsley for color. Make gravy by adding a generous pinch of mustard, pepper, and a heaping tablespoon of flour to the fat in the skillet. Stir until this cooks gently. Gradually pour in a cup and a half of milk and let simmer until thick. Serve in a gravy boat.
Let me know if you make the recipe! Good home cooking always makes me happy. My hope is that it will feed your body and soul.