It's time to celebrate Erie history! I can't believe this is my 25th installment in this fun look at all things Erie adding to our happiness and long life. Every celebration deserves presents so I'm giving you a look of Erie County objects that rarely see the light of day. Enjoy this virtual exhibit of the common and not so common. Long live Erie history and the people past and present who make it happen!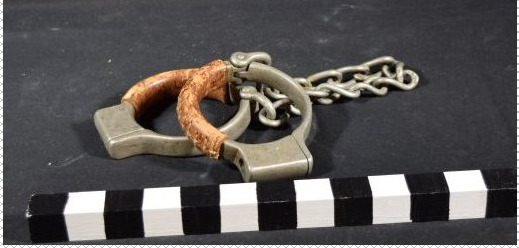 Peter Burton (1816-1863) was a native of Mill Creek Township, Erie County, PA. He served as Deputy Sheriff and was later elected Sheriff, serving from his election on Nov. 5, 1849 to Nov. 2, 1852 when he was succeeded by Thomas B. Vincent. Following his service as Sheriff he operated his dairy farm on Buffalo Road. Burton is buried in the Erie Cemetery.
John Jehu Dillon (1808-1882) was a blacksmith in Erie. Born in Ohio, he is also interred in the Erie Cemetery. The fact that Burton and Dillon were both teachers in the First Sabbath School (1829-1830) of Erie's First Methodist Episcopal Church on W. 7th and Sassafras Streets may explain the association that later resulted in Dillon making the shackles for Burton. Leg irons or shackles were locked around the ankle, with the limited number of metal links in between each foot making it possible only for the wearer to stand still or walk, limiting the chance of escape. Irons are typically heavy and would often rub the skin of a person's legs, causing them to bruise and bleed.

Wooden yokes were commonly used in early 19th century Vermont to carry maple sap from groves to the sugarhouse. A 5-gallon gathering pail was suspended from each end with the yoke resting on the bearer's shoulders. Yokes could also be used for carrying other liquids but were most often used for transporting sap.

In 1753 the French cut a road through the forest from Presque Isle to Fort LeBoeuf (present day Waterford), later extending it to the mouth of French Creek. For almost 50 years this was the only road in Pennsylvania west of the Allegheny River. As it was not used often, forest growth quickly reclaimed it. This resulted in goods bound for northwestern Pennsylvania being carried from Philadelphia to Pittsburgh by wagon, then to Meadville and Waterford by canoe or bateau along the Allegheny River and French Creek.
As early as 1790, the Pennsylvania legislature assigned $400 to improve the navigation of French Creek, with another $500 allotted in 1807. Around 1815, locals noted that in some seasons French Creek could be navigated as far as Waterford by boats with capacities of up to 20 tons, but for a few weeks in the summer it was hardly usable by any craft larger than a canoe. Be that as it may, the creek was the best means for transporting heavy or bulky goods. On the creek north of Meadville was a shipyard where John Mattocks and Noah Town built flatboats, keel boats, and arks. These were constructed upside down then turned on their sides to be slid into the creek. When the boats were ready to be launched, the townsmen gathered with pike poles to turn them over and get them into the water. During the 1800s timber, bark, shingles, and staves were major products of northwestern PA. These commodities were moved to Pittsburgh on rafts with timber also being floated down the waterway, moved as needed by men wielding pike poles.