Without a full-time archivist on staff right now, occasionally things cross my desk that ordinarily would not. For example, about 2 months ago I received a telephone call from a gentleman in Shreveport, Louisiana, who just purchased a scrapbook that he felt should come home to Erie. He said the book was filled with newspaper clippings of important Erie residents and gave me the names Walker and Davenport. Truly, I never heard these names as important Erie ones and wasn't sure if he knew what he was looking at. I told him to send the book anyhow – I certainly don't know everything "Erie" and maybe he was right. Well, he sure was!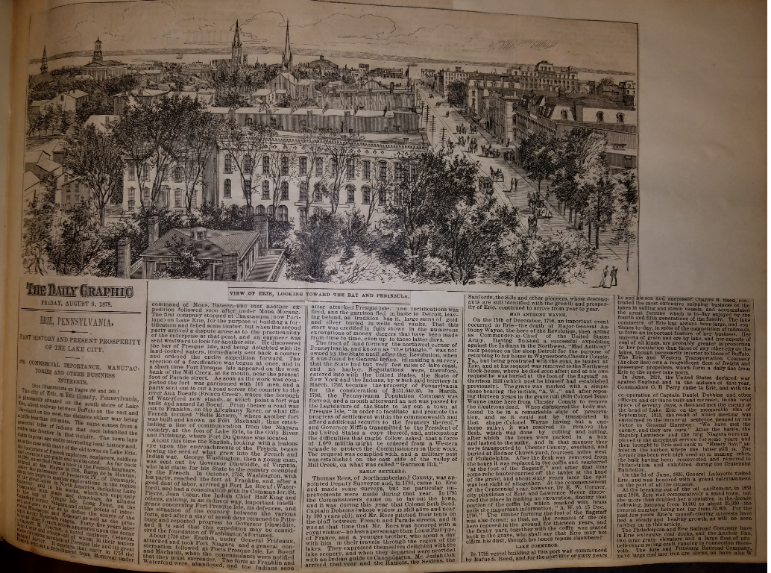 A large part of the scrapbook is about John H. Walker, a "most distinguished citizen of Erie" and "few names are more identified with Northwestern Pennsylvania and none more associated with Erie, than that of the lawyer and statesman now mentioned". Hold it! I've never heard of him before, so the clippings really got my attention.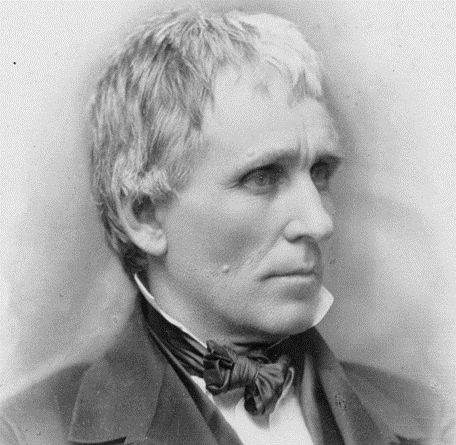 Mr. Walker was born in 1800 and moved to Erie in 1824, at that time a small village, to practice law. He married Catherine Kelly of New Hampshire who died in 1860 after having given birth to 9 children, 6 who lived to adulthood. John was a member of the Erie Guards, a military company made up of young men from Erie and the area. This group accompanied Lafayette when he was a guest of the town in 1825. He was elected to the State Legislature multiple times in the 1830's and helped to promote the Erie Extension Canal project and recharter of the old US Bank by the State of Pennsylvania in the 1840s. He also owned a tannery on the corner of 8th and Holland Streets which never showed a profit.
Shawl owned by Catherine Kelly Walker, the only Walker 3D object in the Hagen History Center collection.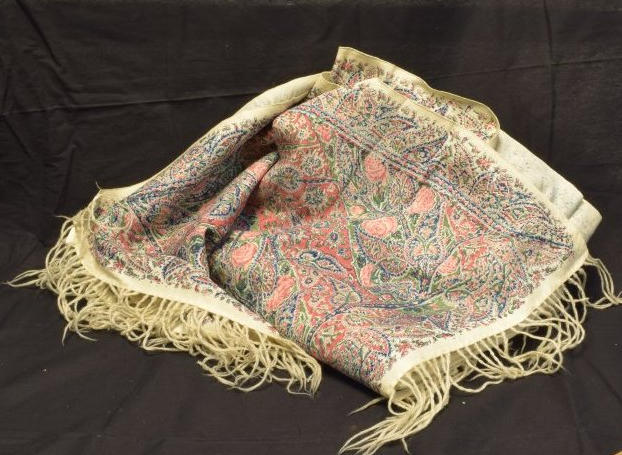 Almost a champion of Erie issues to a fault, Walker was the author of the Pennsylvania Gauge Law which established railroad gauges (the distance between train wheels) from Erie going west at 4 feet, 10 inches and going east at 4 feet, 8.5 inches or 6 feet. (Read next week's blog on a little Erie County railroad history!). The Erie Gazette newspaper at the time stated, "The usual desire of every city to secure some local advantage from the improvements constructed through them, made the law popular in Erie". The state repealed it.

Active in law and civic affairs even in his later years, John Walker spoke his mind on all sorts of issues of the times, even those not popular with everyone. In 1873, forty-six years before the passage of the 19th Amendment to the Constitution allowing women's suffrage, he said: "Do not understand that I undervalue women. I hold woman in too much esteem to have her dragged into our politics and to our polls…I am opposed to giving her the right to vote." Sorry John, you can't be right about everything.
Mr. Walker died January 25, 1875 and the news was printed throughout the State. The Erie Gazette noted the passing the next day stating "His death is like the removal of a landmark, for during the last half century, no man had wielded a larger influence in Erie County, and no man's withdrawal from life's affairs will leave a more noticeable vacancy". He left a large estate to his children of multiple parcels of land and many buildings worth about $150,000 ($3,549,273.00 today). The Erie Club met in his beautiful home after he died (127 West 7th Street, lot now part of the Gannon University campus) before moving to the Reed Mansion on the corner of West 6th and Peach Streets. One of Mr. Walker's daughters, Catherine, married the Honorable S.A. Davenport of Erie and daughters Isabella and Mary married men and moved to Missouri. None of the sons appeared to have lived long except son John W. Walker who was a captain in the Civil War, an attorney and involved in politics like his father. Perhaps a topic of a future blog.