This blog series is now going to change for a while. Instead of focusing on Erie County history inspired by the book "A Souvenir of Erie Penna Illustrated 1888", the next several blogs will be based on a new exhibit in the Watson-Curtze mansion, "The Changing Silhouette of Victorian Women's Fashions". Based Also, instead of being written almost entirely by me, the Curator on staff, they will be written by my highly talented team of summer interns. Perhaps this is a good time to write about the Curatorial Department staff, and the preparations necessary to open our campus to the public the weekend of July 17th and 18th! Come join us then!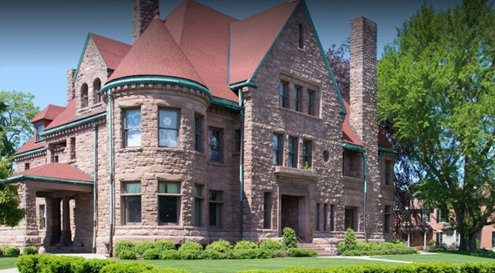 When I began my involvement with the Hagen History Center/Erie County Historical Society 4- years ago this month, I was the only curatorial employee. Starting as a volunteer, I was officially hired in September. I used the early months of my employment to establish the procedures to systematically go through the three-dimensional collection. The process would include the organization, care, and storage of what we were keeping, and to thoughtfully determine what should be deaccessioned (removed from the collection). I worked alone which really allowed me the space to determine the best plan and make sure it was possible.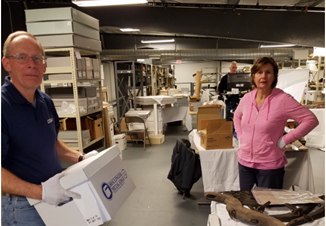 It was not long after my employment that volunteers began to join me, and the earliest ones are still part of the department. Many thanks to Kevin and Beverly Thomas and Jim Brown for their dedication, support, and just plain hard work throughout the years. They helped me work out the bugs in the procedures and were a sounding board when frustration hit.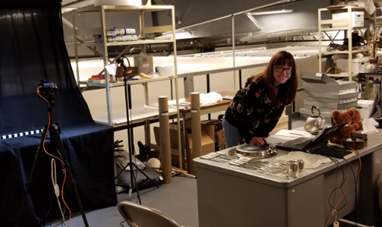 Deaccessioning was the focus of my job. The Board of Directors was very clear with me that we could no longer afford the off-site storage necessary to house the very large and somewhat disjointed collection we maintained. A three-year deadline was set to deaccession our collection. To hit this goal our small team of four quickly grew to additional volunteers, college interns and eventually a part-time assistant, Amanda Rockwood. Amanda began as an intern upon graduation from Edinboro University. Her organizational skills and strong work ethic were exactly what I was looking for in "my right hand" and was quickly hired.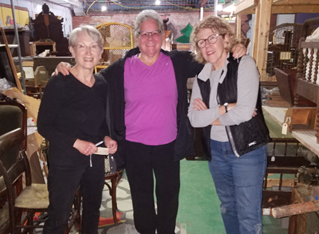 Before long, time was running short for our off-site storage space on State Street. The building was sold to the Erie Downtown Development Corporation, and we certainly did not have room for everything stored there to be housed on our West 6th Street campus. So, the "Thursday Evening Volunteer Team" was started. Most Thursdays we would have between 6 – 12 folks show up to get down and dirty in off-site storage.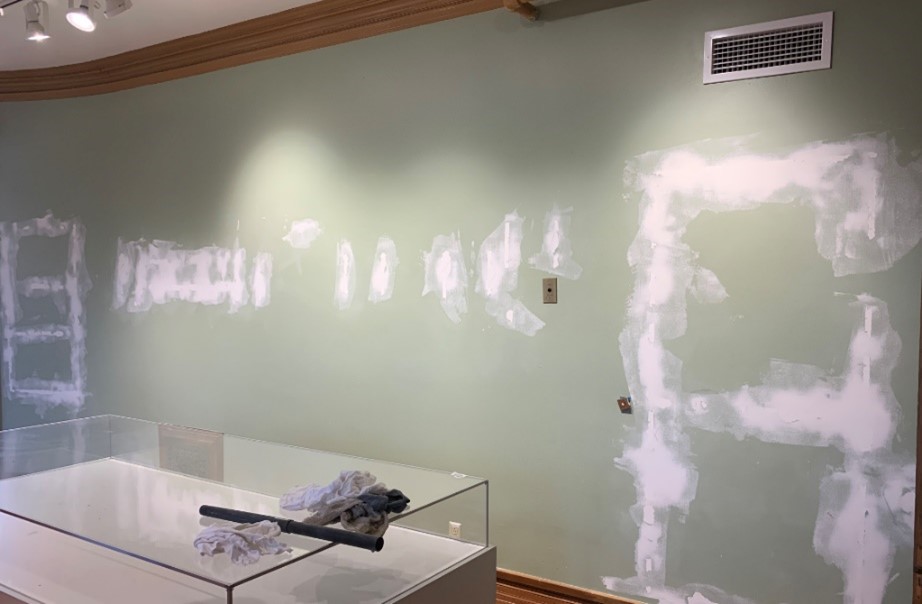 All along, I have worked with students from all the area colleges, and some not so close. It has been my extreme pleasure to mentor them. These bright, interested students have worked on a variety of projects and have fit into the department beautifully. The current group of interns are, Adam Macrino, Mercyhurst University; Ian Headley, Gannon University; Lydia Lane, John Carroll University; Elena Kubat, Waynesburg University and Connor Schlosser, who will be joining us any day now, from Grove City College. I have asked everyone, except Connor, to write blogs on one of our newest exhibits to be opened in mid-July, "The Changing Silhouette of Victorian Women's Fashions".
These blogs could not have happened without the book written by Sabina Shields Freeman and Margaret L. Tenpas, "Erie History-The Women's Story" and "History of Erie County, Pennsylvania" published in 1884. The interns are also writing more in-depth information on objects on exhibit such as the history of corseting, the development of the sewing machine, and information about the women's fashion magazines of the time. This should be a fun walk-through time and I hope you can join us. Feel free to connect with the blogs when you walk through the exhibit as well!
Now that the pandemic is mainly over, my plan is that the volunteers will soon again be back to work here at the Hagen History Center. If you are ever interested in volunteering for this behind-the-scenes fun, please send an email, or give me a call. We always have a great time! Also, enjoy these next group of blogs that the students have written. These young people are the future of museums, and we are so lucky to work with them this summer. I will be back writing about general local history in the Fall. I wish long life and happiness to all!