I grew up in the country, south of Erie, and as a kid I remember riding my bicycle everywhere. One place I enjoyed seeing was Lake Pleasant and being that we didn't get to Lake Erie often, it was always a treat. The Lake is so peaceful and pretty surrounded by trees and farmland.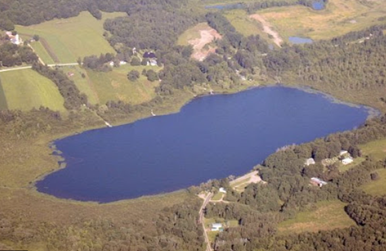 This natural lake was formed by a retreating ancient glacier and is about 8 miles south of the city of Erie on Lake Pleasant Road. Fed by springs, Lake Pleasant is ¾ mile long and 1/3 mile wide. It is only 25-50 feet deep, so it is a haven for beginning scuba divers to learn how to use their equipment safely. It is also a place where folks fish for largemouth bass, bluegill, brook trout and rainbow trout. Only non-motorized boating is allowed so canoes and kayakers can enjoy the rural tranquility.
I found a few postcards of the Lake in the Hagen History Center collection that I wanted to share with you. I believe I remember seeing remnants of this building but not the fountain while biking as a kid.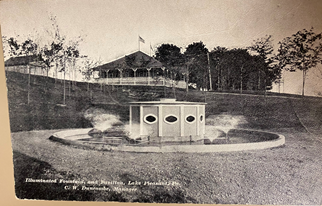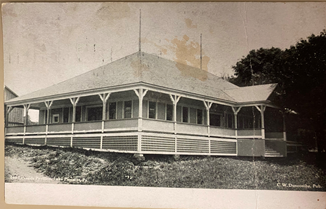 I have not been able to find any information about these structures though. If you have any information, I would love a phone call or email. I started going through the archived newspapers at the Blasco Library to find something. The only thing I could determine was that in the early 1900s several businesses in town would have their summer picnics at Lake Pleasant. It wasn't clear if the picnics were on the shore of the Lake or at the Pavilion. Then, in the 1920s, I found advertisements like the ones below.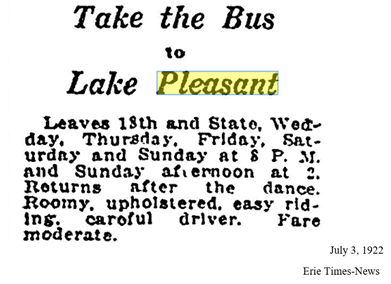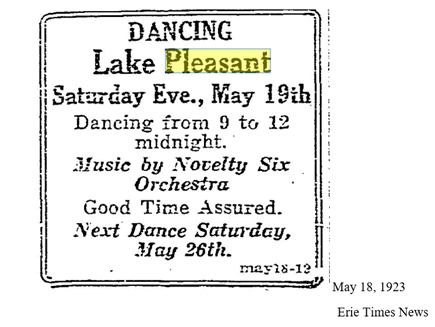 I am not sure how many years these dances held. I also saw an ad referring to the Lake Pleasant Amusement Park, but I do not believe it was the kind of amusement park that we think of today. Back then amusement parks were typically involved just eating and dancing.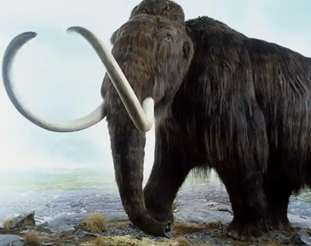 The one thing that I am sure about the Lake is that in 1991, scuba diver George Moon found a very large bone while diving. Over time, more were brought to the surface. Moon asked Gannon professor and anthropologist M. Jude Kirkpatrick for help in identification, and the bones were found to be that of a woolly mammoth. This ancient relative of a modern elephant roamed Erie County between 9,000 – 13,000 years ago, eating vegetation and was hunted by people living here at the time. Scratches on the bones indicated that perhaps the mammoth was killed and placed in the cool, spring-fed water for preservation. The bones are currently housed at the State Museum in Harrisburg for further study.
On these warm waning days of summer, I think about removing myself from the noise of the city and having a cool dip in Lake Pleasant. Just a chance to breathe the fresh air with a good book would bring me much happiness as well. I hope you get a chance to do something relaxing and enjoy all that is around you.