Going through the collection, I became inspired by this dress, beautifully made and worn by a girl taking part in 1915.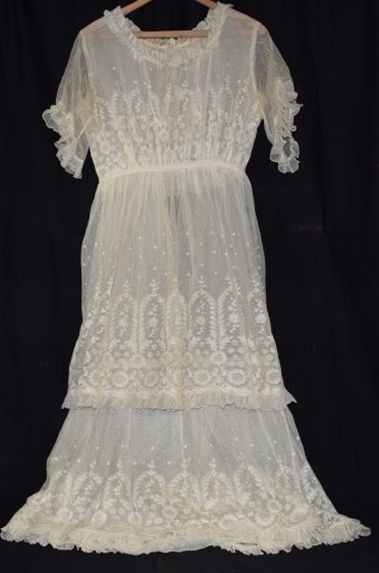 Then I learned it was the dress worn for the Erie High School graduation ceremony of Miss Alma Loiraine Blake and donated by James and Esther Moore Blake in 2009. This long, tunic style gown is cream lace with pearls sewn in around the neckline, obviously made for an important occasion. In a day and time when most young people did not graduate high school, Miss Blake was indeed a special young lady, so I wanted to find out more.
The extensive holdings of the Hagen History Center yielded the 1915 yearbook of Erie High and inside we found the owner of the dress.

I haven't found much information about Alma after her graduation, but she did use her education in the world of work for many years. In 1919, she is listed as a clerk at the Burke Electric Company. Her father, Irving, was the treasurer of Burke Electric. She then became a stenographer for the University of Pittsburgh Erie Center. Later, Alma owned a gift shop at 1005 West 6th Street. After that, the record falls off except the donors said she married, becoming Mrs. Alma B. Carver on an undetermined date. Her death is recorded in Erie in 1988.
Mrs. Carver lived a long, busy life as an educated woman in Erie. She began as a beautiful girl, owning a gorgeous dress who liked to dance and have happiness in her life. I think I'll dance around my kitchen tonight in her honor.