March 10th is the 100th anniversary of the death of a famous Erie born and raised man. He brought happiness throughout the world and was a mentor and inspiration to generations of performers who followed him. Who was that person?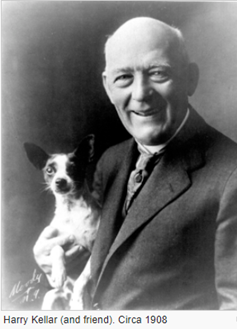 The "Dean of American Magicians," Henrich Keller was born in Erie in 1849 and died in Los Angeles, California at the age of 73. He appeared before the royal families of every nation and his personality had "the attributes which brought him the esteem and awe of millions." He performed on five continents and his obituary stated that "wherever Harry Kellar went, Erie became known".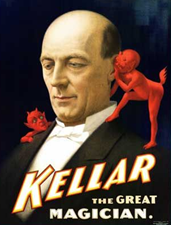 When Kellar retired from the stage he moved to California. He would continue to keep his legal address in Erie. He travelled here often and visited the orphans in town as well as family. His last public appearance was when he performed with Harry Houdini at a benefit in Baltimore for the families of men killed in a troop transport in 1917.
After a brief illness, Harry died and was buried in Rosedale Cemetery. The grave remained unmarked for almost 80 years until the Academy of Magical Arts, headquartered at Hollywood's Magic Castle placed a stone there.
Today, Harry Kellar is remembered in Erie at Kellar's: A Modern Magic and Comedy Club on the corner of 14th and State Streets. I've attended more than one performance there and each time I am entertained and baffled how these talented men and women can completely fool their audiences. I love the shows yet feel so stupid! That's the enduring quality of magic and legacy of Erie's Harry Kellar.