I have been mesmerized by this print hanging in the Watson-Curtze mansion in the men's lounge off the 3rd floor ballroom. Have you seen it? It is an artist's rendition of the burning of the Steamship Erie in 1841.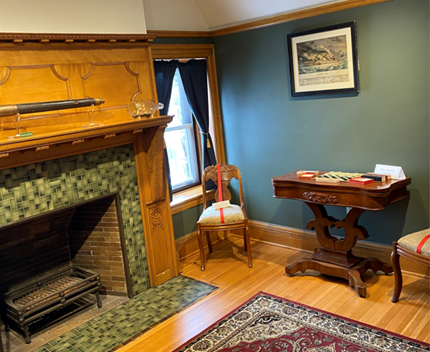 Using steam boilers and engines on a ship was a new technology in the 1840s. The USS Michigan was steam powered and made its Erie debut in 1844. Made of wood and iron, a fire certainly would have destroyed much of her if it happened. Fortunately, the Michigan lived a long life without a major catastrophe. Not so for the Erie.
The Erie was built in 1837 in Erie, Pennsylvania and was part of the shipping fleet of General Charles Manning Reed (who lived in the house which is now the Erie Club). Produced at a cost of $75,000.00 ($2,178,141.00 today!) the Erie transported people and freight between Buffalo and the upper Great Lakes, usually making a stop in Erie. On August 9, 1941, she left Buffalo headed to Chicago with about 200 people on board including the crew. Of those, 30 – 40 were cabin passengers and 140 were in steerage, mainly Swiss and German immigrants. Thirty-three miles east of Erie in the Lake outside Silver Creek New York, an explosion was heard. Within minutes, the entire ship was engulfed in flames. August Fuller of Harborcreek was at the wheel and headed towards shore while the flames engulfed the wheelhouse, wheel and eventually himself. There were 90-100 life preservers on board but could not be retrieved quickly enough to be of use to many. Three lifeboats were lowered and immediately flooded due to the Erie's listing. If not burned immediately, passengers and crew desperately jumped ship and many drowned.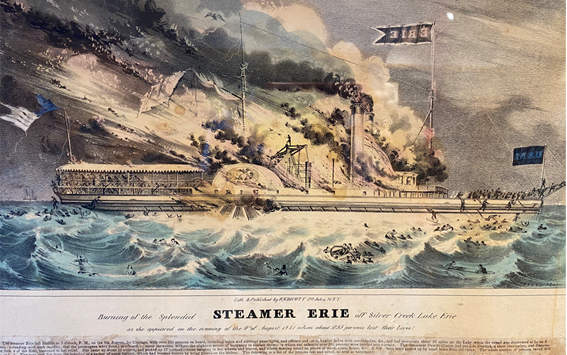 The burning of the Erie is still considered one of the worst catastrophes ever to occur on the Great Lakes. Approximately 175 died (although I have read an account which states that 242 perished) in the incident and 26 of those were from the City or County of Erie. The Clinton, a ship docked in Dunkirk, heard the explosion, yet by the time she arrived at the site, only 29 survivors could be found, according to a newspaper report. It was determined that cans of oil and varnish stored on the boiler deck of the ship overheated, causing the explosion.
Although this story does not fit the theme of "happiness & long life", I do believe it is an important, somewhat forgotten story from our past. Travel by ship has improved tremendously over the years due to lessons learned from tragedies such as the Erie or Titanic. We all have so much to be grateful for. Information for this blog came from "Tales of Old Erie" written by John G. Carney and the "Erie Gazette" edition of August 12, 1841.