I recently received my copy of "The Casting Call", the newsletter of the Wagner and Griswold Society. In it are photos of the 2021 Convention that was held in Little Rock, Arkansas that I did not attend. I also see that the Griswold & Cast Iron Cookware Association Convention will be held in Florence, Kentucky in April and I will not be able to attend that either. Instead of being sad, and missing all the cast iron fun, I have decided to focus a little on the cast iron collection here at the Hagen History Center.
The old Griswold factory on the corner of West 12th and Raspberry Streets in Erie. The foundry continued south of the building on Raspberry and cannot be seen in this photo.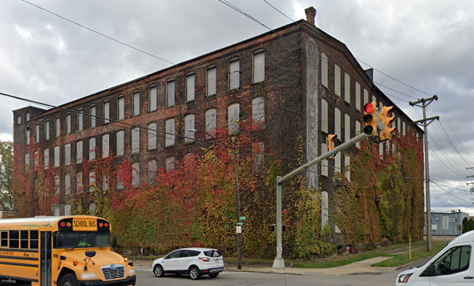 Why is cast iron and aluminum so important in Erie? Because the finest cookware made with those metals were from Erie by the Griswold Manufacturing Company. I am biased, I know! When many visitors come to the Hagen History Center to tour and come upon our Griswold exhibit in the Watson-Curtze mansion, it is a walk down "memory lane". Delicious meals made by Mom, Dad or Grandma often come to mind, all done in a Griswold piece. I tell visitors to keep that iron or aluminum in the family. Cast iron cooking is extremely popular right now, especially during COVID with more home cooked meals being made. Some visitors have told me they would like to donate their cookware instead. I get very excited then! We currently have about 720 pieces of cast iron in the collection, most of which is Griswold, 582 pieces of which came from one collector, Mr. Alan Stone.
Do we have everything in our collection that Griswold made? Absolutely not! Some of the objects pictured here you may not have known that Griswold made. Here is a sampling of our wish list and at the end, I will explain the process how to donate and how to benefit from your donation here.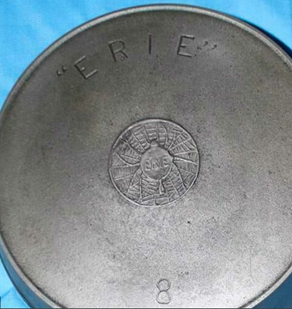 This original "spider logo" was produced by Griswold from 1870 - 1905. If you look carefully, the spider is a skillet with the word "Erie" on its back, and legs coming off the skillet. To many collectors, this is a "must have" for their collection. The term "spider" is another name for skillet or frying pan. Back when people cooked over an open flame, legs extended from the bottoms of skillets so that it would sit on top of hot coals in fireplaces or outside.
We do not have one in our collection.
This unique piece is a coffee roaster. We have a coffee mill but no roaster for our beans. No, we will not use it for the morning brew.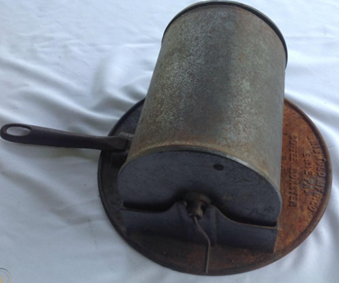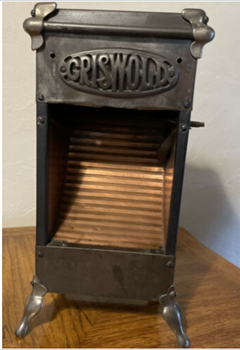 This is just one example of a Griswold heater. Produced in the early 1900s, the company made gas and kerosene models. They even made a cook stove!
Enamel over cast iron, Griswold made red, green, yellow, and turquoise blue cookware pieces during the 1920s and 1930s. Okay, they did not age well, often getting chipped or stained with use. The mint ones are beautiful though and we have very few in the collection.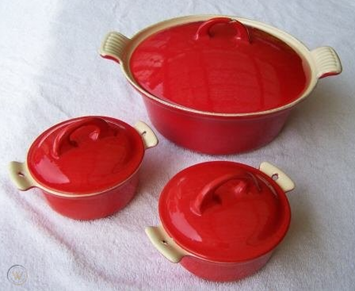 If you own any of the above items or anything else Griswold that you would like to see exhibited and maintained for the future, give me a call! After a conversation and some photos emailed, if the piece is accepted, all it takes is a signature on a Deed of Gift form after it is brought here to the Hagen History Center. Then, you can claim the value of the piece or pieces as a charitable donation on your taxes. Wow! Talk about happiness and long life - it fits both words quite well for you, the donor, and the Hagen History Center. Thank you!