It is wonderful to witness the reuse of many of the older buildings here in Erie. One that most of us are familiar with and has had many different "lives" is the Cashier's House located at 417 State Street.
The building on the left is the Custom's House, the one on the right is the Cashier's House.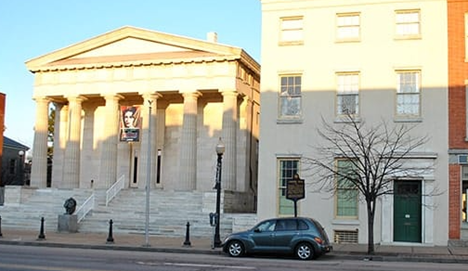 In the early 1800s, the city of Erie was growing rapidly. Great Lakes transportation and the development of the Erie Extension Canal in the 1840s gave city residents the idea that the economic potential here was huge. The population was growing, and a variety of industries were moving in to take advantage of the town being a gateway to increasing westward expansion. Due to this growing importance, the Bank of the United States decided to build a branch office in Erie.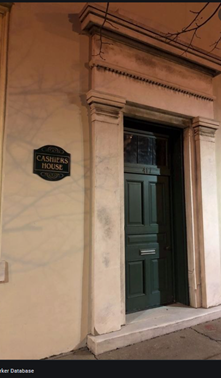 Now referred to as the Custom's House, the bank needed a Chief Executive Officer, and it was felt that a house built next door was necessary to bring someone in to do the job.
Constructed in 1939 in the urban Greek revival style, this 3-story house looks small on the outside. Once inside, the visitor quickly realizes it is an illusion and is indeed exceptionally large. My favorite part of the house is the main hall on each floor. The rooms off the hall are only on the left side (see windows on 1st floor on the previous photograph). Yet, there are doors on the right side of the hall. Once opened, there is a surprise of seeing a brick wall. There are no rooms on that side, just another building.
The Cashier's House was only used for 4-years as a home to the cashier and his family, the Bensons. Then it became a girls' finishing school ran by Louise and Calista Ingersoll, a bank until 1858, and then a boarding house. In 1872, Attorney Samuel Woodruff of Girard purchased the building for a home. Mr. Woodruff's daughter, Sarah, became a talented artist. We have several of her works in our collection at the Hagen History Center. In 1924 the Ashby Printing Company used the building; later it was home to the Erie Drug Company until 1963.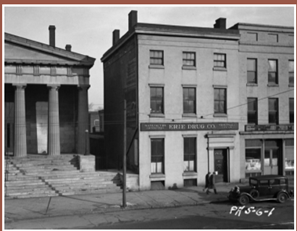 In 1963, the Pennsylvania Historical Museum Commission bought the building, renovating the space to look like an 1839 home again. The Historical Society of Erie County moved in 1974 for collections storage and exhibits. In 2013, the Erie Museum acquired the building. Now, the Erie Downtown Development Corporation owns the space and later this year, an Italian restaurant will be opening. I cannot wait!
The best recycling is reuse and the Cashier's House has been used for 183 years in many different forms. That brings me happiness learning about its long life!