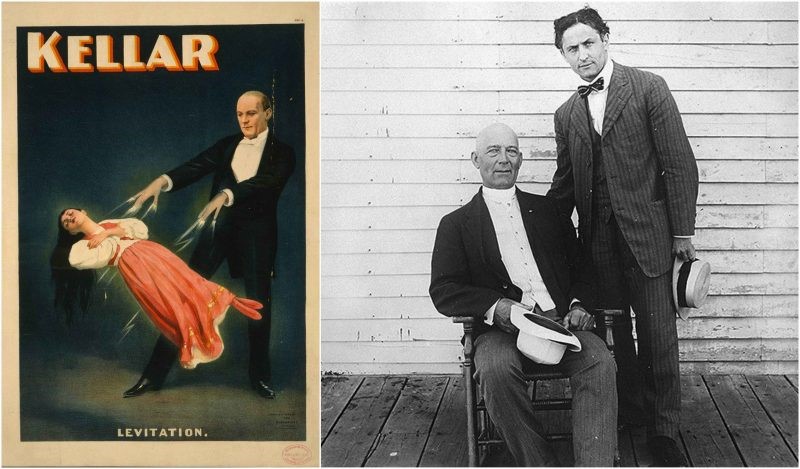 Heinrich Kellar, known as Harry, was born to German Immigrants in Erie, Pennsylvania, on July 11, 1849. Little is known of his early life in Erie. It is said he loved danger, for example, playing chicken with passing trains. Kellar apprenticed as a druggist. But after blowing a hole in the drugstore floor while experimenting with chemicals, he took to the road, becoming a vagabond, rather than face his parents over the incident. He was only ten years old at the time.
Kellar was befriended by a British-born minister from upstate New York who promised to adopt him and pay for his education if he studied to be a minister. One evening, however, he saw a live stage performance by the traveling magician "The Fakir of Ava," Isaiah Hughes, and he was hooked on magic and the stage. He later told Harry Houdini "I became very restless, bought books on magic and finally left me friend and benefactor." Kellar worked on a farm near Buffalo, New York, for a time but yearned for the stage. At age sixteen he gave his first solo performance in Dunkirk, Michigan. He failed miserably and retuned to work with Hughes. Two year later he tried magic again with more success. But he had borrowed the equipment for his stage act, then avoided his creditors, a trend that would continue throughout his life.
In 1869, Kellar began working with "The Davenport Brothers and Fay" a trio of traveling spiritualists. He worked with them until he and William Fay parted ways with the Davenports in 1873. Together they toured Central and South America and made $10,000 ($226, 000 in today's money) in Mexico but the tour ended in Rio de Janerio with a performance before Emperor Dom Pedro II. In 1875, on their way to tour England, the ship they were sailing on, Boyne, sank in the Bay of Biscay, and Kellar lost his stage equipment and everything but the clothes on his back and a diamond ring he had been wearing. Shortly after the shipwreck, he received a cable from his bank in New York, telling him that the bank had failed. He sold the diamond ring and parted ways with Fay who rejoined the Davenports.
In England, at theater called the Egyptian Hall, owned by illusionists John N. Maskelyne and George A. Cooke, Kellar was inspired to start over. In England he saw a performance by Buatier de Kolta called "The Vanishing Birdcage," which he bought with his remaining money and after borrowing $500 from Junius Spencer Morgan (father of J.P. Morgan), returned to the United States to try and retrieve the funds lost while he was in South America. He was able to recover the money and formed his own magic troupe and toured all over the world.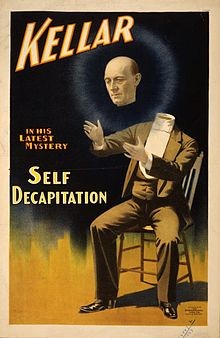 Kellar performed his various illusions including a whist playing automaton called "Psycho." In Australia he met fan Eva Lydia Medley, and the two would exchange letters and postcards for the next five years. Kellar opened his own "Egyptian Hall" in the old Masonic temple on Chestnut Street in Philadelphia in 1884, but he closed it the next year, after 246 performances. Shortly, after he left the theater burned down.
While Kellar was performing in his native Erie, Pennsylvania, Eva Medley arrived and began playing the coronet in the show. In 1887, the two were married in Kalamazoo, Michigan. She would play an important role in the act, performing in illusions and providing music for the shows. In 1891, Kellar opened his second Egyptian Hall theater in Philadelphia and had a successful seven-month run there before returning to the road performing such notable illusions as "The Levitation of Princess Karnak," "The Nested Boxes" and "The Vanishing Lamp."
While Kellar was abroad, another magician, Alexander Herrmann, had become famous in the United States and claimed Kellar's act contained too many mechanical tricks and misdirection and did not use sleight of hand. Herrmann died in 1896.
In 1908, Kellar retired from the stage and allowed Howard Thurston to be his successor, the two had met in Paris, France where Thurston was performing doing card tricks. In his retirement in Los Angeles, California, many magicians visited Keller, including Harry Houdini. In 1917, Kellar came out of retirement to join in a show organized by the Society of American Magicians for a benefit show organizes by Houdini to help the families of those who died in the sinking of the USS Antilles by a German U-boat. The show was a huge success, and at Houdini's urging, Kellar was carried off the stage as the orchestra played "Auld Lang Syne." Harry Kellar, "America's greatest magician" according to Harry Houdini, died in Los Angeles of influenza on March 3, 1918.