Today's blog holds a special place in my heart because I am an Edinboro University alumnus, along with many of my fellow coworkers. As many of you may know, the University is currently going through some major changes. One of those is a name change. No, Edinboro is not losing its name completely. It will combine with Clarion and California Universities to become Pennsylvania Western University. These will also merge with Bloomsburg, Lock Haven, and Mansfield Universities to become Pennsylvania Northeastern University.

Many people may not know this, but this is not the first time something like this has happened. Edinboro University was founded in 1857 as the Edinboro Academy. It was originally created as a university for training teachers. In 1861, it became affiliated with the Commonwealth of Pennsylvania to become the second State Normal School in Pennsylvania, also known as Northwest State Normal School. In 1914, it would be renamed yet again, this time as Edinboro State Normal School. Then in 1927, it would be renamed as Edinboro State Teachers College.
In 1927, there would be an advancement in academic programs. This allowed for degreed programs other than just teaching. This led to yet another name change in 1960 to Edinboro State College. In 1983, Pennsylvania State System of Higher Education (PASSHE) came about in which Edinboro would become a part of. That same year, degree programs continued to advance and grow. With such improvements came the status of University, becoming what we know today as Edinboro University.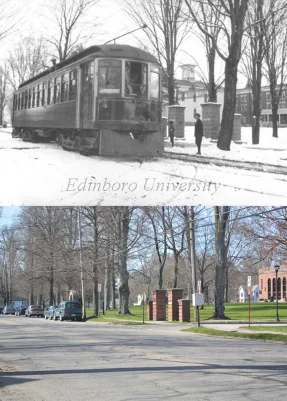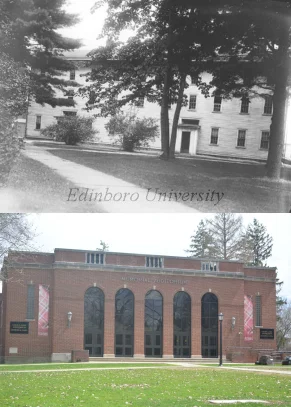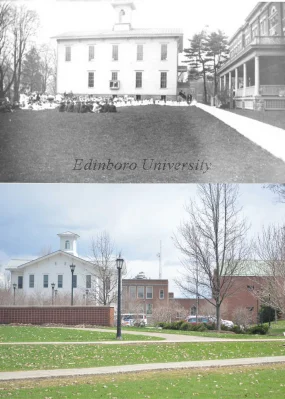 Another great object we were loaned and is currently on display. A shout out goes to the Edinboro Historical Society in Edinboro, Pennsylvania for loaning us this great object. It is a red cardigan letter sweater from the University back when it was known as Edinboro State Teachers College. We were told that it was owned by Edward F. Culbertson. This sweater will be on display for a short time so please come visit the Hagen History Center to see this in person. It is in the Watson-Curtze mansion on the balcony of the grand staircase leading to the second floor.