It's a very common hobby and passion that one researches their family history. Genealogy lovers across the globe spend hours searching for those missing links to create beautiful family trees, and learn the mysteries of their family history. While genealogy researching is well-known, did you know that horse lineage and pedigree has an immensely complex history as well?
Horse racing has been around for centuries, and as the sport became increasingly popular, the lineage and breeding of a horse had a significant impact on the potential for a race winner. Certain horses, mainly sires, became in high demand in hopes that breeders could have future horse racing champions as well, and in Erie, that opportunity was not missed.
William L. Scott was famous throughout Erie and across the nation for his involvement in industrial businesses, as well as investing in land opportunities. Scott loved horse racing, and not only owned Algeria Stud Farm, but also owned a horse farm in Chesapeake Bay, Virginia, and St. Charles, Maryland. Algeria Stud Farm, however, was home to his most famous horses, including the namesake of the farm, Algerine.
As Scott's stud farm continued to grow, he eventually had his eyes set on a new stallion, Rayon D'or, or Ray of Gold. This stallion was born in France, and after winning numerous races throughout Europe (although he had a slow start to his winning years), it's no surprise he was a sought-after sire when his racing days came to an end.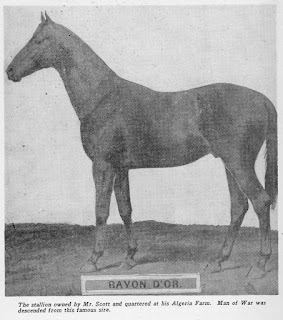 On top of his fantastic racing career, his father was also a champion, Flageolet, who won his first race at the young age of two.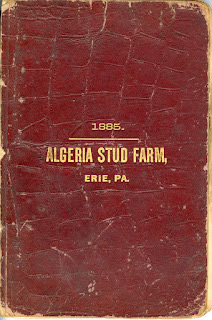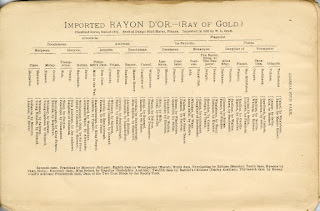 With such a prestigious horse came a costly price… Scott paid $40,000 to purchase the horse and have him shipped to the farm in Erie. This equates to about $1.1 million today! It was the most any person had paid for a horse to date. But considering this horse's total earnings from racing was $122,140.65 (roughly $3 million today), it was a good sign that he would produce hopeful prospects for the racing future.
And Scott was right with his instinct on the matter! The first of Rayon's offspring made their first appearance on American turf in 1886, with the earnings of $1,965 (approx. $52,000). A very good start! The following year, however, earned $32,955 ($860,000)! As time continued, Rayon's progeny continued to win and bring in heavy earnings. In 1889, his offspring earned a total of $78,270.
While most of his progeny were mares that produced some of the racing legends of today, his legacy and lineage continued on.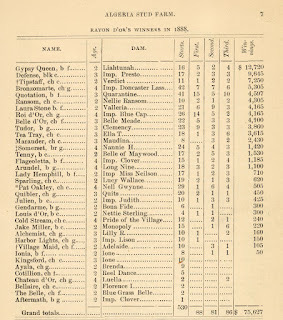 One of his most famous progeny was Man O War, the race horse that swept the racing world by a storm. While he never raced in the Kentucky Derby due to the owner's dislike of the race, it was assumed he would have won the Triple Crown since he won the Preakness and Belmont Stakes that same year. This horse, however, was born and raised in Kentucky, so how did this connection happen?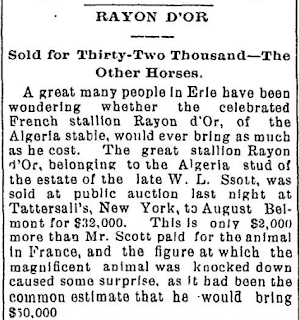 After the passing of W.L. Scott in 1891, his estate, including the horses, were sold. Rayon d'Or was purchased by August Belmont in Lexington, Kentucky, for $32,00. Along with Rayon, Belmont also purchased several other horses from Algeria Stud Farm. With his new life in Kentucky and the continuing line of his progeny, his lineage was able to connect to Man o War. Rayon d'Or lived the rest of his life in Lexington, until he passed away of old age in 1896.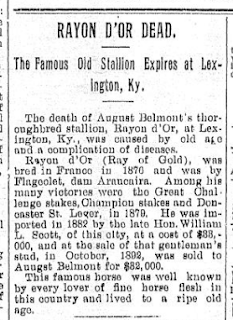 Erie's horse-racing scene is still present, and the world looks forward to races such as the Kentucky Derby every year. While Erie's time in the horse-breeding limelight has come to a close, it's history is still present to this day.