Recently we received a donation from Stephen Manheimer from New York. These items relate to General Marquis de Lafayette and his visit here to Erie, Pennsylvania where a banquet was held in his honor. These are important to us because Lafayette played such a significant role in the American Revolutionary War. Although he was a French aristocrat and military officer, he aided the Americans in many of the major battles during the war. Upon returning home to France, Lafayette then played a key role in the French Revolution. He was considered a national hero to both his native France and to the newly ordained United States of America.
The items we received were a card and a book. The card is 4" x 3" and made of heavy stock. At the top is an image with an eagle with ribbons that say, "The Nations Guest, Lafayette." Under that is an oval image of a man. Around him is a ship, a cannon, and other items. Handwritten at the bottom is "Mr. Colt."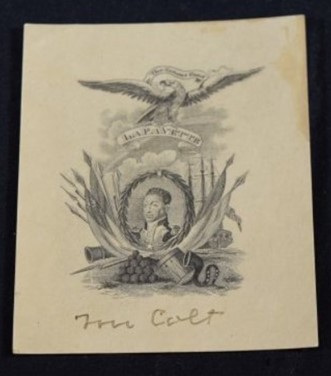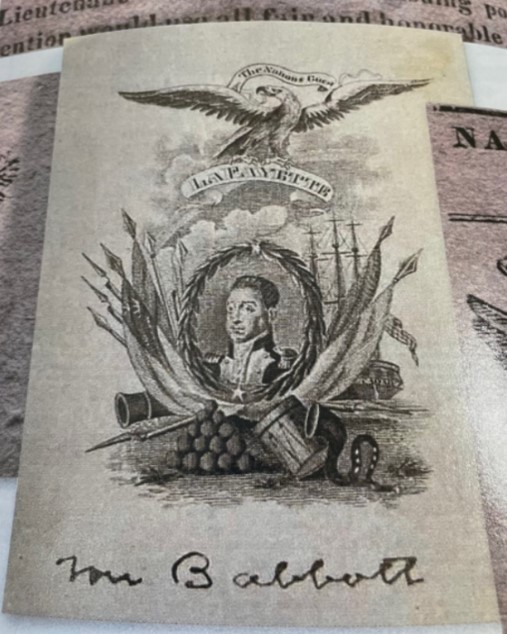 For some Erieites, the name Colt may ring a bell. The Colt family was one of the first Erie families. With research done by the donor, Manheimer, we found out that this specific Colt was Judah. Judah Colt was the host of the banquet held on June 3, 1825, in his home on French Street. The home is no longer there, but in its place is Erie Steam Bakery, built in 1894 and renamed Lafayette Place in 1895. There is even a marker at the location to help remember such a historic event in our city.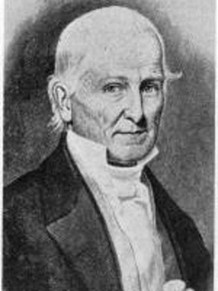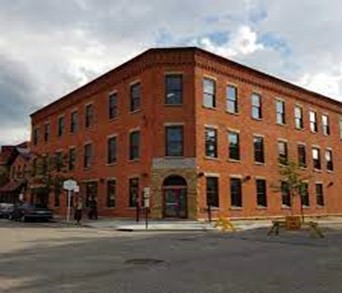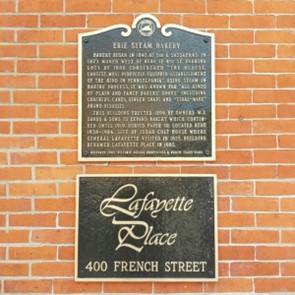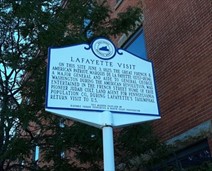 Another fun clue that Manheimer discovered is the name on a ship, the Cadmus. This is the ship in which Lafayette made his journey to Erie. At that time, it was a passenger and freight ship. An 1849 record states, it became a whaling ship in its later years. The Cadmus was stationed in Long Island. It is currently housed at the Penobscot Marine Museum in Searsport, Maine.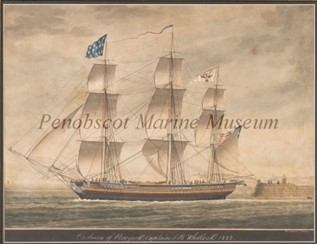 Lastly, was the task of trying to figure out what this card was. With the above information, plus additional information, one plausible idea is that this may have been an invitation or place card holder for the banquet. Manheimer said in his research, Lafayette College, and other places he reached out to had no clue where this image on the card was from. Oddly enough, it was not until a trip to the doctor's that he would find out more. While in the waiting room he saw a card almost exactly like this one. The only difference was the name handwritten at the bottom. The other one had "Mr. Babbcott."
The book donated by Manheimer is called "Lafayette in America in 1824 And 1825; Journal of a Voyage to The United States" by A. Levasseur, Secretary to General Lafayette during his journey. This book was translated by John D. Godman M.D. Vol. I. Philadelphia: Carey and Lea; 1892. Unfortunately, the book is missing the front and back covers, but is in overall good condition. It is a great resource for information on Lafayette's two visits he made to Erie. More importantly, it was written by his Secretary General, so we know it is a more accurate account of who Lafayette was, and how his visits went.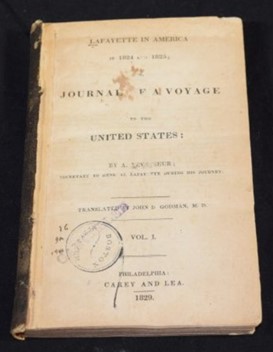 We do have a handful of other items from the event. If anyone reading this blog has more items from Lafayette's visit, we are always willing to consider them for our collection.
To conclude this blog, I would like to give a big shout out to Stephen Manheimer for donating these items to us. It was a pleasure speaking with him on the phone and hearing all about his deep dive research on these pieces.