Do you remember last Summer? Beautiful and mainly rain free, the Coronavirus encouraged everyone to go outside as much as possible and I did! Long walks were the order of each day and I even got a chance to visit some areas of the city that I had never explored before. Maybe you have heard of them, walked through these areas, or perhaps even live there, however; it was a first-time real treat for me. We have such great tucked away treasures in Erie. The following are two such areas.

Erie's oldest subdivision, this hidden area of 27 homes is between Cherry and Poplar Streets in the 600 block between 6th and 7th Streets. Yes, this area is between these streets. Developed by the Civic Art Reality Company around the time of World War I, these single-family homes cost approximately $3,500 (roughly $90,000 today). Built mainly of brick and 2 to 3 stories tall, no barns, sheds, or fences were permitted. Dues are paid by each homeowner to maintain an oval-shaped common area in the middle of the homes and 4 automobile entrances were established, 2 from West 6th Street and 2 from West 7th Street. Currently, only 2 of those entrances are open for cars. Pedestrians such as me who do not live there are not encouraged to wander through. I hope the residents forgive me.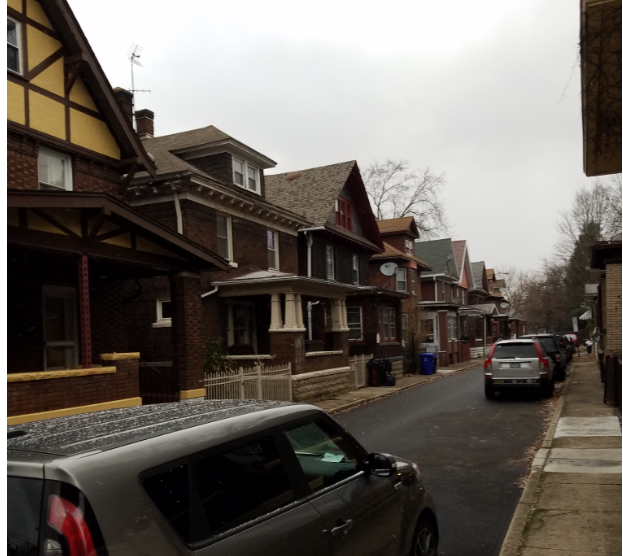 This dead-end street is off Popular Street between West 8th and 9th Streets. These brick homes were developed in the 1910s by G. Daniel and Mable Baldwin. Some Downing Court residents have proved to the City of Erie recently that the street, which is 350 feet long and 18 feet wide is legally part of the city and that street maintenance should have been paid by tax dollars since 1925. It appears the city was claiming the street was private. This area is accessible to the public so don't feel bad walking the street.
Even if it's a cold Erie winter day, go outside and take a walk! It always brings me much happiness especially when I enjoy the outdoors with a family member or friend. The Erie area has so much to offer, so think outside the box and explore an area you have never seen or one that you haven't been to since you were a child. The exercise may extend your life as well!