Long Life & Happiness for All Its Residents #5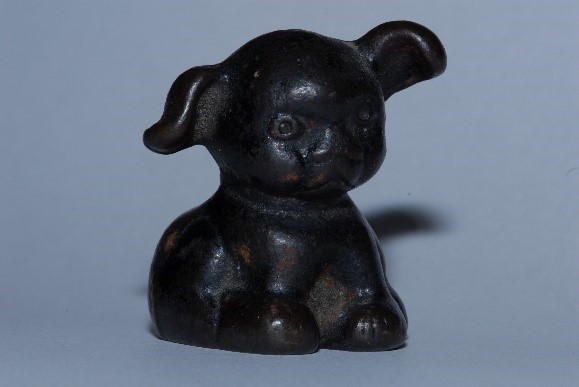 With its cute face and little ear perked up; the dog pictured above brings me much happiness. The company that produced him had a long and well-known life here– the Griswold Manufacturing Company. This cast iron "pup" promotional piece was produced in either 1937 or 1951 and stands out because all the other products manufactured were practical, household goods. The 1888 book doesn't have a fancy advertisement for the company, only a listing pictured below.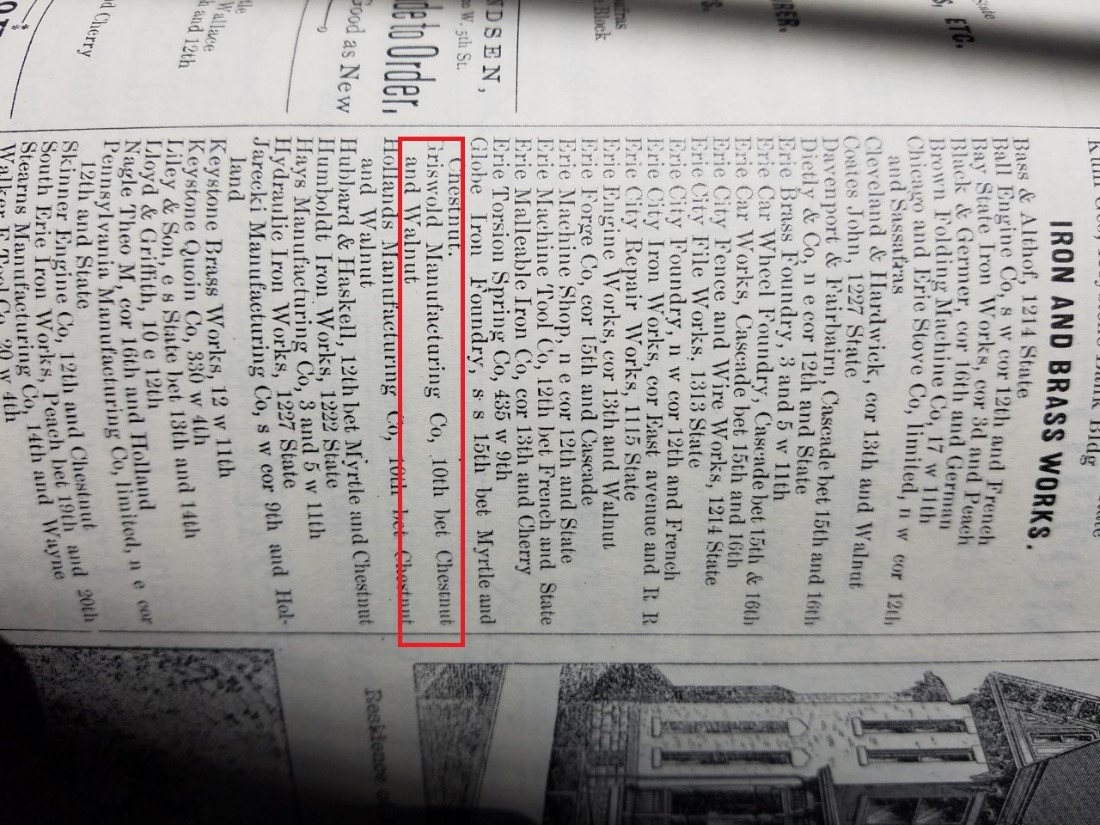 Take note that Griswold was originally located in what is now mainly a residential area.
Most folks in the Erie area are familiar with Griswold skillets. Thousands were produced throughout the years in cast iron, aluminum, and colored porcelain over iron. The company began in 1865 as the Selden & Griswold Manufacturing Company. Brothers Samuel and John Card Selden (an additional brother, George, was also involved in Erie manufacturing – see blog #3) joined 2nd cousin and brother-in-law of John, Matthew Griswold. The company's early success came from the manufacture of "loose hinge and reversible door butts". Thanks to Jim and Tanya Fuchs of Erie, an extremely rare "Selden" hinge was donated to the Erie County Historical Society last year. We also have a copy of the patent which makes this donation even more exciting and valuable!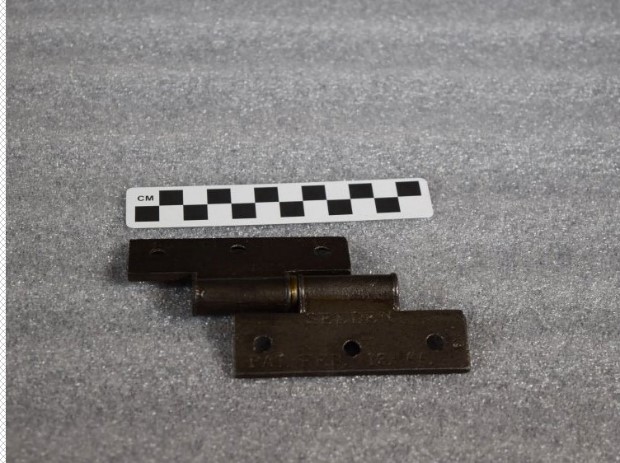 Selden Hinge, February 13th 1866
Due to the death of Samuel in 1882, Matthew bought out the Seldens' interest and the company became known as the Griswold Manufacturing Company. To many in the collecting world, nothing says "Erie" more than Griswold cast iron and that's exactly what the first logo was.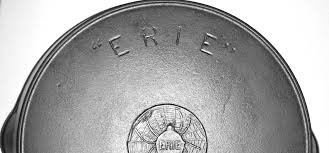 With regard to collecting, the Erie County Historical Society was honored to host both "The Griswold and Cast-Iron Cookware Association" and the "Wagner and Griswold Society" last summer. These enthusiastic groups came to tour our new Griswold exhibit in the Watson-Curtze Mansion (110 pieces on display) and talk "iron" with some of us on staff. Both organizations maintain websites that are a treasure trove of information and are accepting new members if you would like to meet collectors from all over the United States and Canada.
I had the privilege of meeting George Griswold, a family descendent in New Orleans last summer. Mr. Griswold graciously donated a box of company paperwork and let me drool on his personal collection (I didn't want it to get rusty, so I was careful!).
The curatorial department has carefully organized and stored about 700 pieces of Griswold in our collection, mainly from a generous donor, Mr. Alan Stone. Do we have everything? Absolutely not! I am always looking to add select pieces and if you would like to "lighten" your load during spring house cleaning, please contact me. But, what I am recommending to the gentle readers of this blog is if you have Griswold in your basement, attic or kitchen, get it out, clean it, use it and love it. Cast iron cooking is "hot" right now. There are multiple internet sites of how to clean iron and use it effectively along with recipes designed for its use. Reconnect with your past, perhaps remembering your grandparents while cooking in their skillet. Many of us may have a little extra time now. Let the cast iron and good, old fashioned cooking make you happy.
Why was Erie the site of manufacturing with products sold not only nationally but worldwide? Location, location, location is the answer. With most of the population of the United States and Canada within a 400-mile radius, natural resources for manufacturing could be easily shipped here. The finished products then would be sent out by one of the four railroads in and out of Erie at the time and by water with the "finest harbor in the world" according to the 1888 book. Sadly, Griswold was sold, and all production ceased in Erie in 1957. Then, after multiple other sales of the company, the trademark was discontinued in 1973.
The 1888 book also states, "A workingman can live better here, save more money and die happier than anywhere else on earth" (page 7). I love that sentiment! Instead of thinking "the grass is always greener" somewhere else, why not be thankful and appreciate what we have right here, right now? I'm thankful for Griswold and the multitude of other companies that have made Erie County home. Even in these difficult times, we can have "long life & happiness for all its residents".