I'm back! It's been a very busy Summer here at the Hagen History Center as we once again welcome the public to our beautiful facilities. If you haven't had a chance to visit the Watson-Curtze mansion, New Exhibit Building with Frank Lloyd Wright's field office, and the Wood-Morrison house, now is the time. We also hosted a great group of middle school students for a week of History Camp! I need a rest! But, before I do, I want to write about another building here on West 6th Street's "Millionaire's Row" that most of us have driven by for years.
Many of you have commented to us here at the History Center about the wonderful work being done on so many of the old homes surrounding our campus. Led by Mr. Tom Hagen, these old mansions are being beautifully restored and given new life as either apartments or businesses. The Erie community is thrilled and so are we who work on this wonderful street.
One building which has caught my attention and not part of the current renovation is on the Gannon campus and is pictured below.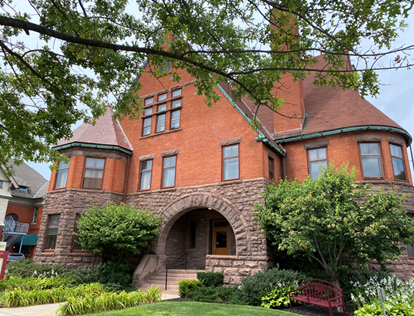 It was the home of Matthew Henry and Clara Taylor, built sometime between 1888-1890. Mr. Taylor (no relation to Gannon President Keith Taylor to my knowledge) could have been straight from a Horatio Alger story of "rags to riches". He began working for the Pennsylvania Railroad at the age of 16 working as a timekeeper (someone who tallied worker's pay and submitted them to payroll) in the Altoona, Pennsylvania shops. Matthew moved to Erie in 1866 and served as a paymaster under Col. J.J. Lawrence, the superintendent of the Erie & Pittsburg Railroad Company. He then briefly moved to St. Thomas, Ontario to become treasurer of the Canada Southern Railroad then back to Erie to become treasurer and later president of the Youghiogheny River Coal Company. By 1897, he was president of the W.L Scott Company of Erie, which was involved with the mining and transportation, by rail, of coal.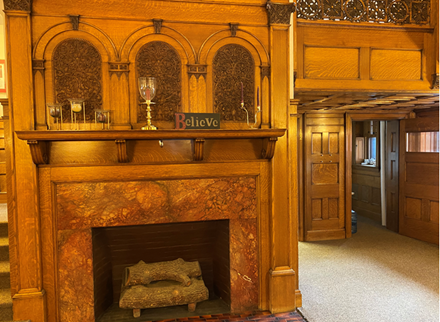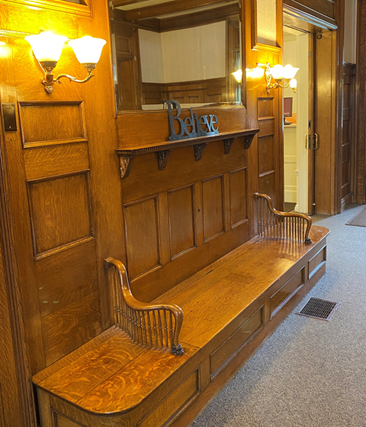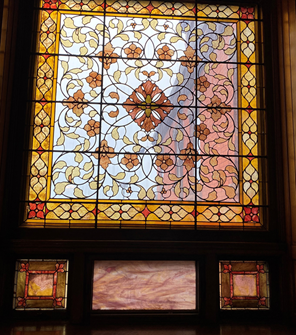 The Taylor mansion is built in the same architectural style as the Watson-Curtze mansion (part of the Hagen History Center) and the Strong mansion which is now Gannon's "Old Main". This Richardson Romanesque style is named after the architect Henry Robson Richardson (1838-1886), considered to be one of the three greatest American architects of all time. The other two notables are Louis Sullivan and Frank Lloyd Wright. The features that create this style are a sense of weight and massiveness, rock faced masonry, straight topped windows, arched porches, steep gabled wall dormers, towers with pyramidal roofs and prominent chimneys.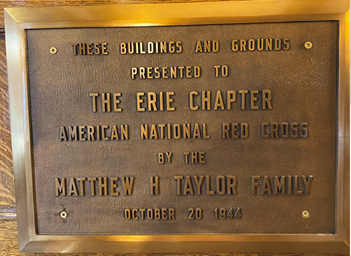 When Matthew, Clara and their three children moved into their home in 1891, they owned a telephone, one out of only 239,000 phones in the US at the time. Strangely, I found out their telephone number was 409. In addition to this beautiful home, they owned 190 acres of land in Fairview Township known as the White Swan Farm. When Matthew died in 1923, he was worth a bit over $4 million, which translates to $61,650,651.00 today.
In 1944 the decision was made to donate the building to the American Red Cross with the agreement that the building had to be occupied by them for 40 years. The Red Cross outgrew the building and after 40 years it was sold to real estate developer Lou Porreco. Mr. Porreco hoped to open a Victorian-styled restaurant, which never happened. In 2004, Gannon University purchased the building to serve as office space for graduate admissions, financial aid, as well as other services.
Many thanks to the Gannon employees at the Taylor mansion who allowed me to wander through their workplace to take photos, and for sharing the history of the building. I wish continued long life for the mansion and thank it for bringing me happiness every time I drive or walk by!