"Long Life & Happiness for All its Residents" #8
The topic of roads and streets has been on my mind lately regarding "Happiness for All its Residents". I like the street that I live on very much and I love West 6th Street where the Historical Society is located, which I walk to almost every day for exercise. The 1888 book has a nice section on Erie Streets, but I am finding that there is so much more to learn and appreciate about what so many of us take for granted. Until we hit a pothole that is! A little historical background is necessary before we hit the Erie Streets.
Native American paths existed in Erie County along the lake's edge and through areas of game for hunting for centuries. Sometimes, I'm on the "war path" just like earlier Natives. War paths were usually at higher elevations with better observation points for watching enemy tribe movements and these trails frequently climbed abruptly to give a pursued party the advantage over his pursuers. The next time I'm on one, I'll have to remember that!
The first major "road" through Erie County was made famous by George Washington's visit to Fort LeBoeuf in what is now Waterford. This "Venango Path" started in Erie and went south through Waterford, Meadville, Franklin, Harrisville, Prospect and Evansburg. Modern improvements in roads didn't occur here until 1795 when a "corduroy road" was built between LeBoeuf to Fort Presque Isle. This road was no better than fallen logs laid next to each other forming a wood surface. Later, a "plank road", which may have been the same route but was made of flat wood planks went between Erie and Waterford. Usually, a toll was associated with such a labor-intensive means of construction and maintenance.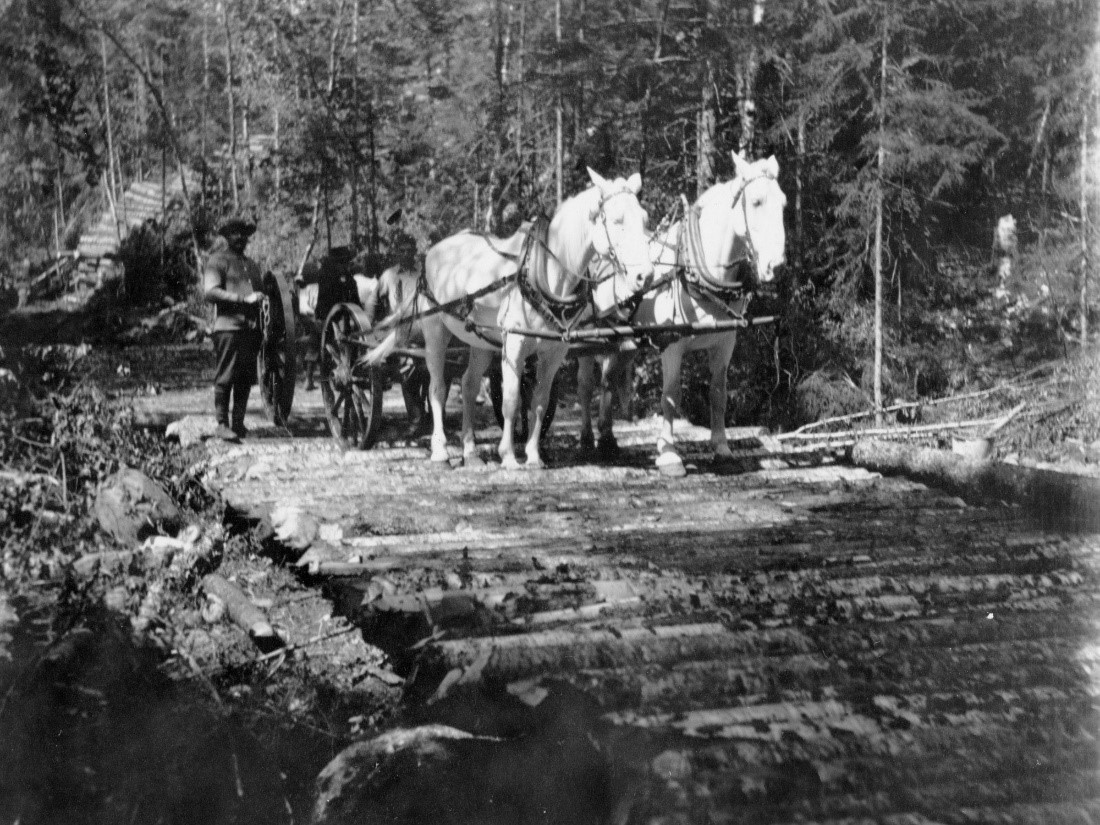 Better than sinking into the mud, these roads were not made for the comfort of wagon passengers!
Also, in that year, Andrew Ellicott, the designer of Washington D.C. was commissioned by our State government to "lay out the town of Erie at the harbor of Presque Isle", which was part of the Erie triangle of land purchased from the Native Americans by then President George Washington.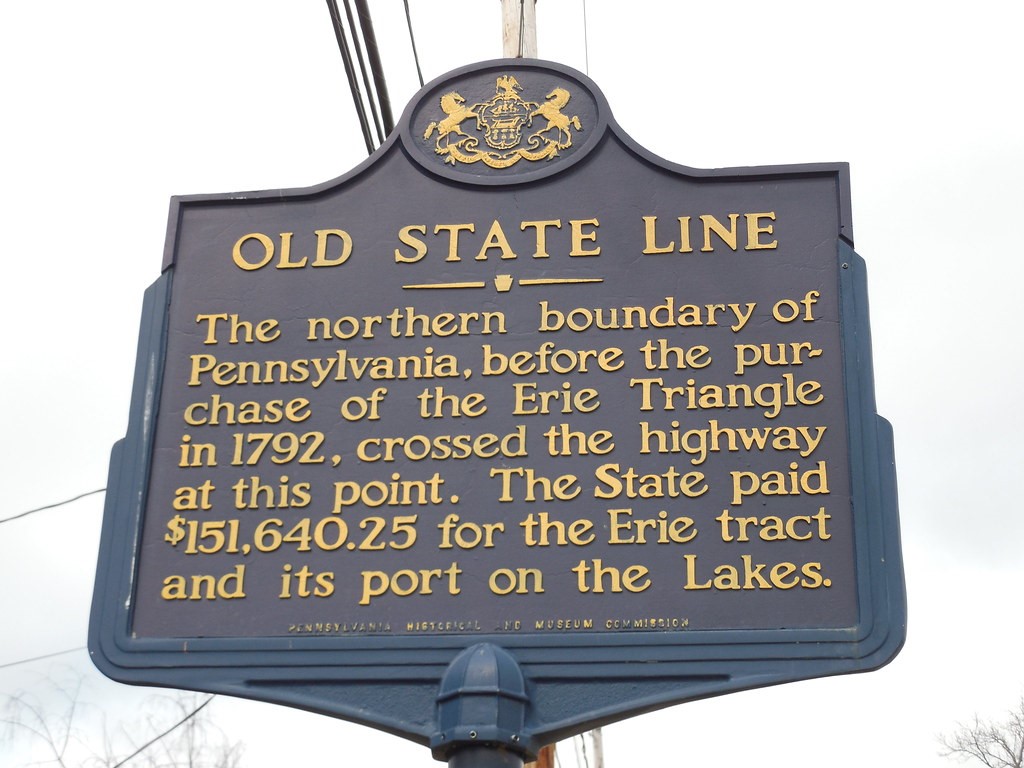 This marker is on Route 89, south of Wattsburg, PA.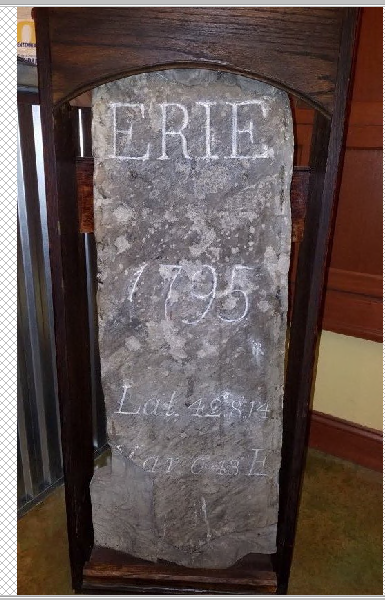 Survey marker used by Ellicott in the Historical Society collection.
Have you ever noticed how wide the streets are in Erie compared to cities in the more Eastern part of the country? Ellicott was working with all public land at the time, so most streets were 60 feet wide except Sixth (100 feet), Tenth (100 feet), Twelfth (100 feet), and Parade, State and Liberty Streets (all 100 feet). Some streets aren't as wide with 50 feet being the narrowest found.
Many street names have changed over time. For example, did you know that Ash Street, south of 28th Street used to be called Lemon Street? Parade Street, so named because it was the fort's parade grounds, is probably the city's oldest street. It was the main thoroughfare from the mouth of Mill Creek, which empties into the bay and was the landing area of lake trade going south. Because of this, it was also the primary location of homes and businesses in town.
In 1870, the city limits were extended but according to the 1888 book, many new streets were laid out but not yet given names. Erie by 1888 had approximately 106 miles of streets. Only 20 miles had been "paved" using materials such as stone, 7 miles; asphalt, 10 miles; and vitrified brick, 2.5 miles. Today, the city maintains 320 miles of streets within its limits.
The organization "Erie Yesterday" posted this about Erie's last remaining Stone Street: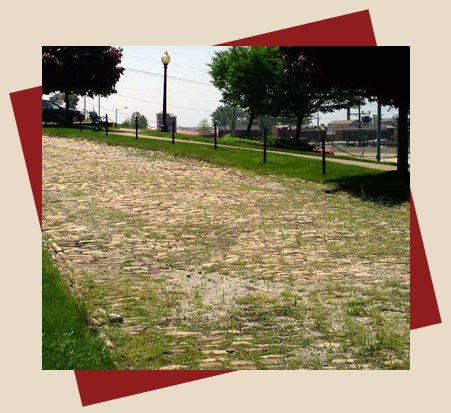 "Dobbins Lane is made of Medina stone that was cut in New York State and was laid in 1890. In 1988, the stones were lifted while the Bayfront Development Corporation built the office building at 100 State Street. The Lane was restored by 1989." I read that Medina stone was discovered in 1824 in Orleans County, New York, while digging was taking place for the Erie Canal.
Probably like most of you, I believed asphalt was a modern street pavement. The 1888 book has a large ad for asphalt which proved me wrong.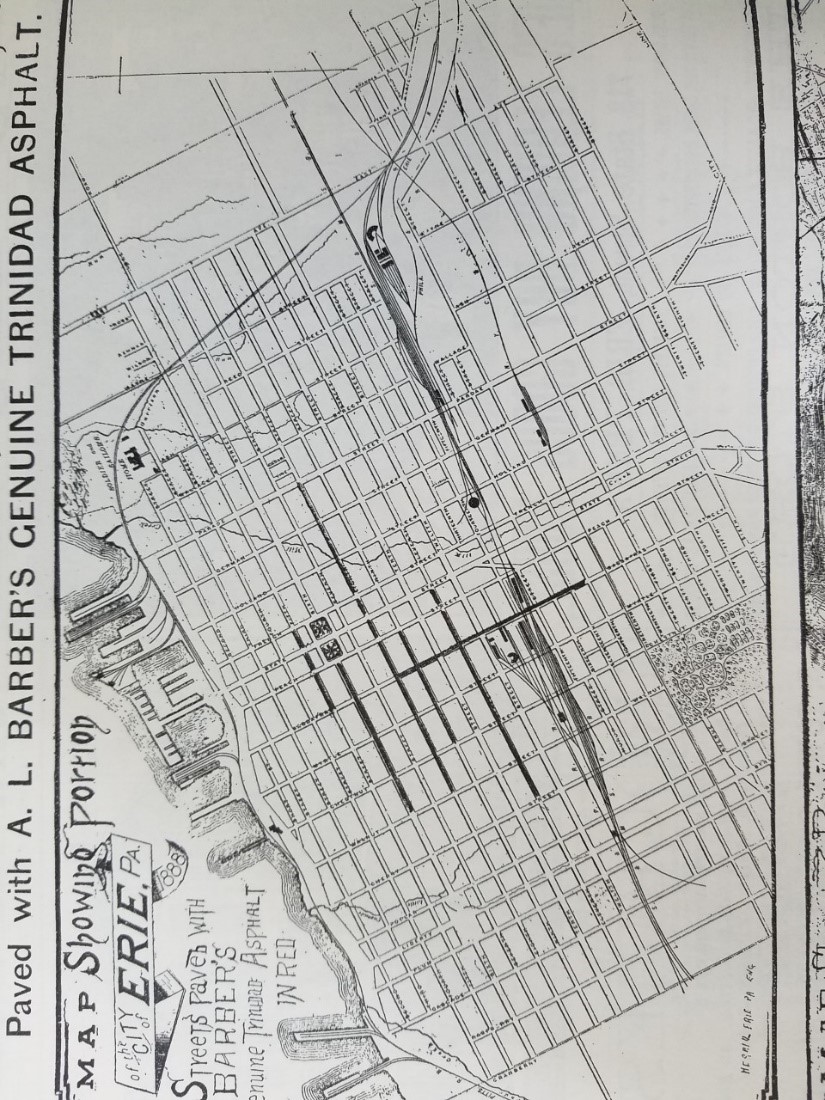 The ad says that the streets paved with asphalt are in red, but the book is printed in black and white! The darker lines indicate the paving. What was Trinidad asphalt though? Upon further research, I learned that the Caribbean Island of Trinidad contains Pitch Lake that has the largest natural deposit of asphalt in the world. In 1887, Amzi Barber, an American businessman known as "The Asphalt King" started a paving company in Buffalo that covered thousands of miles of city streets throughout the US in Trinidad asphalt.
Vitrified brick is just brick that has been fired for an extended period making it harder and impervious to the absorption of water. By 1900, bricks became the most common form of street pavement. Many times, when the city Paving, Sewer or Water Departments are working on or under streets, these bricks are still there, covered over with modern, non-Trinidad, asphalt.
There is so much more I could write about Erie's Streets! Some streets have boulevards, some tree lawns (the green area between the sidewalk and "carriageway" in 1888 terms) and many are lined with beautiful trees. Erie has been voted "Tree City" multiple times by the Arbor Day Foundation, the last time in 2018.
Did you know that city residents can call and report a pothole at any time? The hotline is 814-870-1340. Don't be discouraged, we're not on a "Highway to Hell" we may be "Dancing in the Streets" or "On the Road Again". We all have a different "path" but are on the same journey; be happy, be healthy.