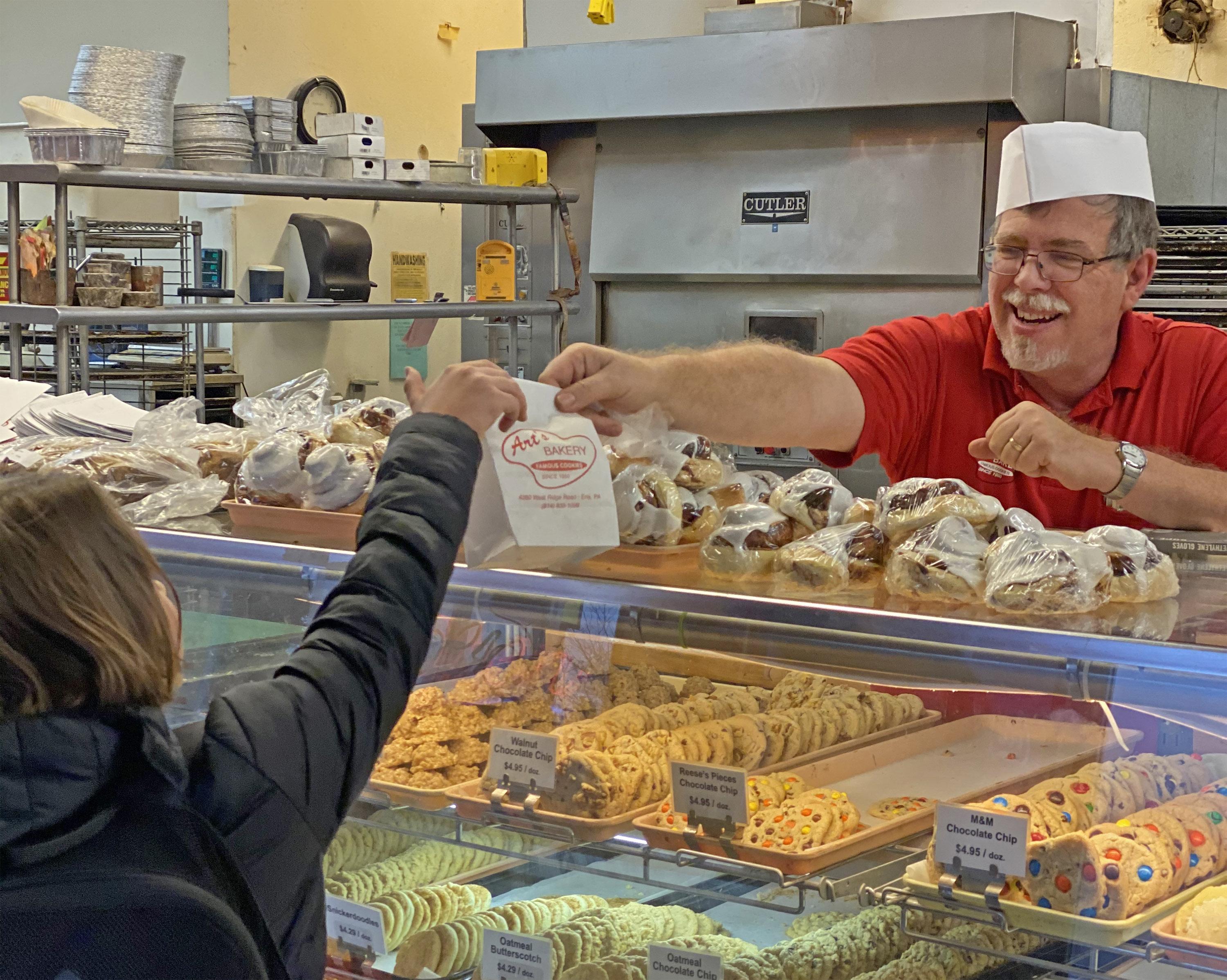 With new owners, Art's Bakery is set to continue its Erie legacy.
An Erie staple since 1950, Art's Bakery is one of the mom-and-pop shops whose light continues to burn bright in this historic city. For the past 72 years, the Evans family kept the business afloat, consistently selling their highly acclaimed baked goods throughout the decades.
With the bakery's recent owner, Gordon Evans, retiring and a new family stepping in to continue Art's legacy, patrons are happy to see their sweet treats continue to be available. Before we discuss these new owners though, it is important to set the stage for Art's Bakery as an Erie icon.
After coming home from World War II, Arthur Evans began to work in an Erie grocery store. Becoming dissatisfied with some of the practices, Evans and his wife, Irene, set out to open their own grocery store. From there, the first Art's was opened on West 26th Street. Known as Art's Grocery, the business' legacy began.
Assisted by a local candy and cigarette salesmen, Art was able to open another three locations by 1969. These grocers were across from what used to be Taki's Restaurant and then an iHOP on 12th Street; at 26th and Peninsula Drive where the BP station is now located; at a plaza on West Grandview that is now Maria's Pizza; and on 8th Street in Waterford. However, as national chains came in and the Vietnam War kept taking young men from the workforce, Art's Grocery reduced its shops and continued in its first location. Eventually, the business moved to 4380 West Ridge Road where it has continued to thrive.
As their legacy continued to grow, Art's son, Gordon, became more involved in the business. In a 2002 interview with the Erie-Times News, Gordon discussed his first moments in the shop, stating, "When I was five-days-old, my parents put me in a crib behind the counter [...] I always kid them that they used me for advertising." Being apprenticed by another local Erie baker in 1975 and taking advice from his father, Gordon began to change Art's into the bakery it is known as today. Growing the bakery aspects, Gordon knew the key to a successful small business was to specialize. In the same interview, Gordon exclaimed, "[People call] to see if I have pepperoni bread or fresh cinnamon rolls."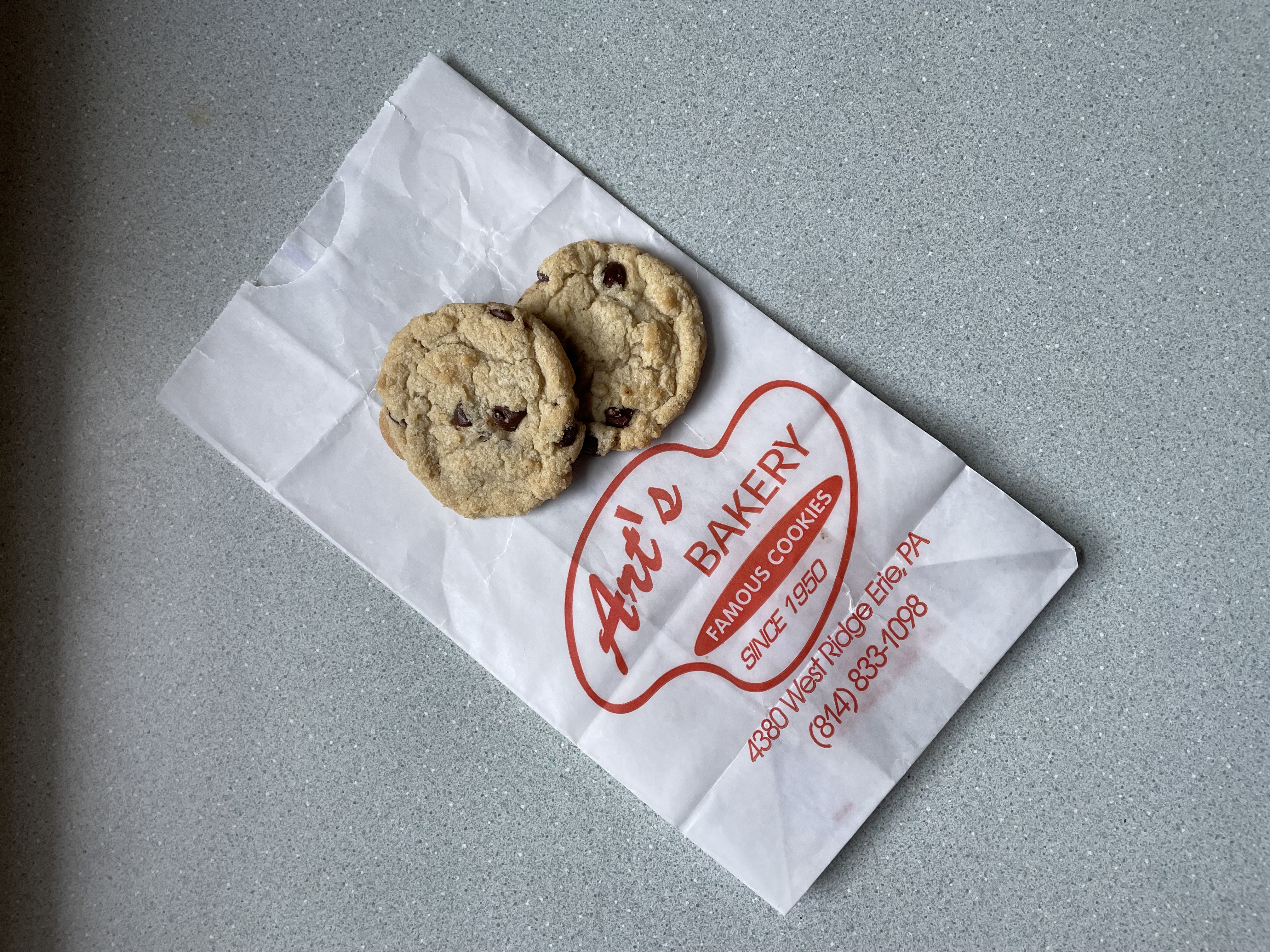 Buying the business from his father in 1989, Gordon ran Art's with his father by his side for two years until his passing in 1991. Continuing his father's legacy, Gordon decided to revisit an idea for a renovation that his father had been devising since the 1970s. After years of planning, the old Art's Grocery was razed in 2002. In its place was the newly designed, cream-colored brick Art's Bakery.
For the past twenty years, this iteration of Art's stood the test of time. The wafting aromas of freshly-baked Swedish rye, elderberry pie, and the bakery's famous chocolate chip cookies have continued to thrive on West Ridge Road. Gordon and the company often created new items. With the widespread prevalence of gluten allergies and alternate diets, Art's worked to meet the demands of its customer base. Art's consistently offered various gluten-free baked goods and was willing to make any made-to-order item fitting an individual's restrictions.
Yet, not all of the time has been bright for Art's Bakery. In November 2007, the bakery was the site of a robbery led by a high school-aged employee. With four similarly aged accomplices, the group broke into Art's at 10:30 p.m., netting themselves $278.
In November of 2022, 65 and ready to retire, Gordon placed the legendary Art's Bakery up for sale with a price tag of $1.1 million. By March, the business was already sold, going to a familiar face.
Cori Sutton worked at Art's Bakery in her teenage years. Now, Sutton and her husband, Todd, have taken over the business from Gordon. A family affair, Cori, Todd, and their children, 17-year-old Tyler and 15-year-old Jacob, all plan to work at the bakery in some capacity. Additionally, all the current employees will continue to have their positions at the bakery. This includes Gordon who will continue to mentor the Suttons until the year's end.
For what's to come, the Suttons are planning to offer some breakfast options. They are also planning on adding an online order and pick-up option to replace the current call-in system.
While the Evans family may be stepping back from their business, the legacy of Art's Bakery will continue with a new family in charge.