As you drive across the highways and byways of Pennsylvania, it won't be long before you see the familiar blue and gold (Pennsylvania's state colors) historic markers commemorating a person, place, innovator or event of note in that area. Over 2,300 of these cast aluminum markers dot the landscape of the commonwealth.
In 1913, the Pennsylvania Historical and Museum Commission was founded by an act of the state legislature to commemorate site of historic importance throughout the state. The PHMC quickly installed markers state-wide, many about people, places and events in the period of the French and Indian War, American Revolution and to Native American locations. The first was located at the site of Fort McCord in Franklin County, site of a massacre in 1765. It should be noted that over the last several years, the PHMC has begun to reevaluate the wording on markers which may not reflect modern sensitivity.
The plaques and markers dedicated were usually bronze on stone. It was not until1946 that the familiar squarish markers topped by the state seal appeared. The first marker in this shape is located near Hanover, Pennsylvania, and commemorates the American colonists resolve to gain freedom from Britain.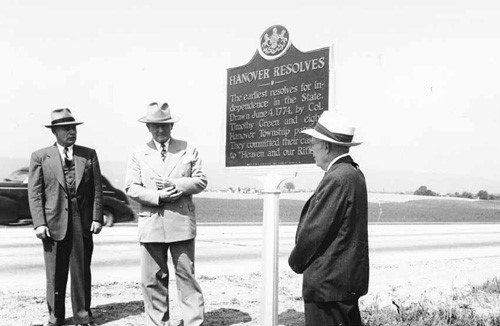 The PHMC has created rigid guidelines for the approval of state markers. The criteria states "that the subject have statewide and/or national rather than local or regional historical significance." While some markers may be purely of local interest, most fit these criteria. A long review process of the maker application follows, with two different panels giving or denying approval. The process requires research and documentation of the subject to be placed on the marker. The text on marker is also evaluated. The process is not for the faint of heart.
There are fewer markers in Western Pennsylvania than in the east. For example, there are approximately 320 markers in Philadelphia County as compared to 57 in Erie County. 2021 saw the approval of 23 new markers across the state, including one located in Girard, Pennsylvania, commemorating Charlotte Elizabeth Battles, dedicated on August 5, 2021.