STEM (Science Technology Engineering and Math) is an acronym that teachers, students, and parents have used for years to group together scientifically oriented academic disciplines. The NSF (National Science Foundation) formalized the term STEM in 2001 and it has been used widely since. But long before STEM became an acronym, teachers in Erie were educating students in those topics. What was teaching STEM like 40-60 years ago in Erie schools?
Recently, The Hagen History Center acquired nearly thirty objects that Erie science teachers used in years past. These objects were donated by the Erie City School District and the dates range from the 1930s to the mid-1970s. Some of the objects include: a microscope and an accompanying wood storage box, various electric motors, multiple devices, and tools for building electrical circuits, weights, scales, calipers, a prism, vials, specimen jars, etc. Many of these objects were on display in a temporary exhibit in the Watson-Curtze building on July 17-18, 2021 for the grand reopening of the Hagen History Center.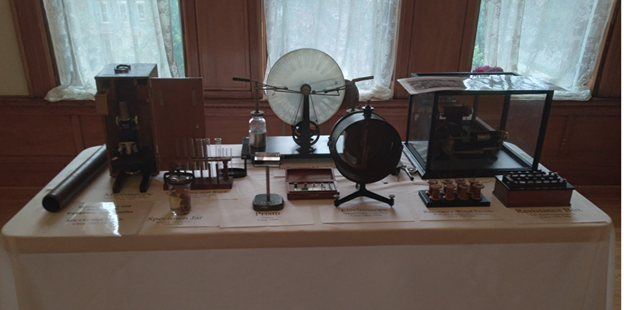 What are some of these objects on display?
Probably the most unusual object is the "Influence Machine" that was manufactured by W.M. Welch Scientific Company, circa 1960. This machine is also known as a Wimshurst Machine, after its inventor James Wimshurst who built the first one in 1880-83. This specific device was designed for students and teachers to use in classrooms as an electrostatic generator to create an electric charge.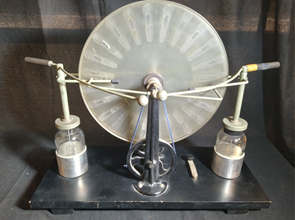 Students would turn the crank on the back of the machine with increasing speed to turn two large wheels in opposite directions. The wheels were lined with metal strips. There is not the space to explain all the physics here, but the end result was an electric spark that would arc across the gap between the output terminals.
The photograph below from the 1962 Strong Vincent High School Yearbook shows students from the Science Club experimenting with an "Influence Machine". If you look closely, you will see that the machine in the photograph is the exact same model as the one in our collection!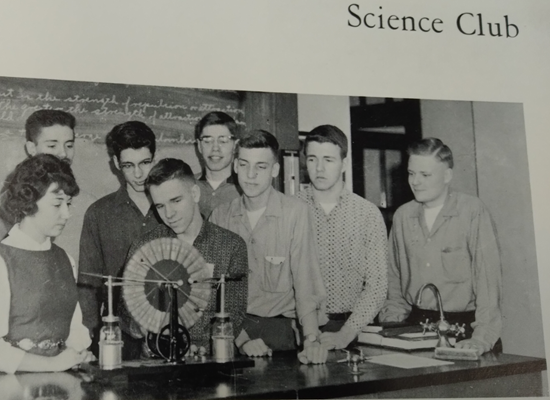 Another intriguing object in our collection is a specimen jar. What is so intriguing about a specimen jar? First of all is the quality and age of the jar. Our jar is no cheap plastic jar. Our jar is a Whitall Tatum Co. (Philadelphia, New York) clear glass specimen jar that still has the clamp attached. The clamp is made of cast iron and is configured with a thumb-screw, used to secure the lid to the jar. The glass for the jar is hand blown. Thus, our jar is a very high-quality piece of workmanship. It is likely that the jar dates back to the late 1890s-early 1900s. But it could date up to 1938, which was when Whitall Tatum Co. ceased operations. We are still working on dating the jar more accurately.
But it gets better. There is still formaldehyde in the jar along with an intact specimen – a sea cucumber! (Note: A sea cucumber is an animal, not a plant.) Who knows how long this sea cucumber has been preserved!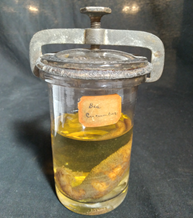 Another interesting object in our collection is a resistance box. This type of box contained resistors of varying resistance that made it easy to change the values in a circuit. To change the resistance in a circuit, a student merely had to disconnect the wires of the circuit from the terminals on the box and reattach the wires to another set of terminals representing a different resistor. Our resistance box was manufactured by L.E. Knott Apparatus Co. Boston, MA – a company that specialized in manufacturing scientific equipment for schools and universities. The box is primarily hardwood and all the hardware is brass.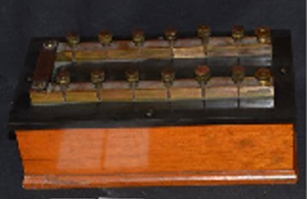 Determining an exact date of manufacture is difficult. However, this company existed from 1896 to the early 1930s. So, this item cannot be any more recent than the early 1930s. This makes our resistance box one of our oldest science items in this collection.
The photograph below from the 1957 Strong Vincent High School Yearbook shows Physics teacher Mr. Leo Armagost setting up an experiment for one of his classes. By 1957, Mr. Armagost had been teaching in Erie for 34 years and he was well regarded by his students. Mr. Armagost is completing an electrical circuit that will turn on light bulbs. If you look closely, the box in the lower right is a resistance box. Can you name any of the other objects?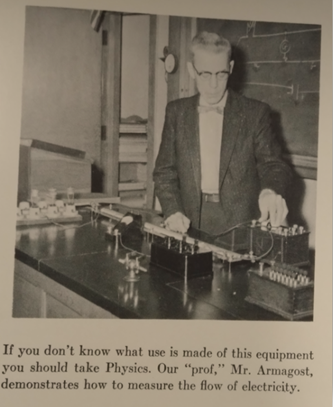 These are descriptions of just three objects in our collection that were used in Erie schools in the past. The Hagen History Center thanks the Erie City School District for donating these items, thus allowing us to preserve part of Erie's public education history.
Erie teachers have been educating students in science for a long time. When Mr. Armagost retired from teaching after 38 years ( 8 years at Central High, 30 years at Strong Vincent), the Strong Vincent 1961 Yearbook said of him, "In the many years that he has been at Vincent, Mr. Armagost's name has been synonymous with that method of approaching problems, both in physics and elsewhere." A fitting tribute to one of Erie's respected science teachers.