Written by Amanda Rockwood
Researched by volunteer, Pam Lentz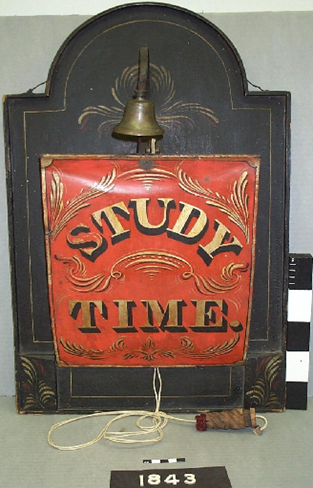 This sign may not look like much, but it has a great story. It was meant to help indicate study and recess times using a string with a piece of wood attached. It was used in East Ward School, now Public-School No. 2. Pulling the string flips the sign down from "Study Time" and rings a bell, the sign then displays "Recess". The sign was used under the administration of D.P. Ensign, who was the County Superintendent of Public Schools in Erie for six months in 1863 before he resigned. The East Ward School was located at the corner of 7th and Holland Streets.
The history of the school was not without its controversy. In 1806, the first school was built in Erie on the site of what eventually became the East Ward School. It was constructed of hewn logs and was approximately 18' x 20'. It built by John Greenwood for the sum of $30, which was paid for by citizen contributions. The school was surrounded by a forest and accessed by a foot path. It serviced the village of about 100 citizens that came from the area of German Street below 4th.
By 1839 the school space was deemed to be insufficient as two of its rooms had been rented out. This arrangement was found to be inadequate, so in 1848 a brick house called the East Ward School was built. In 1855 the East Ward Board resolved to erect a new building on the corner of 7th and Holland Streets "equal to the best in the country." Citizens petitioned the Board to rescind this resolution as they were not in favor of the required tax levy. While the opposition was active for quite some time it eventually weakened, and the new building was finally completed in October of 1860. This sign was part of what made the school "equal to the best in the country."