I always love getting to see the evolution of things and felt this would be a fun one. Several sources I looked at made it sound like there is no defined history of the bicycle. This seemed to be the best, and most agreed upon history.
In 1818, the dandy horse or "running machine" was invented by Karl von Drais. It was propelled by the rider pushing themselves with their feet on the ground. Having no pedals made it difficult, and even dangerous to ride it. In 1850, a three-wheeler was invented, making it easier and safer to ride. Ten years later in 1860, the first true bicycle was invented by Ernest Michaux and Pierre Lallement, known as the velocipede.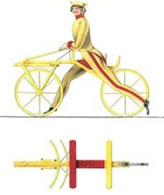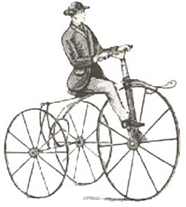 Another ten years later, in 1870, the Penny Farthing bicycle was invented. It was unstable, extremely difficult to get on and off, and the front wheel was used for both power and steering. The name came from the idea that the wheels resembled two coins, the penny and the farthing next to each other, the former significantly larger than the latter.
The safety bicycle was invented by John Kemp Starley in 1885. The bicycle featured a chain that connected pedals to the rear wheel, and steerable front wheel. This made for a more efficient bicycle that could use smaller wheels.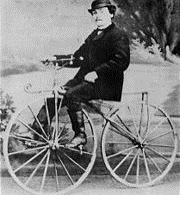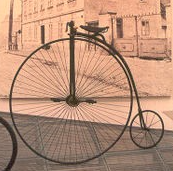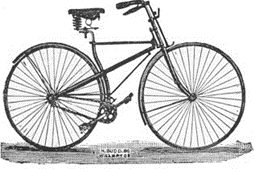 Here at the Hagen History Center, we have a couple of bicycles in our collection. The one that stands out to me is our Tribune bike. It is light green with cork handles and a light brown leather seat. A plaque on the front says, "Tribune, 1902 Model 750." The model's name is the "Blue Streak." It has a 22-inch frame and 28-inch wheels. It is a faded light green color with a tan leather seat. The bicycle appears to have all its original parts.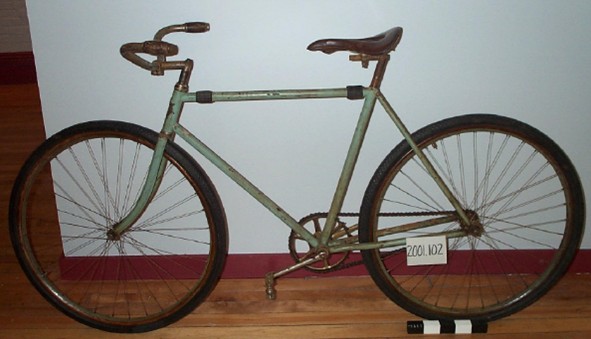 The Black Manufacturing Company, a nationally known maker of high-grade bicycles, had a factory at 19th and Liberty Street in Erie, Pennsylvania in 1896. The company's owner, W. T. Black, also owned Germer & Black, which had a factory at 16th and German Streets. The former company made its mark with the Tribune Bicycle, which is now a highly sought-after collectible bike.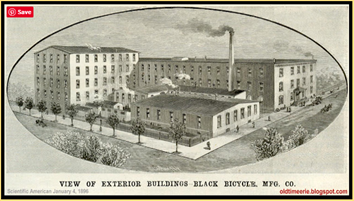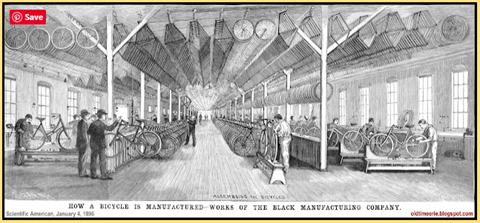 Sources
https://www.brown.edu/Departments/Joukowsky_Institute/courses/13things/7083.html
http://www.bicyclehistory.net/bicycle-history/history-of-bicycle/
http://oldtimeerie.blogspot.com/2012/10/tribune-bicycle-black-mfg-co-19th-and.html