Theodore Maximilian Nagle, namesake of the Nagle Engine and Boiler Works of Erie, Pennsylvania, was born in Germany in 1840. In 1923, he penned a short book entitled Reminiscences of The Civil War. The book is a detailed account of Nagle's regiment, the 21st New York Volunteers in the Civil War. In 1914, Nagle also penned a small booklet or pamphlet detailing the regiment's role in the disastrous Battle of Fredericksburg, Virginia in December, 1862.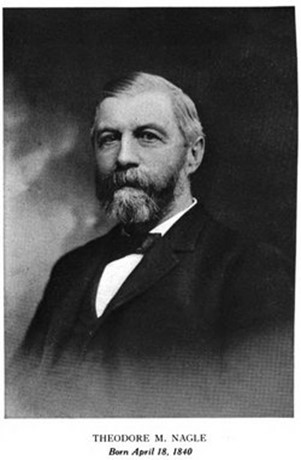 Known as the "Buffalo Regiment," the 21st New York was raised in 1861 mostly around Buffalo, New York, and other counties of Western New York. Originally as a three-month regiment, but quickly a two-year regiment, was mustered into Federal service in May, 1861 at Elmira, New York. Nagle would rise to the rank of Sergeant in "C" Company.
The regiment saw a fair amount of action, or at least marching during its service. First as part of the First Corps of the Army of the Potomac then as part of John Pope's Army of Virginia during the Second Bull Run Campaign then back to the Army of the Potomac just before the Battle of Antietam where the regiment, part of Marsena Patrick's brigade saw action near the now famous Dunker Church, named for a German Pacifist sect that believed in total immersion during baptisms. At the December 1862 Battle of Fredericksburg, Patrick's Brigade was on the extreme left of the Federal Army of the Potomac as it attacked Robert E. Lee's entrenched Confederate Army of Northern Virginia, just beyond the Rappahannock River and the small city itself. Fortunately for the 21st, they say little action on the left. That wand of the army was spared the slaughter that took place on the Federal right. The only high point of the battle for the Federal army took place on the left when Gen. George G. Meade's division, The Pennsylvania Reserves, broke Stonewall Jackson's line for a time.
In January, 1863, the 21st New York was made part of the Provost Guard (like today's military police.) Patrick had been named Provost Marshall of the Army of the Potomac earlier. The regiment's two years of service expired in May of that year and Nagle returned to New York and in 1879 started Nagle Engine and Boiler Works in Erie which remained in operation until 1940.
Nagle died in 1925 at age 85. He is buried in the Erie Cemetery in Erie, Pennsylvania. Both of his books are in the collection of the Erie County Historical Society/Hagen History Center in Erie.