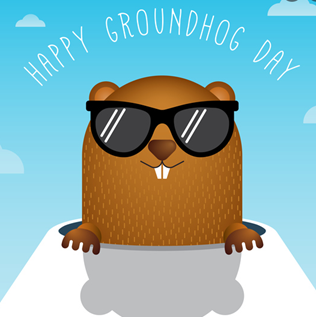 Living in Northwest Pennsylvania, we have all heard of Groundhog Day and look forward to the prognostication of Spring's arrival. We have all probably seen the movie "Groundhog Day" and sometimes feel like we live that movie at times. Well, have you ever gone to Punxsutawney to experience Groundhog Day? I did go several years ago and if you are ever thinking about it, here are some points to consider!
Make hotel reservations early – I believe that I waited until 2 weeks before the event and the closest hotel that had reservations was in Clarion, Pa which was almost an hour drive away. The Punxsutawney area has several cute bed and breakfast accommodations, and one small hotel. It is not a very populous area, and the Day is a national event, so plan ahead!


You cannot drive to Gobbler's Knob, where the Groundhog makes his or her prediction – Buses leave the town of Punxsutawney to go up to the Knob starting at 3:00 am, so be prepared for an early and cold start to the day.


Honestly, the Knob is a "drunk fest" in my opinion. The observers of the groundhog's prediction who have spent half the night freezing on a knoll are mainly hundreds of college students. I did not attend the actual pulling the groundhog out of the tree stump ceremony but went up to the Knob after the fact. There were beer cans everywhere!


Punxsutawney has a delightful winter festival to enjoy – There are food vendors, horse drawn wagon rides that offered tours of the town, and souvenirs with groundhogs throughout. My favorite were the hats with a stuffed groundhog on top (not a real groundhog).


The guys in the top hats were great – The men who organize the winter festival and groundhog prognostication can be seen throughout the weekend, answering questions, and allowing visitors to get "selfies" with them. They were really the stars of the show.


The groundhog can be seen anytime in Punxsutawney. He or she lives in the public library and there is a glass enclosure to the outside so even if the library is closed, the show goes on.
Becky Weiser
HHC Curator