TORNADO! The May 31, 1985, Tornado Outbreak: Pennsylvania's Second Deadliest Natural Disaster
Jeff Sherry, Museum Educator, Hagen History Center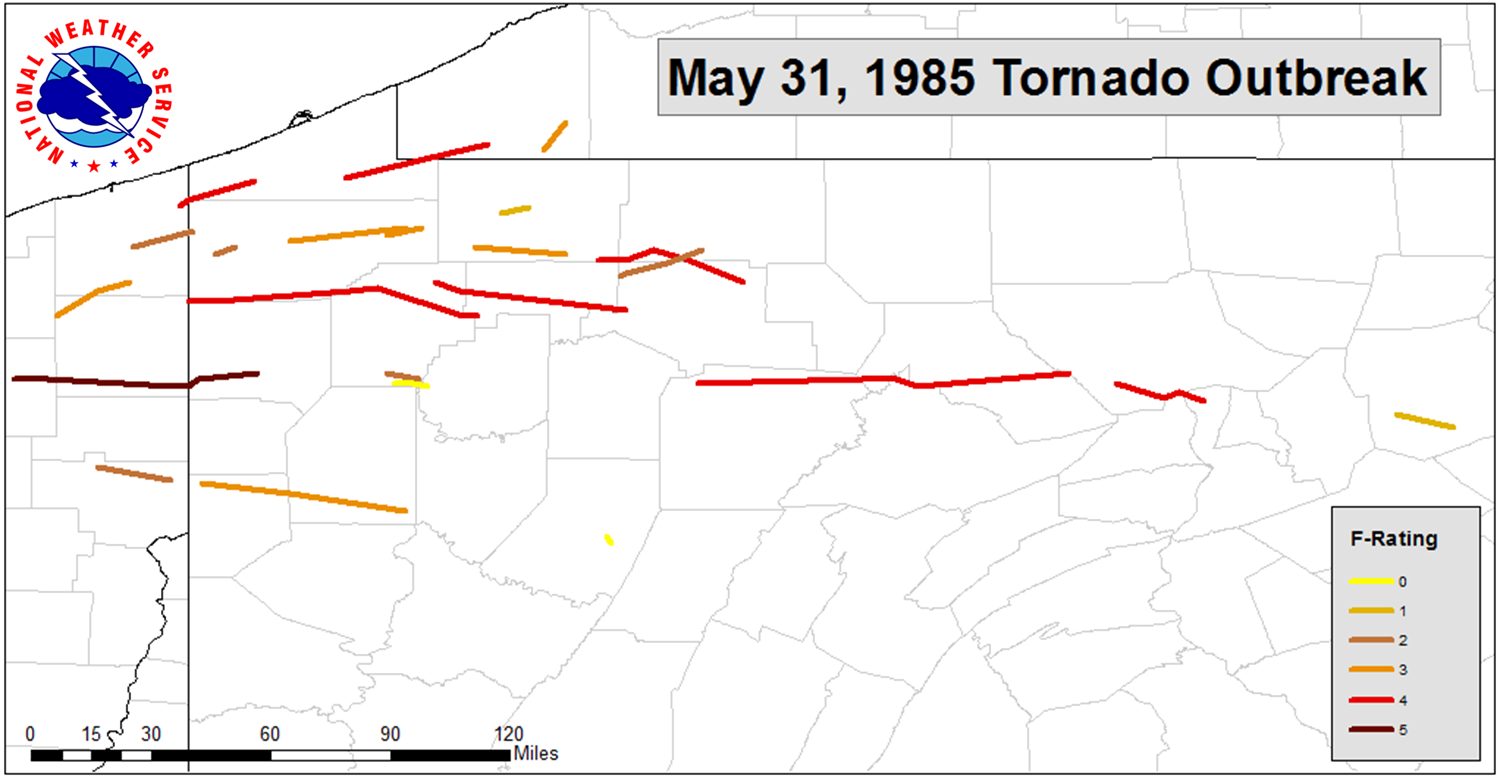 On May 31, 1985, thirty-five years ago, a deadly tornado outbreak, that started over the mid-west and intensified over central Ohio, ripped through the region causing the second deadliest natural disaster in Pennsylvania's history. 43 separate tornadoes would clain 89 lives and uwards of 700 million dollars in damage. 65 fatalities in Pennsylvania places the May 31, 1985, tornado outbreak second only to the 1889 Johnstown Flood which claimed 2,200 lives.
In 1985, the National Weather Service was virtually the only source of civilian weather radar available. The system of warnings and watches were already established, but there were no cell phones or other mobile divices available. At 4:20 PM, The National Weather Service changed the "severe storm warning" issued at 4:00 PM to a "tornado watch." At 5:05 PM, just as the first tornado touched down near the Ohio-Pennsylvania line, a "tornado warning" was issued. People in the region didn't pay much attention to tornado warnings; those only happened in "Tornado Alley" in the mid-west. There had been tornadoes in the region before, but they were few and far between and soon forgotten. May 31st would change that.
It was a hot and humid afternoon. Thunderstorms seemed to be in brewing as 5:00 PM approached. Shortly after, things turned from bad to worse. All across Eastern Ohio and Western Pennsylvania fire sirens began to sound. Skies grew dark- and within minutes disaster struck. Later, the National Weather Service, NOAA and other organizations would document 43 separate tornadoes that caused severe losses of life and property in Ohio, Pennsylvania, Ontario and New York. The worst of these tornadoes, F5s with winds up to 300 mph and F4s with winds betwenn 220-250 mph, swept through Eastern Ohio and Western Pennsylvania, leaving a path of death and destruction unimagianble to most.
A truly international disater, 12 people died in Ontario, and tornadoes resulted in over 400 million dollars in property damage, one of Ontario's worst natural disasters. Near Niles and Wheatland, Ohio, very heavy damage leveled whole sections of communities.
An F3 tornado passed through Butler and Beaver Counties in Western Pennsylvania, causing over 100 injuries and 2 fatalities as it destroyed a shopping center in Beaver Falls, PA. Another F4 tornado's 70- mile path from the Ohio-Pennsylvania line hit the Moshannon State Forest and leveled tens of thousands of trees. Another hit the southern edge of The Allegheny National Forest. An F4 in Trumbull County, Ohio, took 16 lives and many were injured.
In Western Pennsylvania, however, the worst would come to Albion in Western Erie County. An F4 tornado would tear a path of destruction two blocks wide and ten blocks long, destroying dozens of homes and damaging countless others. In The Kennedy Trailer Park, thirteen mobile homes were destroyed. Albion would suffer 9 fatalities and many injured.
In the primarily Amish community of Atlantic in Southern Crawford County, PA, 5 were killed and the small town nearly leveled. By dark on May 31st, the storms had passed through our region, and the rescue and recovery began. Sirens would be the constant soundtrack of that night. Chainsaws could be heard as survivors stuggled to clear debris, and search for the injured and the dead. The clean-up would last into the coming weeks and months as residents struggled to rebuild their lives and their communities.
President Ronald Reagan authorized federal aid. The Federal Emergency Management Agency set up disaster relief centers, and victims applied for state and federal relief. The National Guard patrolled the affected areas to prevent looting and to help local agencies. Our region would rebuild and recover. Today, when we hear the long wail of a fire siren or hear television meteorologist read a tornado watch or warning, we listen and look to the skies.