With wedding season among us I thought it would be fun to talk about the history of the wedding dress. The most common, and highly debated part of dresses is their color. Were they always white? The answer, not at all.
In ancient times, brides wore bright colors to show their happiness for such a special occasion. For example, in Athens brides wore reds and violets. As time went on, we still see colorful dresses during Medieval Times. Brides during this time period would wear blue, red, yellow, or green. The most popular color was blue because it represented purity. As the Renaissance hit burgundy became the color of choice. We also see a corseted, bell shaped, long trained dress come about.
It is not until Queen Victoria and her marriage to Prince Albert of Saxe in 1840 that we see the white wedding dress. As I stated before, the color blue represented purity, not white as many of us have been led to believe. What white did represent was wealth. I suppose that it makes perfect sense for a future queen to wear white! It is said she chose white to help bring out the beautiful handmade lace throughout her dress.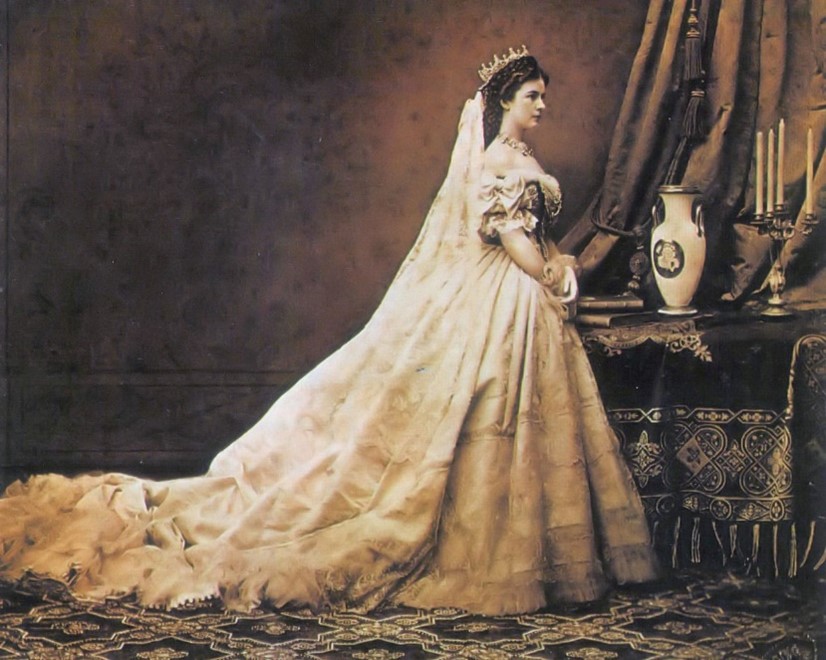 It was after her wedding that the color white became so popular. Other women of higher status at that time wanted to be like the queen and show their wealth.
Today we still see white as the main choice for many women, however; off-whites and champagne are also popular. Women also like to add some bling or other colors through belts, shoes, and other accessories. There are so many options nowadays it can get a bit overwhelming.
To conclude this blog, I wanted to give a big thank you to our recent donors. This year we have received two beautiful wedding dresses along with their veils from local Erie women. The first is from Jennifer Holland who was married on March 23, 1991, at the First Presbyterian Church of the Covenant. The other, Geraldine Ann (Miland) Hammond who married Leslie Eugene Hammond at The First Presbyterian Church on Elmwood Avenue here in Erie, PA. We appreciate our donors and love to share their stories.