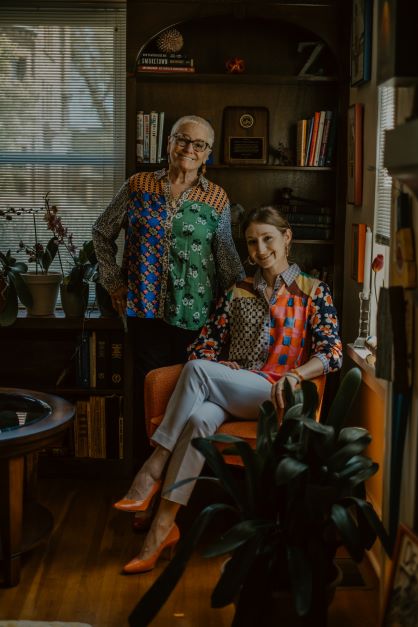 For Women's History Month, we're thrilled to share that our neighbor has been making history for decades. And her daughter is following in her footsteps. At 402 W. Sixth St., Zanita Zacks-Gabriel and her daughter, Andona Zacks-Jordan, are great role models.
Zanita, who prefers to be called Z, is the first female attorney from Erie to practice in Erie. She founded her own practice in Erie in 1974. She and her daughter, who likes to be called A, are the first mother-daughter attorney team in Erie and in Pennsylvania. They formed A to Z Law firm in 2020.
"I'm always on a historic quest," Z said with a laugh.
Her sense of adventure has deep roots thanks to the Zacks family lineage that reveals a strong force of women. Z's mom, Donna A. Zacks, born in 1923, worked for newspapers, was a racecar driver and much more. She was also an expert in herbs and healthcare. Although she passed away in 2006, her enthusiasm to enjoy all life has to offer lives on in her family members.
Law is just part of Z's daily routine. The Temple University James E. Beasley School of Law graduate has traveled the world and created a wonderful and colorful tapestry of life that includes the arts and playing viola with the Erie Philharmonic, among other hobbies. She's a volunteer and served on several boards.
If you recall the story of Ruth Bader Ginsburg's quest to become a practicing attorney, you can appreciate that Z didn't have and easy career path as the first female attorney in Erie. "I always knew I had to be a lot better than a man," Z said.
After law school, she worked for Legal Services of Northwestern Pennsylvania and worked in the Public Defender's office. She opened her own firm in the 1970s in her current building.
Z endeavored to specialize in collaborative practice in which she helps families "reach a resolution of legal issues peacefully, with dignity and respect." She has served on state, national and international committees and boards that promote collaborative practice.
When A joined her mom in practice, they founded A to Z Law Erie in the same building. A is also licensed to practice in Florida and serves as an assistant public defender in Erie. Like her mom, A is involved in state groups that promote Collaborative Practice, and she is a member of the National LGBTQ+ Bar Association.
A is also interested in the arts as a musician and has her own professional dance company called Seiche Dance Collective. Honored as one of the Erie Reader's 2021 class of 40 under 40, she and her mother agree their practice is dedicated to being peacemakers.
We're glad we got to know our neighbors right here on West Sixth Street. To learn more about A to Z Law Erie, visit atozlawerie.com/about