The Erie County Oyer and Terminer Collection is one of the Erie County Historical Society's most interesting archival collections. Courts of Oyer and Terminer and General Gaol Delivery were established by the Pennsylvania Constitution of 1790 at the county level to hear and determine capital crimes (murder, rape, treason, burglary, robbery, arson, and others), formerly a function of the Pennsylvania Supreme Court. Housed at Hagen History Center, the original docket books and supporting sessions records reveal a saltier side of Erie than is generally found in public records and are a rich source of material that our ancestors probably wish had been buried with them.
Edwin DeWitt Heidler, the second murderer executed in Erie County, was hanged at 10 o'clock in the morning on August 6, 1899. Heidler's crime, detailed in Part 1, was committed on the First of May 1896. Newspapers picked up the story quickly and his victim, Levi Kreider, a likeable and popular man, was mourned by many friends and relatives who, still reeling from shock over the murder, followed the story from its heinous start to its grisly end.
It was the custom at the time for a wake to take place in the home of deceased, but the scene described in the next day's news was as it had been the afternoon of the murder. Certainly, the last view Levi's friends, family, and neighbors had of him was not stretched out on a plain board, laid across two kitchen chairs, covered in clay dust, with his head resting on a copy of the History of Erie County. Still, the reporter paints quite a picture.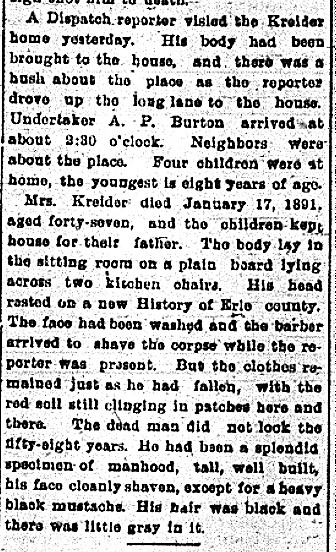 While Heidler freely admitted his guilt, the long delay between the crime and his punishment was largely due to a clever escape on 12 July 1896. As the Gazette's August 10th article tells it, the inspiration for Edwin's escape plan was a particular sheriff's careless habit of leaving cell doors unattended when he emptied the trash.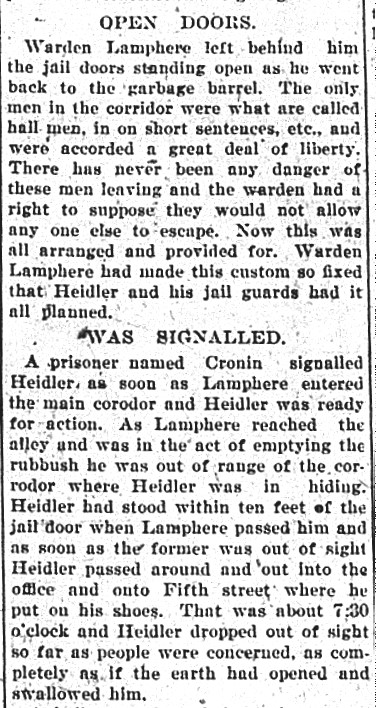 Edwin eluded authorities until the following Spring when he made the bad decision to visit relatives in Michigan, where law enforcement had been warned to be on the lookout.
Proceedings moved along rather swiftly from that point. The trial was held in September 1897.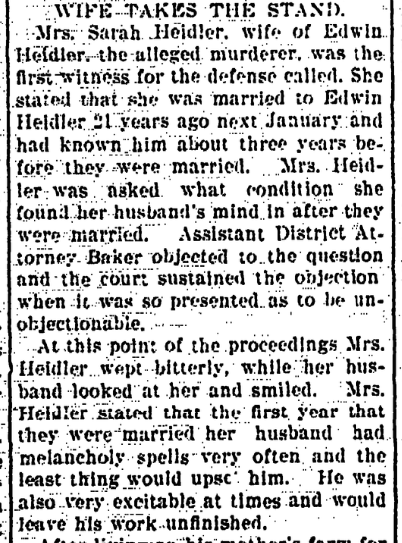 Heidler, who at one point had worked for the H. F. Watson Company, held myriad jobs in Erie City before moving his family to a farm in Fairview. Testimony from family members and numerous acquaintances, attesting to the psychological problems he had suffered from for apparently his whole life, did not sway the jury in his favor. The trial lasted just two weeks, and the jury arrived at their guilty verdict after only a few hours of deliberation. Despite several appeals, stays, and attempts to have the sentence commuted to life imprisonment, the court's decision was upheld, and Edwin was executed.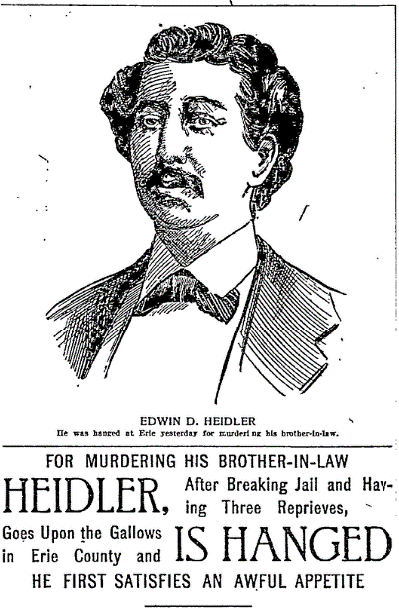 Edwin's widow Sarah did receive her share of her mother's inheritance but just about every penny went toward her husband's defense, proving once again that crime doesn't pay.